---
NEW & EVENTS
ABOUT US
MEMBERSHIP
MENTORSHIP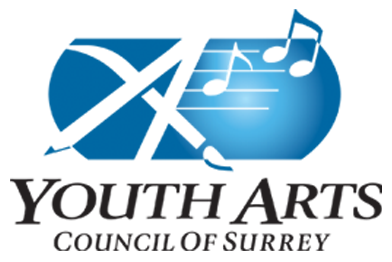 NEWS & VIEWS
Scroll Down For Current Information
SHOW AND TELL
Show us what you have been doing in your world of art, Performing, Literary or Visual! We are always looking for submissions so send us your art or short video ( 3-5min please) today!
---

---
Join Your YACOS Friends Now! CLICK HERE for Application Form
---
---
---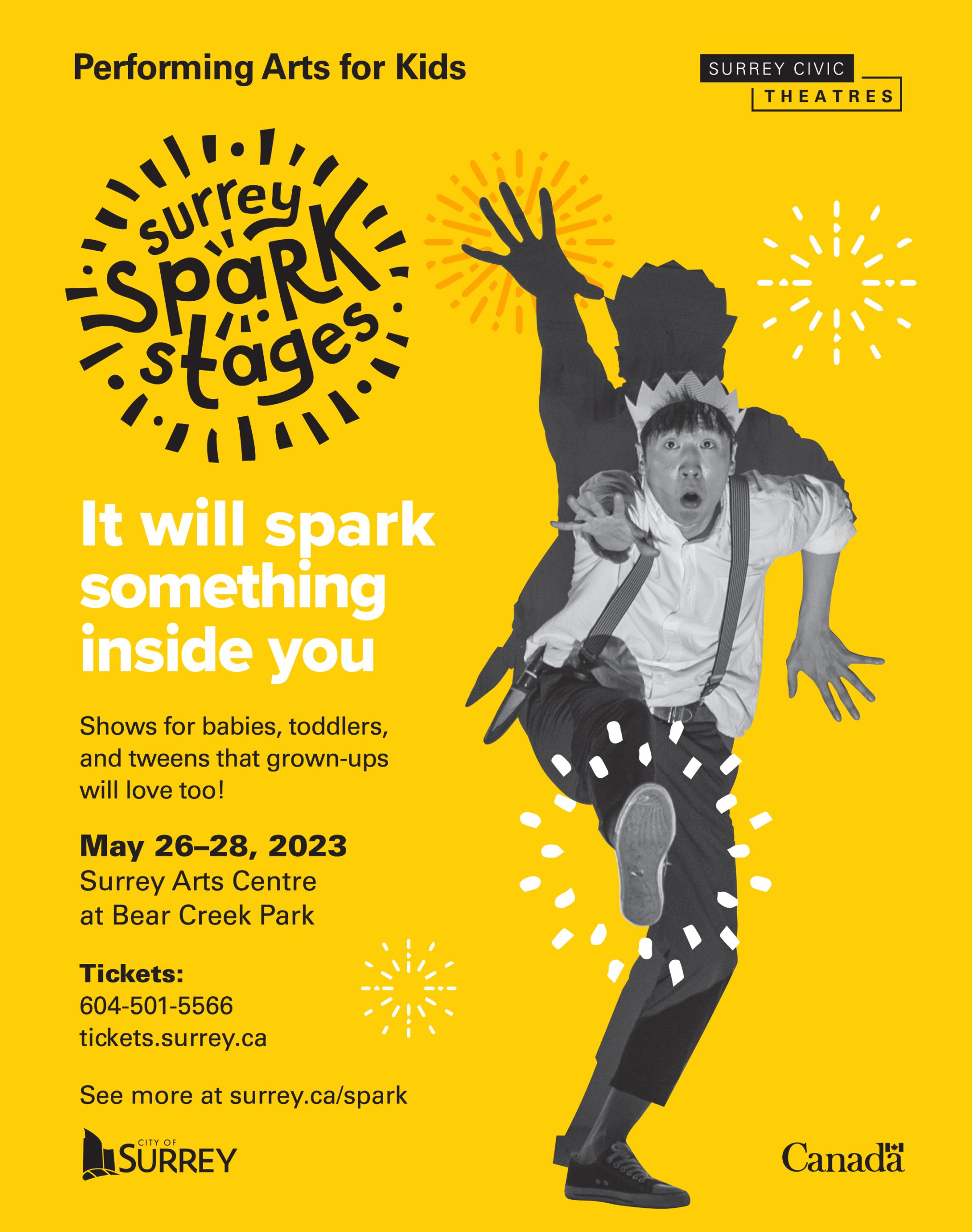 CITY | Arts Surrey SPARK Stages—Performing for Kids
May 26–28 | Various Times | Surrey Arts Centre
Our weekend celebration of performing arts for families is back. We have an exciting lineup of performances from Denmark, South Korea and Canada for babies, toddlers and tweens that grown-ups will love too. Come for the shows and stay for the magic! Ticket prices include all the fun activities you can explore between
shows like puppet-making, dancing and surprise pop-up performances. Tickets are on sale now!
---
---
---
---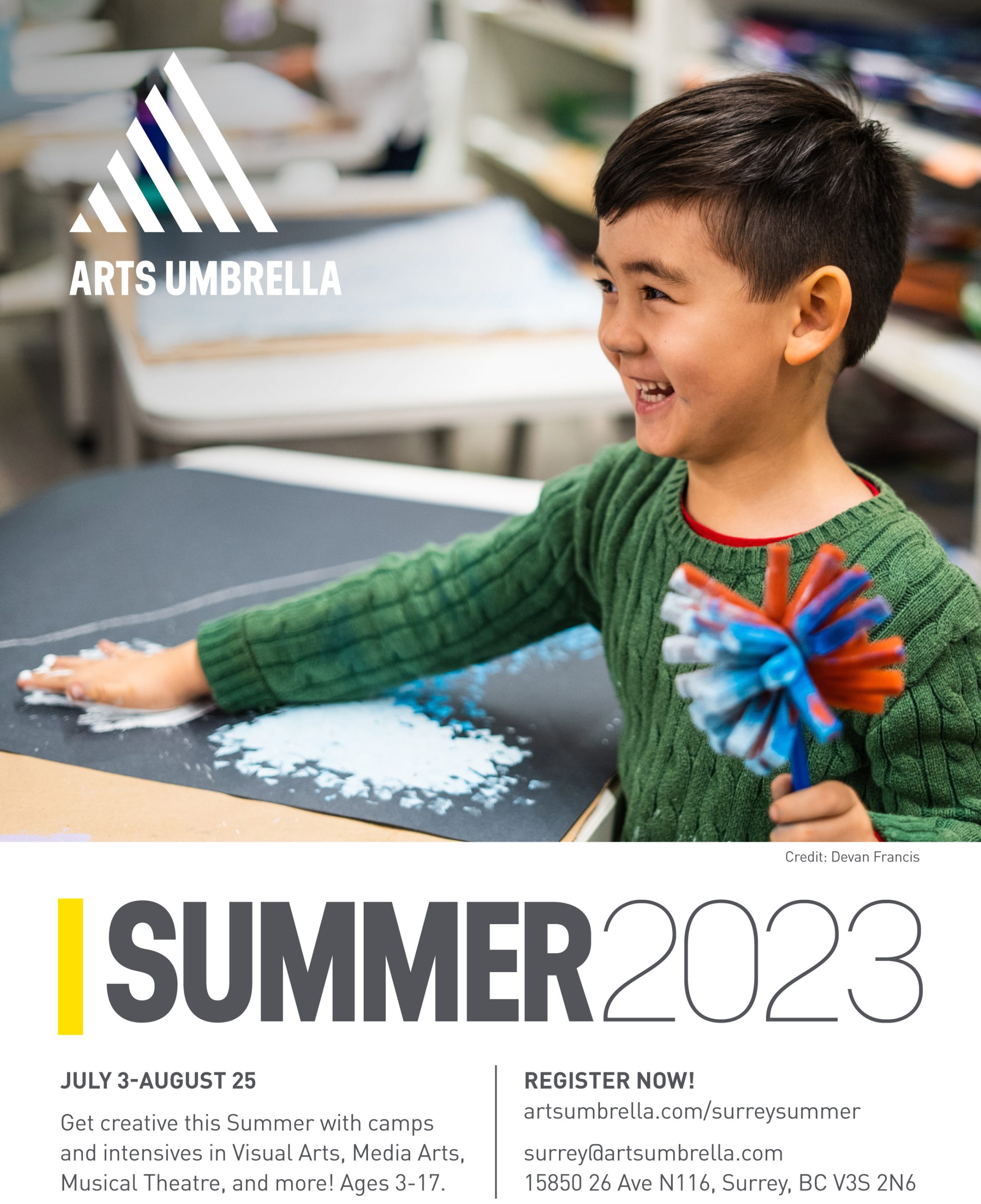 ---
---
---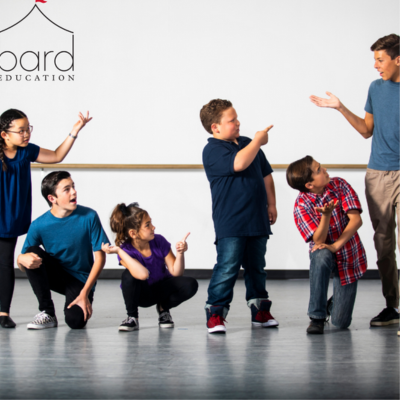 CITY | Performing Arts Class
Bard on the Beach Shakespeare Camp
Bard is coming to the Surrey Civic Theatres performing arts classes. Discover Shakespeare's timeless stories and imagine all the possibilities for the characters in them. This camp is presented by Bard on the Beach. Participants will get two tickets to see a performance on Bard's BMO Mainstage in Vanier Park on July 30.
---
---
---
---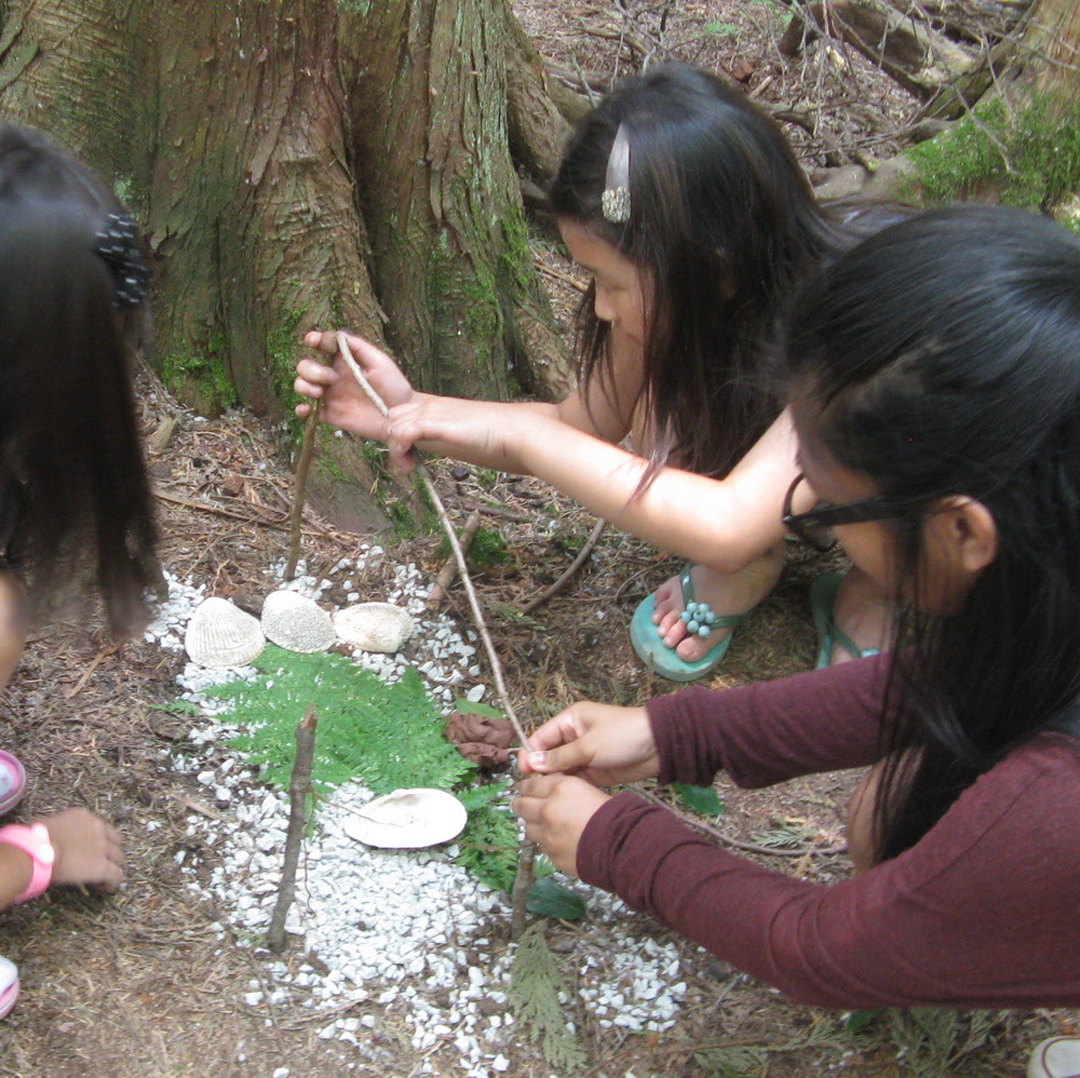 CITY | Visual Arts Class
Eco-Art Mash Up
Let your child follow their curiosity into one of Surrey's urban forests and discover natural spaces through an artist's lens. Campers will build their confidence outdoors and develop art techniques while incorporating nature into their creative expression. Developed collaboratively by Surrey Art Gallery and Surrey Nature Centre
---
---
---
---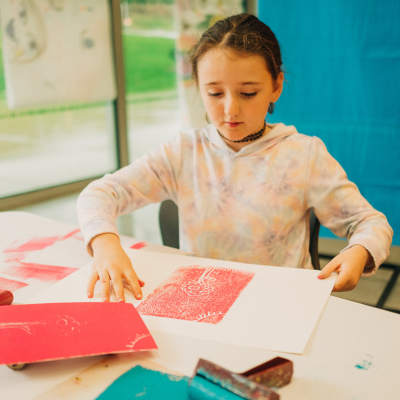 CITY | The Art of Making Prints
Create Prints with Your Imagination and Objects!
Children ages 8–11 can create their own stamps and blocks while learning about printmaking at Clayton Community Centre's art studio. They'll have fun experimenting with colors and picking up new design techniques
---
---
---
Click here to access | YACOS 2022: A Year In Review
---
---
---

CLIMATE JUSTICE THROUGH ART | 2022
The Nature of Youth
Emerging Visual and Literary youth artist from YACOS and Surrey. Using the prompt #Whatdoesclimatejusticemeantoyou those ages 13-21 across the lower mainland were invited to participate. Here are the great results.
Click here to access virtual exhibition
---
POETS CORNER
Sanjana is a member of the ACS and is co-founder of YOUR WORDS MATTER TO US - a literary club. Check this club out at https://yourwordsmattertous.blogspot.com/
She is also the co-author of the mental health app (see below) targeting youth.
LITERARY | Poem ' Gender Equality'
LITERARY | Poem ' Family'
LITERARY | 'The End is the Beginning'
---
Youth Mental Health App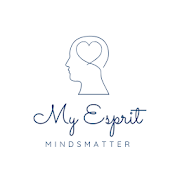 YOUTH ORIENTED Mental Health App myESPRIT
Developed by Students at Tamanawis Secondary on Google Play
Sanjana [member of YACOS] and Astha, grade 11 students from Semiahmoo Secondary have developed an app to support and reduce stigma around it mental health. The intention of the app is to help people gain mental strength by learning to prioritize their own happiness via journaling and other resources. myEsprit is a free app offered in various languages. If you are Interested in learning more about the app follow myEsprit on Instagram and Facebook and download the app on Google Play.
Click Here to access App
---
---
TIPS ON PUBLIC SPEAKING
Brought to you by youth artists group YourWordsMatterToUs, public speaker Sahej Bhalla presents a few tips on how to become an effective, engaging public speaker...even if it terrifies you to get up in front of a crowd!
---
---
On-Going
Opportunities such as continuing auditions or Calls To Artist that have no deadline.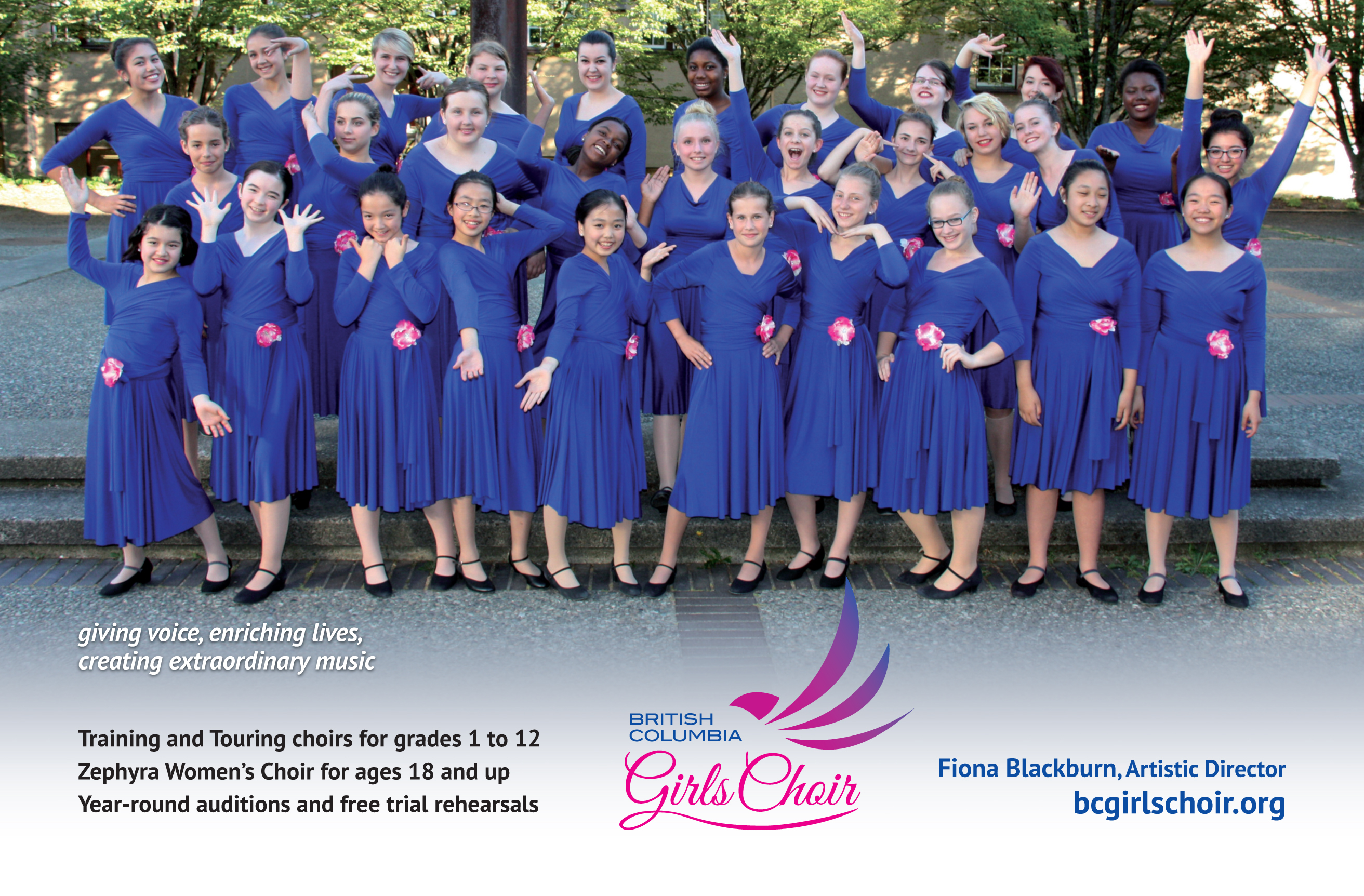 ---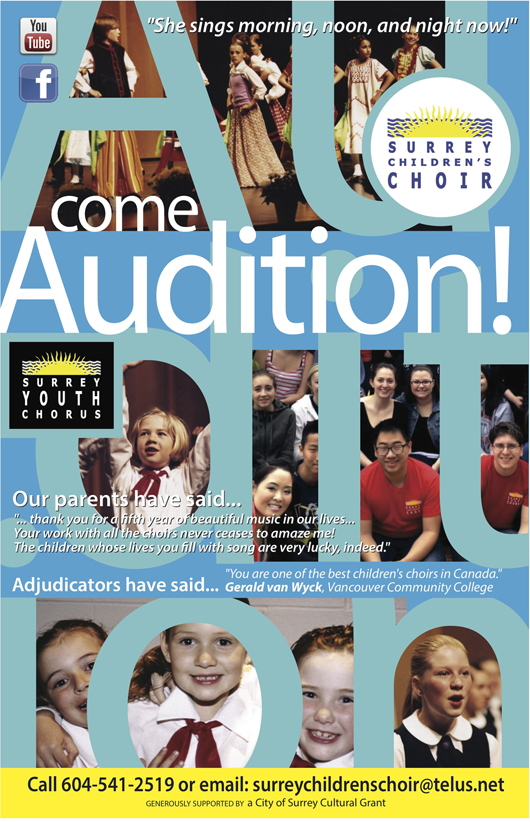 WHAT IS YACOS?WHAT IS YACOS?
We are the Youth Arts Council of Surrey (YACOS)! We are a volunteer arts group run by youth for youth, and it's our goal to create opportunities for young people in the arts. We provide these opportunities throughout the year through large-scale events such as talents shows, play-writing competitions, film festivals and fashion shows.
All of our members and participants are 13-21 years old, and either live or go to school in school in Surrey, BC. The Arts Council of Surrey (ACS) is our parent organization who provides us with a safe meeting space at the Newton Cultural Centre. The ACS provides us with a mentorship program and services to support our artistic endeavours.
We work on many annual projects such as a playwriting competition [Write On!], City-wide talent show [Surrey Shines!] a talent showcase [Canvas Coffee House], and a fashion show [Y.E.S. Runway]
By working on the youth council, we have the chance to discover who we are, to meet people from other backgrounds and to learn exciting new skills. At the same time, the events we organize are the perfect opportunities for Surrey youth to show off their talents to the community.
YACOS is currently working to provide opportunities for young people to become actively involved in the local Surrey Arts community. Our Youth Coordinator, an experienced Mentor from the Arts community, works with us to develop programs by and for youth. In 2004 the major community theatre project "Let Me Sing" raised enough money to help get us started.
The way we work is: Surrey's youth provide the ideas and proposals, and then we get together with mentors in the community to make it all work.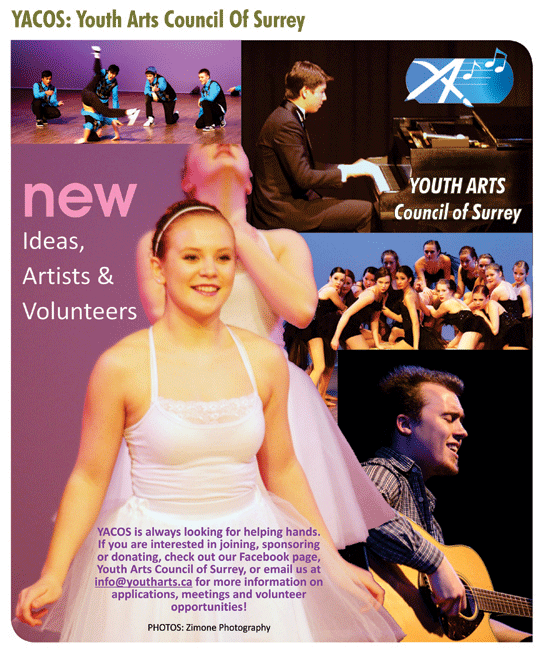 ---
MEMBERSHIP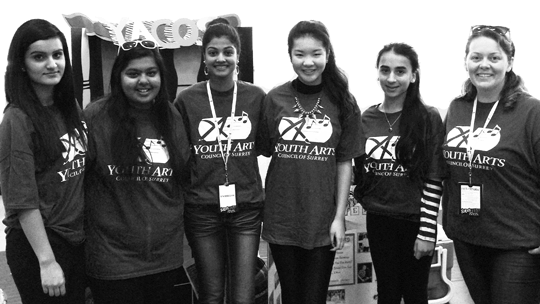 ---
EXECUTIVE
Amrit, Chair
Shubi, Vice Chair
MEMBERS: Wendy, Himadri, Fareed, Bakhtiar, Min Jy, Linda, Gurmehak, Tina, Pam, Simmie and Maro
Click button to access
PRINTABLE PDF MEMBERSHIP FORM
We welcome all questions you may have about the many benefits of becoming a YACOS member. Please call us at 604-594-2700 or email us at youthartscouncil@gmail.com.
Please fill out form and send to:
By Email: youthartscouncil@gmail.com
By Mail: 13530 72nd Avenue, Surrey, BC, V3W 2P1
Facebook: https://www.facebook.com/youth arts council of surrey
MENTORSHIP
When the Arts Council of Surrey established YACOS they knew that 'experience is a great teacher' when it comes to the Arts and the business of the Arts. To this end, the ACS set up a Mentorship program that young artists can tap into when creating work or producing events and fund raisers. Today YACOS enjoys an incredible synergy with a number of leaders in the business, municipal and arts communities.
ACS/YACOS COORDINATOR
Lyn Vera-Lay
CURRENT MENTORS
Petra Barker [Guildford Town Centre] Beth Barlow [Chief Librarian, City of Surrey] Catherine Bayley [School District #36] Glen Chua and Tim Reyes [MOONLiTE Productions] KC Gilroy [Former Coordinator] Barb Gould [Writer] Jarnail Singh [Artist] Chris Thornley [Thornley Hayne Creative Communications] Barb Wolfe [Surrey Arts Centre]
'YACOS PAST MEMBER' MENTORS
Paula Cooper,Kiran Dhillon, Trisha Dulku, Jaspreet Kalsi, Gurinder Kalsi, Winnie Liu, Lynn Vo, Isuru Withanage, Tina Yang and Tony Yang