NEWS & VIEWS
Scroll Down For Current Information
---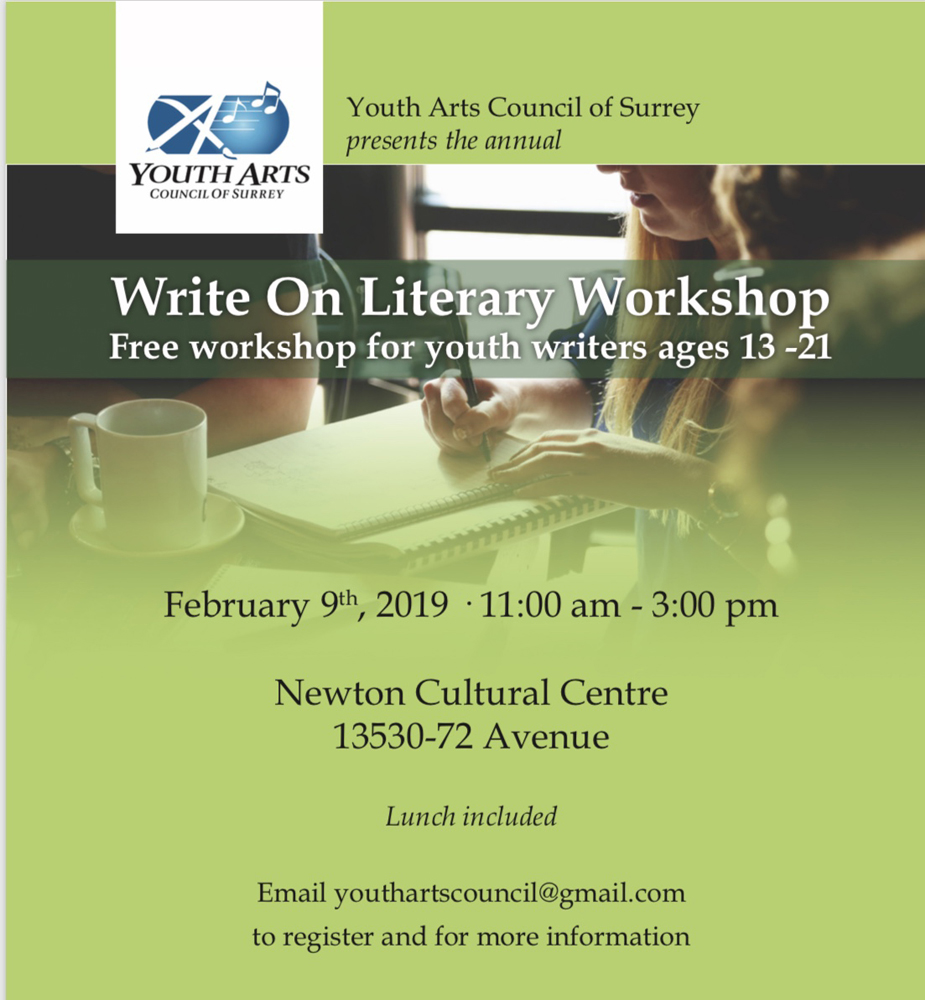 This workshop is lead by experienced published authors who are excited to share their skills with young writers …and it's FREE! …and LUNCH IS PROVIDED! Presenting this year are Sylvia Taylor, Barbie Warwixk and Daniel Tibbits. Biographies of these talented writers are listed below. Space is limited. Please email youthartscouncil@gmail.com to register.
#youthartscouncilofsurrey #YACOS #newtonculturalcentre #youthwriters #literarymentors #artspot
WORKSHOP MENTORS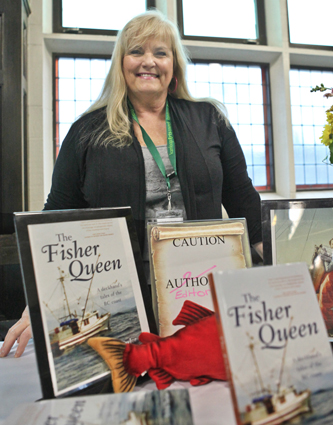 SYLVIA TAYOR
Literary Midwife to some, Hired Pen to others, Sylvia Taylor helps bring what needs to be said into the world. With over 400 pieces of prose, poetry and articles in print throughout North America, she has edit-coached over 120 manuscripts from inspiration to publication. She teaches youth and adults, and consults in both worlds of writing & publishing and business. She judges numerous writing competitions, including the BC Book Prizes in 2013 and the Surrey Library Young Adult Writing Contest since 2004. Her marine-themed non-fiction books, "The Fisher Queen" (2013) and "Beckoned by the Sea" (2017, BC bestseller) were released by Heritage House.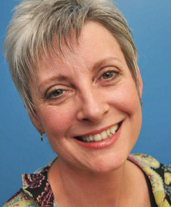 BARBIE WARWICK
Barbie's writer's journey started around 15 years ago in community theatre. She had been an amateur stage actor for over a decade when she decided to expand her horizons and started directing plays. After her second year of directing, she had an idea for a play and started looking for a playwright to help turn the idea into a script. When she couldn't find anyone among her circle of influence she decided to write it herself. Her first two act play, "International Departures", hit the stage in 2005 and "Missing In Action" in 2008. In 2011 Barbie joined FVGSS musical theatre society and after performing in numerous pantomimes she decided it was time to start writing again. She co-wrote "Pinocchio" with Mike Balser in 2016 and reworked the "Peter Pan the Panto" script in 2018. "I love the collaboration that occurs in playwriting. From the playwright to the director to the actors, many hands are involved in the making of this art form. The magic happens when you hold it very loosely and trust your collaborators."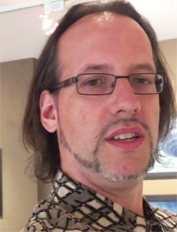 DANIEL TIBBITS
As a young artist Daniel was inspired by fantasy and surrealist painters. He now follows that whimsical path by painting stone whales and mystical cloud cities. Daniel's work is admired and owned by collectors worldwide and currently represented at Gallery 8 on Salt Spring Island, BC . Daniel has also been featured as an 'Artist to Collect' in the international art magazine Arabella. Since the past two years Daniel has completed a graphic novel called 'Out Loud'. He built an abandoned castle diorama inhabited by a rusty robot figurine called Sedrik. Daniel used photography to tell a story about Sedrik and his relationship with words, and is set in a 19th century fantasy steampunk world.
---
YACOS Garage Sale Fundraiser A Great Success!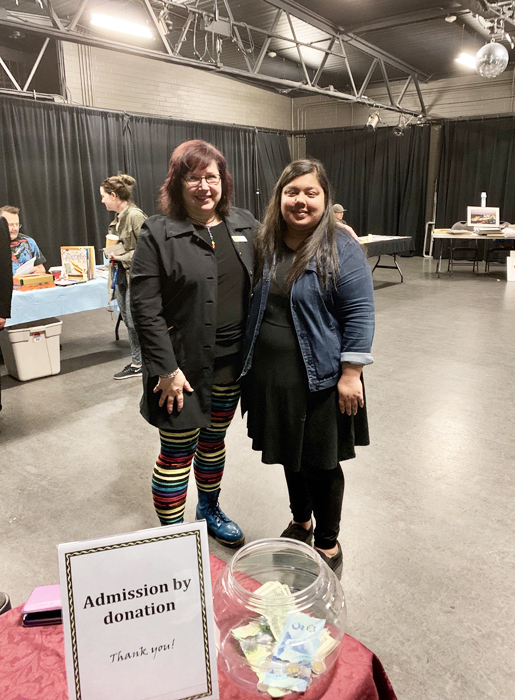 PHOTO: LtoR | YACOS Coordinator Lyn Verra-Lay joins Peer Mentor Pam Dhadwal in opening the doors to welcome eager shoppers at the 2nd annual Garage Sale located in the Newton Cultural Centre.
Our second annual fundraiser had a steady stream of visitors. Treasure hunters looking for good deals, browsing through the costumes, art supplies, musical instruments, walked away with some great finds. The door prizes – tickets to Naked Stage Production's upcoming Alabama Story, a set of four lovely ceramic bowls, and a hand-dyed silk scarf – were won by three lucky shoppers! Coordinator Lyn Verra-Lay and peer mentor, Pam Dhadwal, also made sure everyone had some goodies and hot chocolate while checking out the new and gently used items.
Many thanks to all those who donated to the Artist Garage Sale 2019 and made it a successful event!
---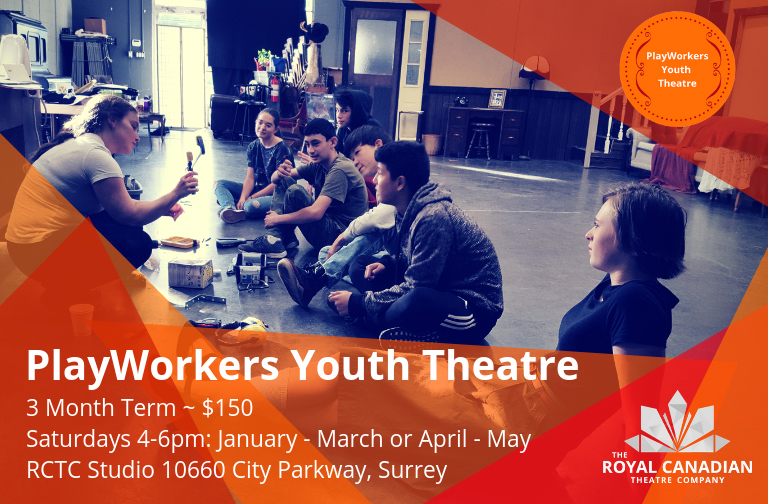 ---
YACOS: A Year In Review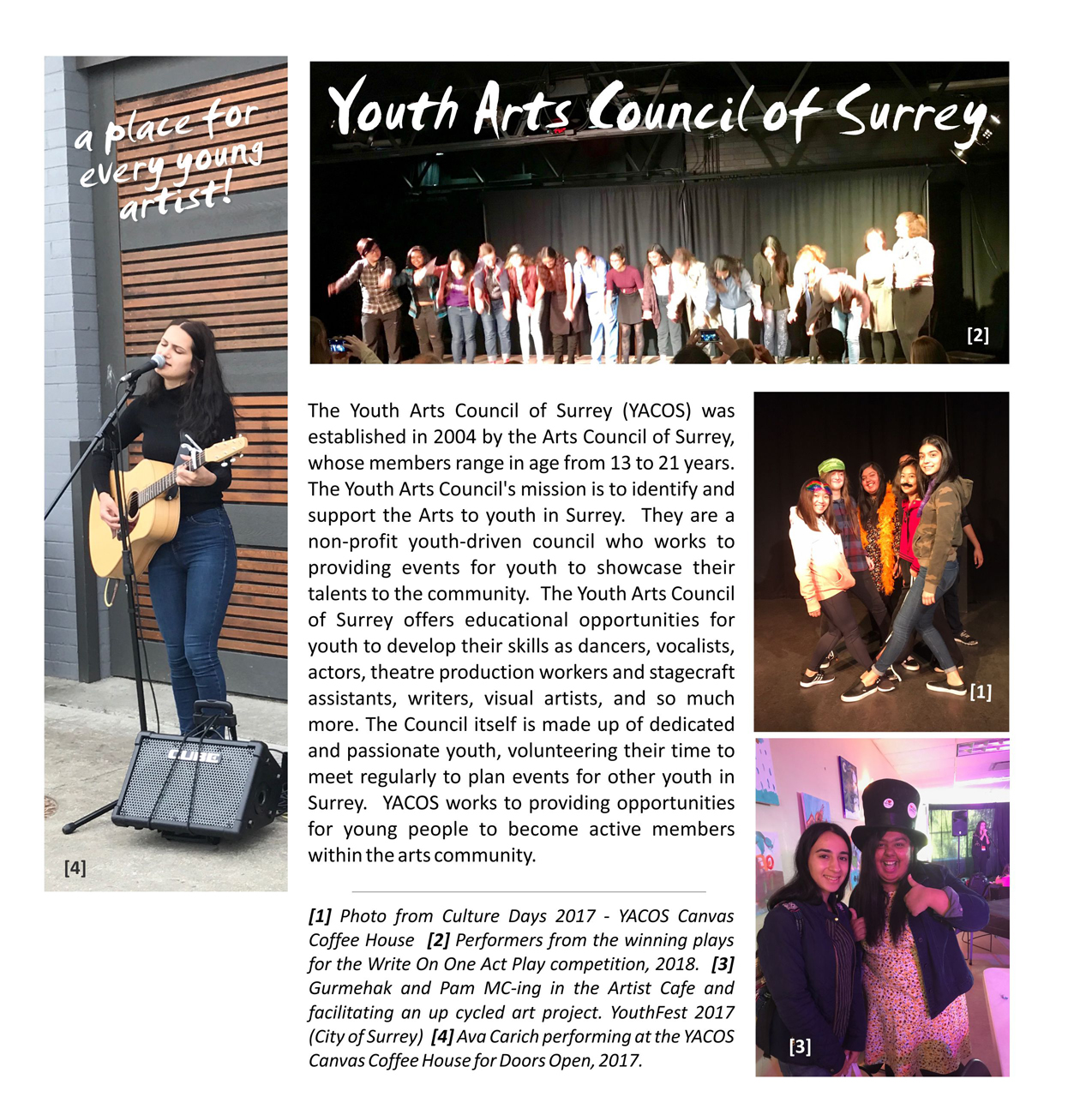 ---
On-Going
Opportunities such as continuing auditions or Calls To Artist that have no deadline.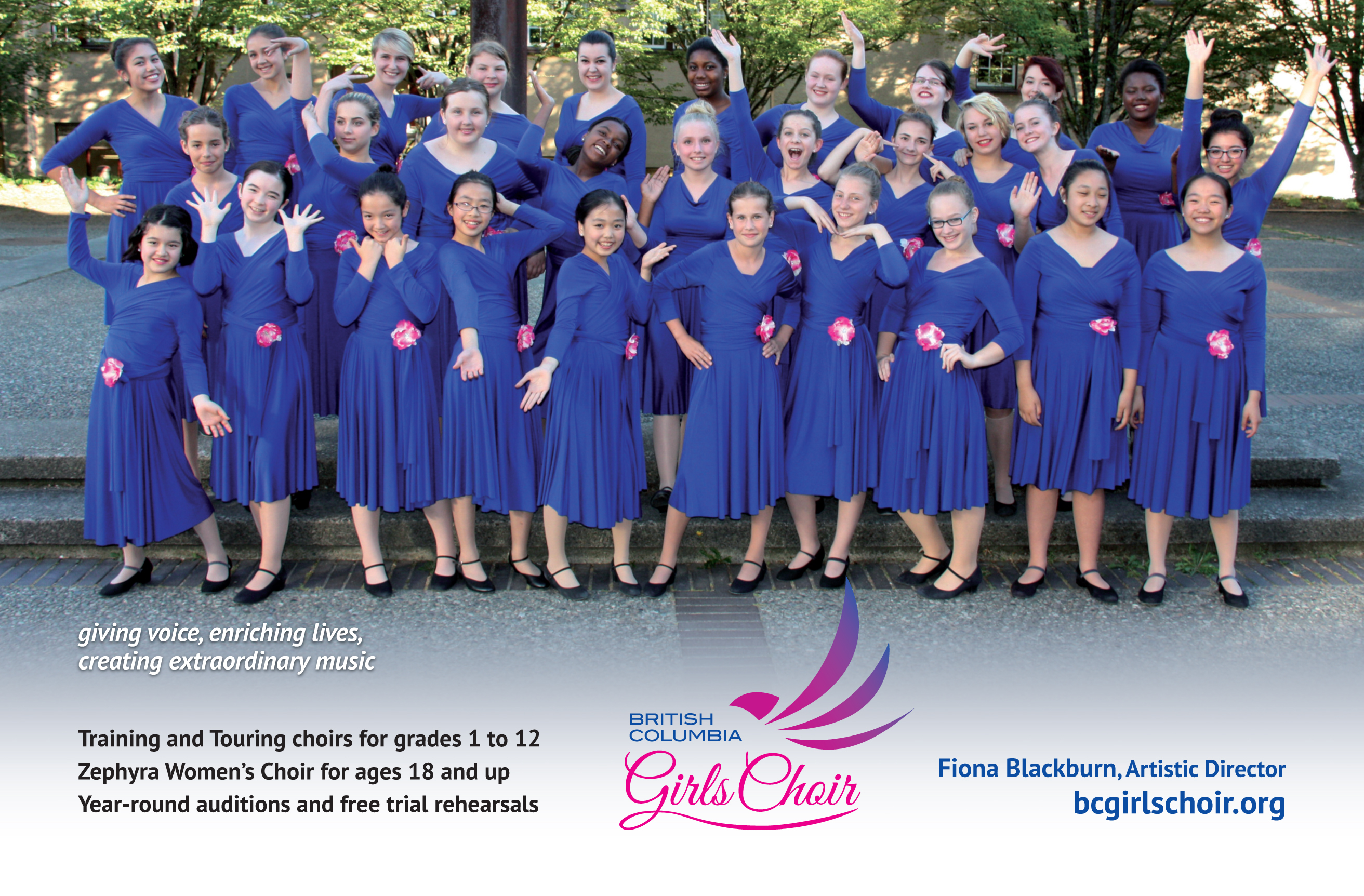 ---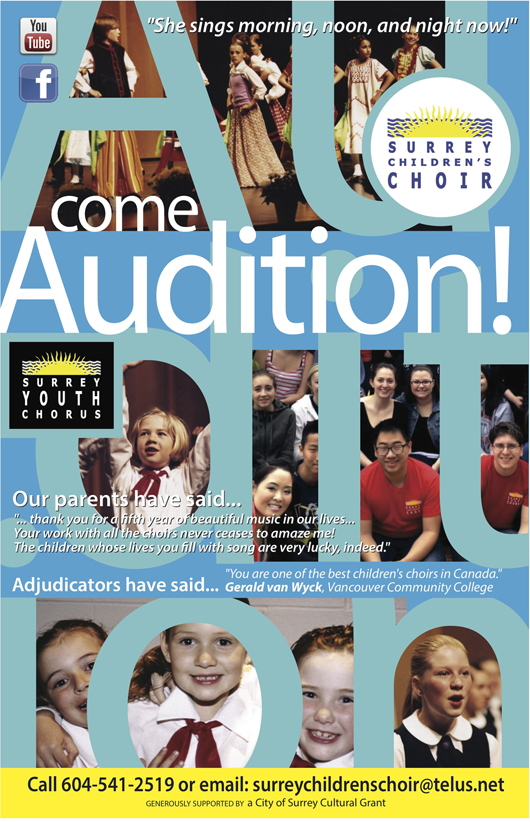 WHAT IS YACOS?
We are the Youth Arts Council of Surrey (YACOS)! We are a volunteer arts group run by youth for youth, and it's our goal to create opportunities for young people in the arts. We provide these opportunities throughout the year through large-scale events such as talents shows, play-writing competitions, film festivals and fashion shows.
All of our members and participants are 13-21 years old, and either live or go to school in school in Surrey, BC. The Arts Council of Surrey (ACS) is our parent organization who provides us with a safe meeting space at the Newton Cultural Centre. The ACS provides us with a mentorship program and services to support our artistic endeavours.
We work on many annual projects such as a playwriting competition [Write On!], City-wide talent show [Surrey Shines!] a talent showcase [Canvas Coffee House], and a fashion show [Y.E.S. Runway]
By working on the youth council, we have the chance to discover who we are, to meet people from other backgrounds and to learn exciting new skills. At the same time, the events we organize are the perfect opportunities for Surrey youth to show off their talents to the community.
YACOS is currently working to provide opportunities for young people to become actively involved in the local Surrey Arts community. Our Youth Coordinator, an experienced Mentor from the Arts community, works with us to develop programs by and for youth. In 2004 the major community theatre project "Let Me Sing" raised enough money to help get us started.
The way we work is: Surrey's youth provide the ideas and proposals, and then we get together with mentors in the community to make it all work.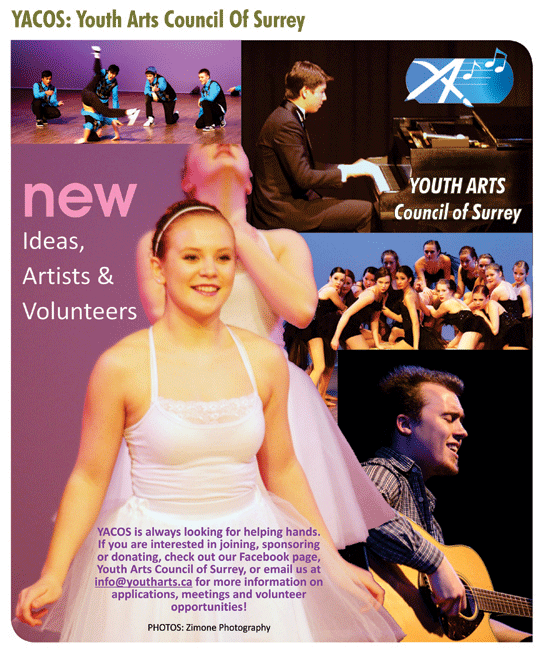 ---
MEMBERSHIP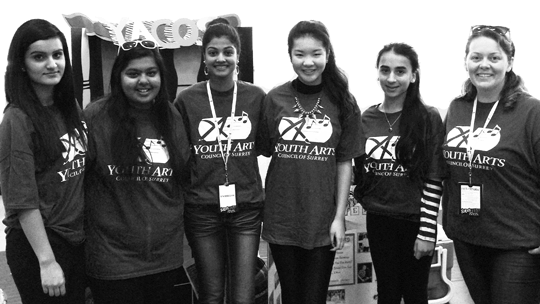 ---
EXECUTIVE
Amrit, Chair
Shubi, Vice Chair
MEMBERS: Wendy, Himadri, Fareed, Bakhtiar, Min Jy, Linda, Gurmehak, Tina, Pam, Simmie and Maro
Click button to access
PRINTABLE PDF MEMBERSHIP FORM
We welcome all questions you may have about the many benefits of becoming a YACOS member. Please call us at 604-594-2700 or email us at youthartscouncil@gmail.com.
Please fill out form and send to:
By Email: youthartscouncil@gmail.com
By Mail: 13530 72nd Avenue, Surrey, BC, V3W 2P1
Facebook: https://www.facebook.com/youth arts council of surrey
MENTORSHIP
When the Arts Council of Surrey established YACOS they knew that 'experience is a great teacher' when it comes to the Arts and the business of the Arts. To this end, the ACS set up a Mentorship program that young artists can tap into when creating work or producing events and fund raisers. Today YACOS enjoys an incredible synergy with a number of leaders in the business, municipal and arts communities.
ACS/YACOS COORDINATOR
Lyn Vera-Lay
CURRENT MENTORS
Petra Barker [Guildford Town Centre]
Beth Barlow [Chief Librarian, City of Surrey]
Catherine Bayley [School District #36]
Glen Chua and Tim Reyes [MOONLiTE Productions]
KC Gilroy [Former Coordinator]
Barb Gould [Writer]
Jarnail Singh [Artist]
Chris Thornley [Thornley Hayne Creative Communications]
Barb Wolfe [Surrey Arts Centre]
'YACOS PAST MEMBER' MENTORS
Paula Cooper,Kiran Dhillon, Trisha Dulku, Jaspreet Kalsi, Gurinder Kalsi, Winnie Liu, Lynn Vo, Isuru Withanage, Tina Yang and Tony Yang