GENERAL MEETING
Tuesday | October 16th, 2018 | 7:15pm | Newton Cultural Centre


@13530 – 72 Avenue, Surrey, BC V3W 2P1 | 604.594.2700


All Members Welcome
Please note there are no General Meetings scheduled for the months of June, July, August and December. The ACS AGM takes place in March.
PORTALS TO THE ARTS
Supporting The Arts In Surrey For 51 Years
Find events, workshops, classes and meetings dedicated to the Visual, Performing and Literary Arts.
CLICK ON PORTALS BELOW TO ACCESS LISTINGS.
[Listing are updated monthly]
Feature
WoA: Sunday, October 14th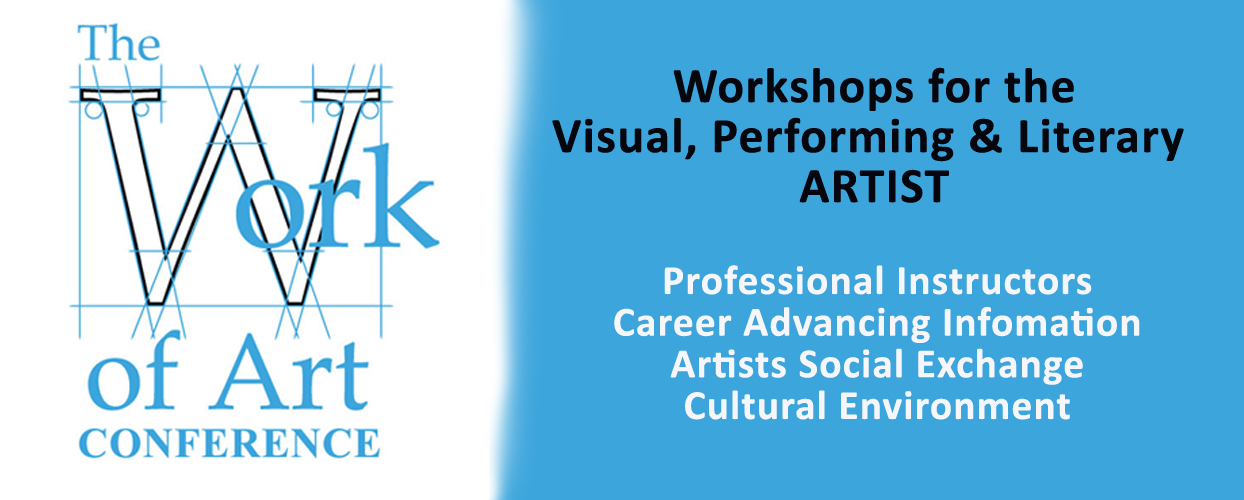 Our annual Work of Art Conference is one of more popular educational platforms the ACS offers its members. This year, we are pleased to announce the conference will have workshops specifically designed for all three arts disciplines: Performance, Literary and Visual arts. Artists from these sectors will receive career advancing information from professional instructors, in an creative environment filled with like-minded talents from various arts disciplines.
Although complete details are not scheduled for release until the early October, the ACS Team offers a sneak peak into the calibre of instruction participants can expect at this 2018 conference. Social Media and Marketing are identified as two critically important skills to master when pursuing a career in the arts.
Sought-after presenters Leslie Kuny and Jill Nadon of The Shift Handmade, will be on site to present 'Navigating Your Online Presence' and 'Master Your Merchandising'. There are 6 more Workshops/Instructors you can access at this conference.
Book early as this event tends to sells out! This workshop begins Sunday, October 14th at the Newton Cultural Centre from 9a-4:30p at a minimal cost of $25 per person which includes lunch. Please click on link for REGISTRATION FORM | EVENT SCHEDULE.
---
CITY OF SURREY | Cultural Grants 2019

Key Dates To Remember For Application Process
Sept 19 Cultural Grants Information Session
Sep 26 Expression of Interest forms due
Oct 10 Grant Application Toolkit Workshop
Oct 17 & 20 One-on-One application mentorship sessions
Nov 5 Cultural Grant application due
Find out more at surrey.ca/cultural grants
culturalgrants@surrey.ca

Feature
CIVIC ELECTION OCT 20th &
REFERENDUM OCT 22 – Nov 30 [by Mail]
CBC Vancouver hosts Mayoral Debate at Newton Cultural Centre. WATCH DEBATE HERE. Special 'Thank You' was given to the Arts Council of Surrey for their assistance in making the debate happen. Approximately 60 invited guests were in the audience.
This Election & Referendum Could Literally Change The Political Landscape:
Be Engaged, Get Informed – VOTE!
The ACS Team highly encourages our members and all artists in the greater Surrey region to participate in this month's elections and referendum. Please go to your local Mayoral and Councillor debates and ask what the candidates plan to do in the Arts community. The Visual, Performing and Literary Arts are vital to the cultural identity of Surrey and it is essential that we have a municipal government that supports all the Arts. The referendum has the potential to change the very fabric of BC politics – and artists should have a say in the way we vote in future elections.
Surrey Board of Trade host 'Candidate Dialogues'
Thanks to the SBOT, there are two 'candidate dialogues' being offered in October.
SURREY MAYOR'S CANDIDATES DIALOGUE
Wednesday, October 10th
Sheraton Vancouver Guildford Hotel
Start: 5:30pm
SURREY COUNCILLOR'S CANDIDATES DIALOGUE
Thursday, October 11th
Eaglequest Golf Centre
Start: 5:30pm
Before going to a dialogue, the ACS has asked the mayoral candidates, who have an ability to be contacted, to provide their position on the Arts in Surrey. We have also provided a link to an excellent article by Jennifer Saltman of the Vancouver Sun 'Here's Who's Running' which identifies candidates for Mayor, Council and School Trustee.
The following mayoral candidates have responded to our request for their position on the 'Arts in Surrey' [Sep 28th, 2018]
Surrey First [Click 'Not Now' on Sign-in window] | Integrity Now | People First Surrey
The following mayoral candidates have not responded to our request for their position on the 'Arts in Surrey' at time of posting [Sep 28, 2018]
Safe Surrey Coalition | Proudly Surrey
Due to a lack of website or other social media we were unable to contact the following [Sep 28th, 2018]:
Progressive Sustainable Surrey | John Wolanski: Independent
REFERENDUM [by mail]
First-Past-The-Post vs Proportional Representation
British Columbia is having a referendum on what voting system we should use for provincial elections. The referendum is being held by mail from October 22 to November 30, 2018. Registered voters will get a voting package in the mail from Elections BC between October 22 and November 2, 2018.
First Past The Post vs Proportional Representation – BIG DECISION that could change the very fabric of our province. The ACS encourages you to vist the Elections BC site [CLICK HERE] to learn the real facts about both options. We encourage you to become engaged, get informed and vote. This will be on of the most important vote most BC residents will ever participate in. To gauge what your fellow citizens are thinking at this time please visit the Angus Reid [CLICK HERE] site for the latest polling.
JOIN US: Become A Member Today!
There is a place for every artist and every business or person who supports the arts.
Memberships available for: Individual, Associate, Group (both grant & non-grant) & Business
SPOTLIGHT
on the arts
The most comprehensive newsmag featuring 28 pages of current news and views on Surrey's vibrant and thriving
art scene.
Includes the latest info on the
Visual, Performance and Literary arts
in metro Surrey.
The SPOTLIGHT on the arts is published monthly 11 times a year.
---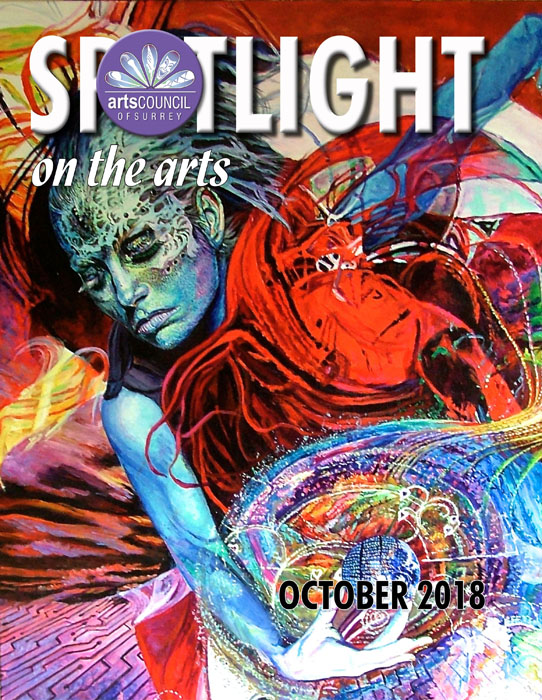 ---
Missed a past issue? Now you can access all SPOTLIGHT on the Arts publications dating back to 2011.
Access SPOTLIGHT Archive
READ NOW:
Sep 2018 Issue
TO SUBMIT

TO ADVERTISE

TO SUBSCRIBE