The next virtual
[VGM] VIRTUAL GENENERAL MEETING
General Meeting [Zoom] will be Tuesday, Sept 14th @ 7pm Please contact info@artscouncilofsurrey.ca by Noon, Friday, Sept 10th to receive invitation information
Stay safe…Stay Creative…Stay apART!
PORTALS TO THE ARTS
Supporting The Arts In Surrey For 54 Years
Find events, workshops, classes and meetings dedicated to the Visual, Performing and Literary Arts.
CLICK ON PORTALS BELOW TO ACCESS LISTINGS.
[Listing are updated monthly]
September is Grant Month
DEADLINE FOR GRANTS | SEPTEMBER 30th!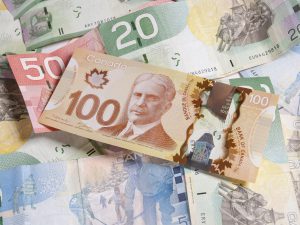 Opportunity #2
2022 City of Surrey Cultural Grant Program
This important funding program returns with a few COVID exemptions. While only ACS Member Groups (Grant option) can apply, they were required to attend 6 of the 8 General Meetings. Due to the rise in COVID, the ACS has waived this requirement again for 2022. The ACS is proud to contribute financial support to our eligible applying Group Members. Apply to become a Group Member(Grant Option) – today and reap the benefits of membership! CONTACT info@artscouncilofsurrey.ca for application
Opportunity #1
2022 ACS Member Group Assistance Grant Program
The Cultural Grants Program supports a wide range of arts and cultural activity in Surrey, including artistic practices (music, dance, theatre, literary, visual, media, inter-disciplinary, community-based and Indigenous arts) and cultural celebrations and events that reflect Surrey's diverse heritage and community. So what' s new for 2022?
– Application forms have been revised and include an easy-to-use budget template
– Expressions of Interest (EOIs) are no longer required for new or existing applicants to the program
– Cultural Celebration Grant replaces the Capacity Building Grant
– Increase in available operating funding to qualifying Operating Grants applicants
– Surrey Civic Theatres Rental-in-Kind Subsidy
Click Here For Grant Details and Application
---
---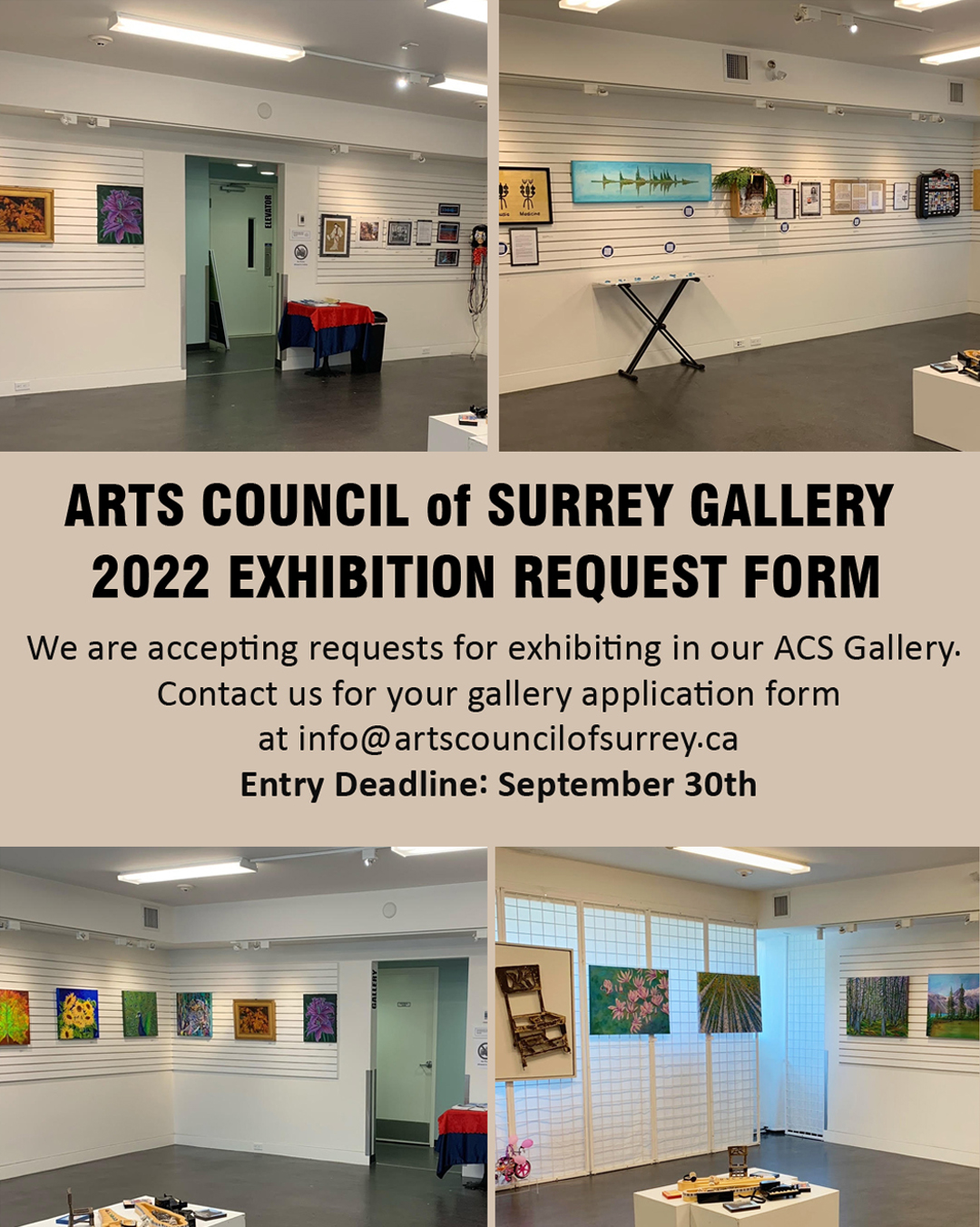 ---

Additional GRANT Access
Produced October 2019 by the
City of Surrey Cultural Development Department
JOIN US: Become A Member Today!
There is a place for every artist and every business or person who supports the arts.
Memberships available for: Individual, Associate, Group (both grant & non-grant) & Business
SPOTLIGHT
on the arts
The most comprehensive newsmag featuring 28 pages of current news and views on Surrey's vibrant and thriving
art scene.
Includes the latest info on the
Visual, Performance and Literary arts
in metro Surrey.
The SPOTLIGHT on the arts is published monthly 11 times a year.
---
Missed a past issue? Now you can access all SPOTLIGHT on the Arts publications dating back to 2011.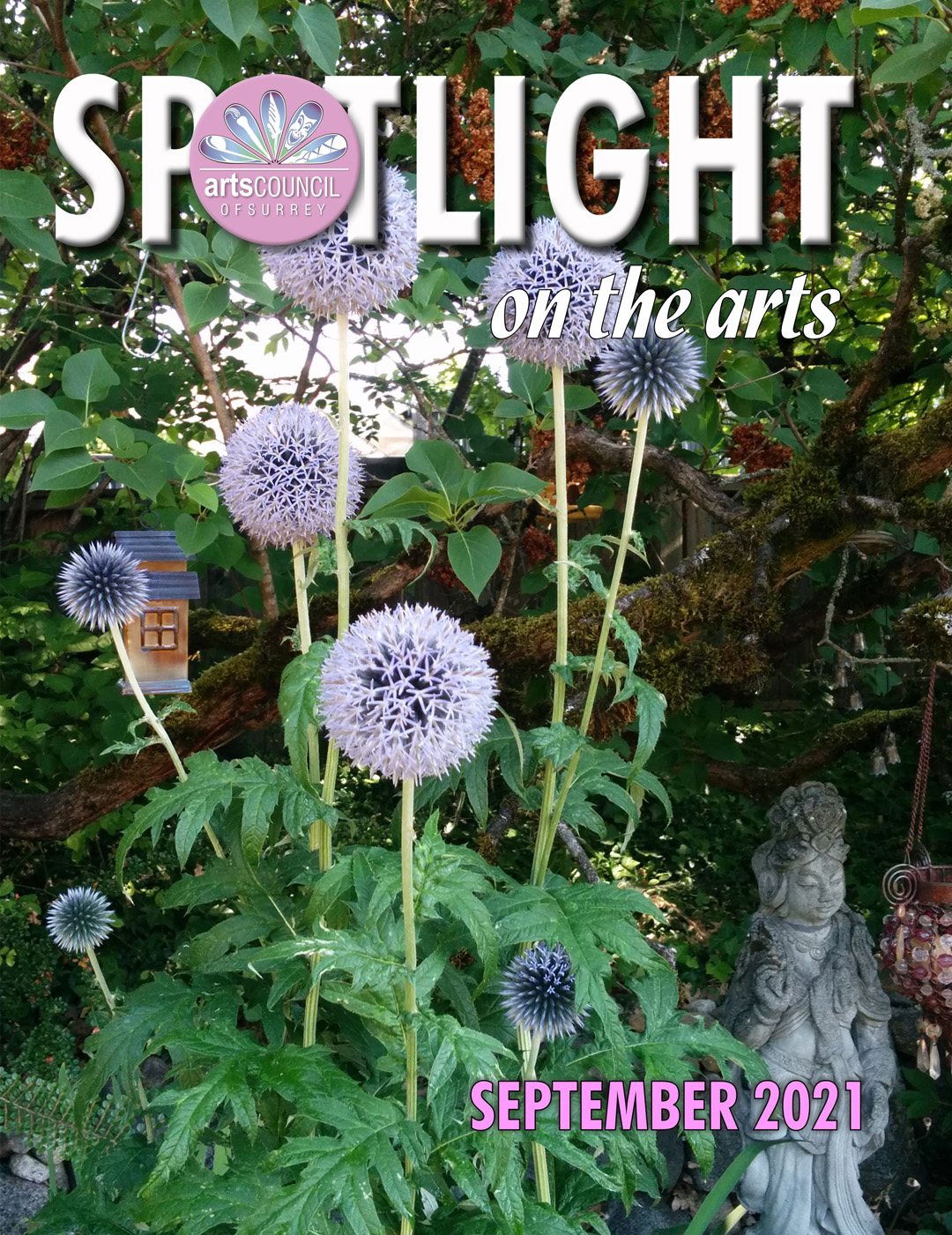 Access SPOTLIGHT Archive
READ NOW:
September 2021 Issue
TO SUBMIT

TO ADVERTISE

TO SUBSCRIBE