AGM: ANNUAL GENERAL MEETING
Tuesday |  MARCH 20th, 2018 | 7:15pm | Newton Cultural Centre


@13530 – 72 Avenue, Surrey, BC V3W 2P1


All Members Welcome
Please note there are no General Meetings scheduled for the months of June, July, August and December. The ACS AGM takes place in March.
PORTALS TO THE ARTS
Supporting The Arts In Surrey For 51 Years
Find events, workshops, classes and meetings dedicated to the Visual, Performing and Literary Arts.
CLICK ON PORTALS BELOW TO ACCESS LISTINGS.
[Listing are updated monthly]
Feature
A Full Year Of Great Art!
2018 ACS GALLERY LINEUP

January: Surrey Photography Club, Multiple Exposures
February: Carol Poole, Just Carol
March: Jim Hatch & Sandy Dimond, Dual Display
April: Just Chairs
May: Meghan Carich, Light from the Inside Out
June: YACOS, Member Show
July: Tristan Miller, Unlimited Pawsibilities
August: Priya Janghu, The Nandibull and Linda Pearce, Contemplations
September: ArtsCan, Member Show
October: David Kilpatrick, Into the Mystic
November: Amy Lee, Flowers Unlimited
December: Christmas Card Art & Words
Watch for 2019 ACS Gallery Applications coming out soon!
The ACS GALLERY is located in the Newton Cultural Centre located at 13530 72 Ave, Surrey, BC V3W 2P1
Feature
AGM MARCH 20th, 2018 @ 7:15pm
Help Make The Future of Art in Surrey a Priority

Members in good standing are invited to attend the AGM (Annual General Meeting) taking place in the Newton Cultural Centre [13530 72 Ave, Surrey, BC V3W 2P1] on March 20th starting at 7:15pm. The AGM is where the Arts Council of Surrey disperses approximately $5000 in grants to its Members in Good Standing.
However, in order to obtain grant funding Members must be current in their membership and they must also attend 6 of the 8 General Meetings which take place throughout the year. The AGM is also where the ACS recognizes businesses and persons who have made a noted contribution to Surrey Arts, either in 2018 or over all. The 'Business & The Arts' award and the 'Outstanding Service to the Arts' ward are two coveted recognitions given to the community at large.
Election of the 2018 Board and the Executive also takes place at the AGM. We invite any one interested in the Arts, and our Membership to attend. If you are not a member you are welcome to attend, you are just not eligible to vote.
So see you at the ACS AGM!
JOIN US: Become A Member Today!
There is a place for every artist and every business or person who supports the arts.
Memberships available for: Individual, Associate, Group (both grant & non-grant) & Business
SPOTLIGHT
on the arts
The most comprehensive newsmag featuring 28 pages of current news and views on Surrey's vibrant and thriving
art scene.
Includes the latest info on the
Visual, Performance and Literary arts
in metro Surrey.
The SPOTLIGHT on the arts is published monthly 11 times a year.
---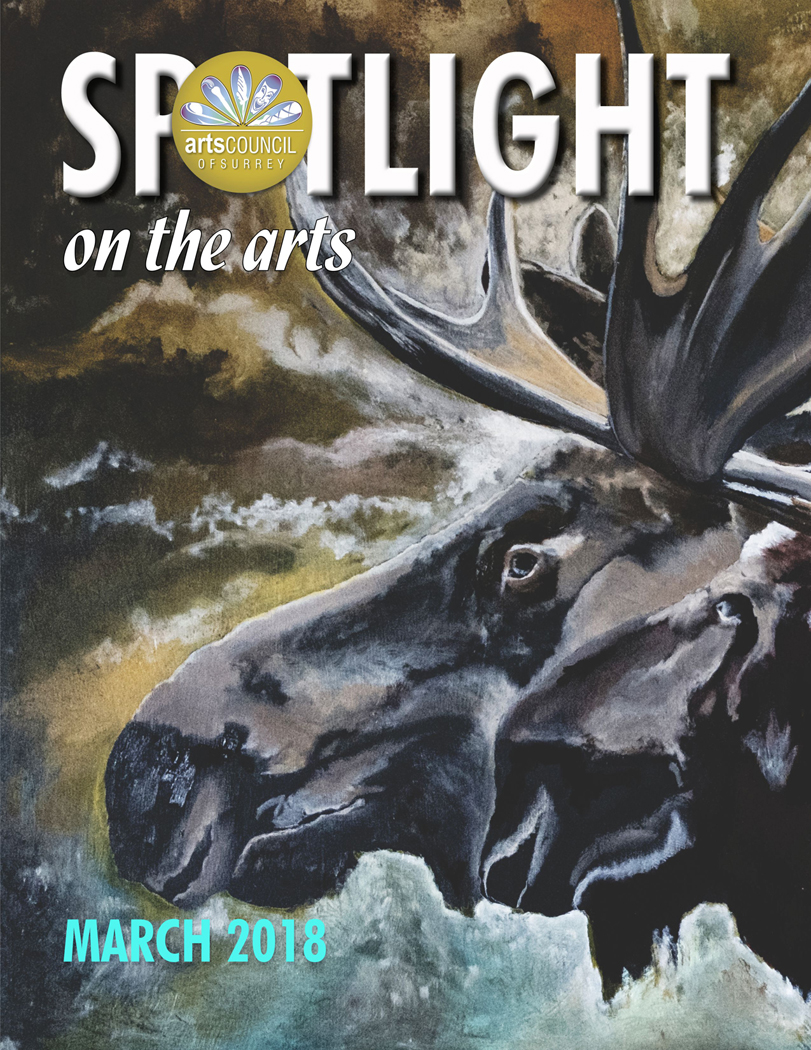 ---
Missed a past issue? Now you can access all SPOTLIGHT on the Arts publications dating back to 2011.
Access SPOTLIGHT Archive
READ NOW:
December 2017 Issue
TO SUBMIT

TO ADVERTISE

TO SUBSCRIBE