NEXT GENERAL MEETING
Tuesday |  JANUARY 9th, 2018 | 7:15pm | Newton Cultural Centre


@13530 – 72 Avenue, Surrey, BC V3W 2P1


All Members Welcome
Please note there are no General Meetings scheduled for the months of June, July, August and December. The ACS AGM takes place in March.
PORTALS TO THE ARTS
Supporting The Arts In Surrey For 50 Years
Find events, workshops, classes and meetings dedicated to the Visual, Performing and Literary Arts.
CLICK ON PORTALS BELOW TO ACCESS LISTINGS.
[Listing are updated monthly]
Feature
SNEAK PEEK AT 2018 ACS GALLERY LINEUP
Here Are A Few Exhibitions To Watch For!

ACS Gallery starts the New Year with a delightful eyeful of photography. Surrey Photography Club brings their imaginations and photographs to the gallery at Newton Cultural Centre from January 3-30 with an opening reception January 13, 1:00-3:00pm. See the world of different perspectives from several different photographers.
In February be sure to visit the gallery to see Carol Poole's show called, "Just Carol". Her works will arouse your imagination, restore your faith in art and help you to drift away from the ordinary into the extraordinary. Be sure to visit the show runs from February 3-27, reception February 10, 1:00-3:00pm.
Coming up this year in the ACS Gallery: Just Chairs Visual Arts Competition, Youth Arts Council of Surrey Members Show, ArtsCan Members Show and, the Christmas Card Art & Words Challenge.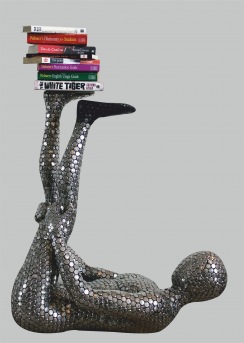 We can hardly wait to let you see the other shows developing. Look for Tristan Miller with his quirky works, Priya Janghu's fantastic sculptures, and David Kilpatrick's award winning art at the gallery. More artists' works will fill the gallery during the year and we will tell you all about them as their shows are approaching.
Visual artists keep on creating your art works and get ready to submit your ideas for a show in 2019. Application forms are readily available for you to fill out for next year's displays at ACS Gallery. And also, if you have shown at ACS Gallery in 2015 or 2016, it's time for you to re-apply for a 2019 show.
Watch future 'features' for a complete calendar list of exhibits taking place in the ACS Gallery at Newton Cultural Centre.
IMAGE: Priya Janghu
Feature
GRANT MONEY AVAILABLE
Access Financial Resources With The ACS

Time is running out for artists to sign up for access to a bank of funding opportunities that may aid you in funding your artistic endeavours. You only have until the end of January so contact the ACS office and get researching and applying for financial aid today!
The program provides an easy search tool that will help match your organizations needs with the giving interests of Foundations and funders in Canada. Cost $50.00
ACS GRANT ADVANCE PROGRAM REGISTRATION DEADLINE: January 31, 2018
---
Feature
THANKING THOSE WHO HELPED
Celebrate Our 50th!
The ACS would like to thank our members, volunteers, office staff and the City of Surrey for their support over the year in celebration of our 50th anniversary. We would like to especially thank Mayor Linda Hepner for her kind words expressed in her letter to the ACS congratulating us on our 50th [You can READ IT HERE or on-line in the Spotlight Archive December 2017 issue].
We also wish to recognize the Surrey NOW-Leader community newspaper (thanks Anne) for their very generous partnership of three full page 'features' over the year focusing on the Literary, Visual and Performing Arts. It is great to know that our local media supports the art to such a high level.
We are presently working with the City of Surrey Councillors and staff to produce two very visible and unique 'legacy' projects. Scheduled for completion in the early new year, these legacy projects will introduce 'Art Spots' to Surrey and be located throughout our great city. More on this exciting project to come in the new year.
Meanwhile, we enter 2018 beginning the first year of our next 50. It is hard to imagine that 50 years from now the Arts Council of Surrey will be celebrating a 100 years! Knowing now how our members and patrons have sustained us for 50 years – another 50 seems not so impossible to imagine!
Happy 2018 – may the year be prosperous, happy and above all – safe.
The ACS
JOIN US: Become A Member Today!
There is a place for every artist and every business or person who supports the arts.
Memberships available for: Individual, Associate, Group (both grant & non-grant) & Business
SPOTLIGHT
on the arts
The most comprehensive newsmag featuring 28 pages of current news and views on Surrey's vibrant and thriving
art scene.
Includes the latest info on the
Visual, Performance and Literary arts
in metro Surrey.
The SPOTLIGHT on the arts is published monthly 11 times a year.
---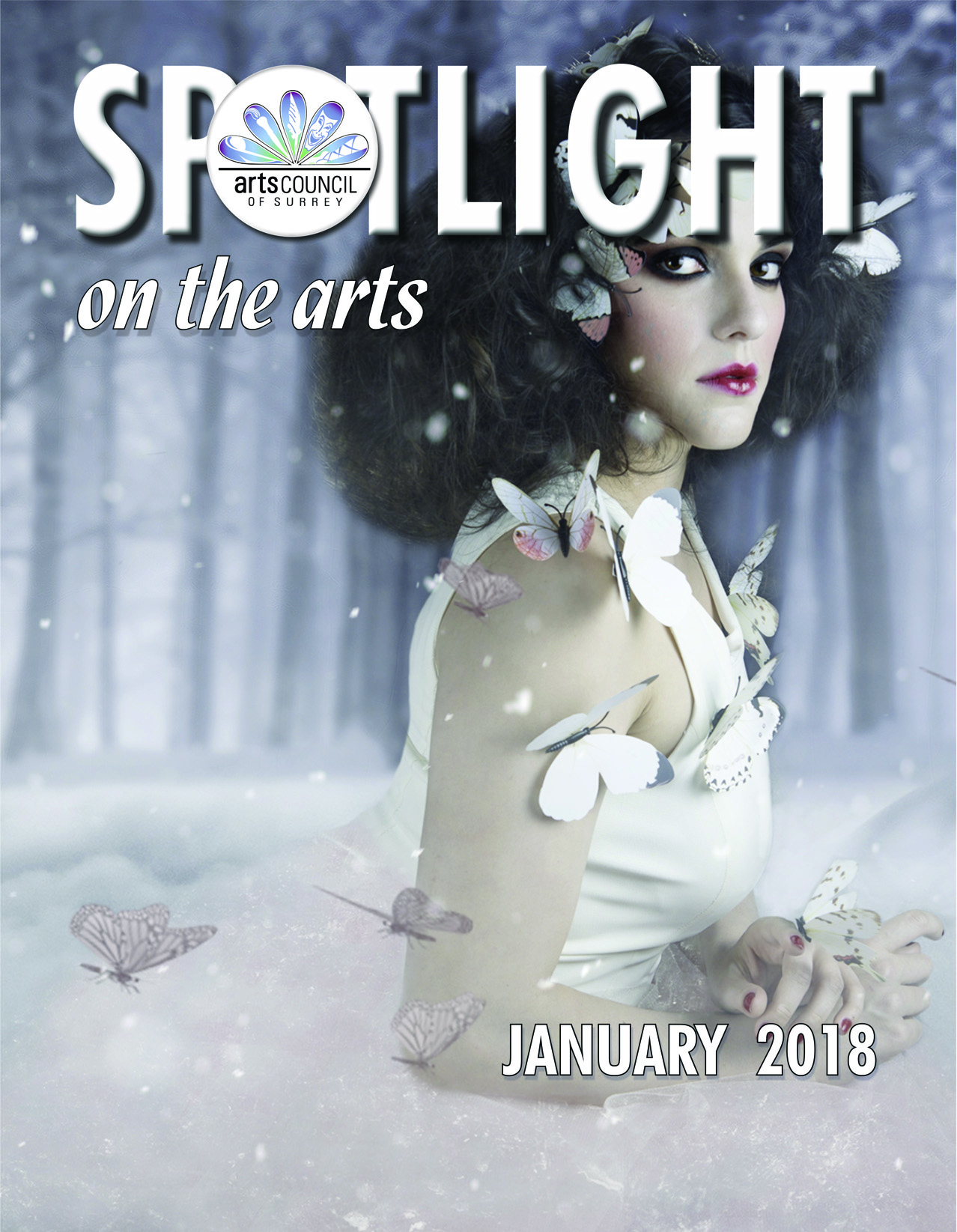 ---
Missed a past issue? Now you can access all SPOTLIGHT on the Arts publications dating back to 2011.
Access SPOTLIGHT Archive
READ NOW:
December 2017 Issue
TO SUBMIT

TO ADVERTISE

TO SUBSCRIBE