NEXT GENERAL MEETING
Tuesday |  OCTOBER 10th, 2017 | 7:15pm | Newton Cultural Centre


@13530 – 72 Avenue, Surrey, BC V3W 2P1


All Members Welcome
Please note there are no General Meetings scheduled for the months of June, July, August and December. The ACS AGM takes place in March.
PORTALS TO THE ARTS
Supporting The Arts In Surrey For 50 Years
Find events, workshops, classes and meetings dedicated to the Visual, Performing and Literary Arts.
CLICK ON PORTALS BELOW TO ACCESS LISTINGS.
[Listing are updated monthly]
Feature
Popular ACS annual competition returns
The time has come once again to capture the spirit of the holiday season in words or by creating a visual work of art. This annual competition is always well supported, and the ACS is always amazed at seeing and reading what 'Christmas' means to those who submit their work.
The winning verse and art will be featured on the ACS Christmas Cards which is sent to ACS Membership and many important governmental and business dignitaries. This is valuable marketing exposure and offers a badge of distinction for being selected to express the ACS thoughts at this time of year.
RULES & REGULATIONS [Click Here]
This is a printable 8×11 format
ENTRY FORM [Click Here]
This is a printable pdf format
Feature
SURREY NOW-Leader & ACS Partner To Create Special Fall Arts Features:

To help celebrate our 50th anniversary, the ACS is thrilled to be partnering with the SURREY NOW-LEADER this Fall, to produce three one-page special features designed to highlight the vibrant Arts communities that exist in our great city of Surrey. We are inviting artists from the PERFORMANCE, LITERARY and VISUAL Arts disciplines to share with us your brief stories with future artists. We want to encourage a new generation of artists to join our great community of artist and patrons on the arts.
What Tips or Adivce would you give to an emerging artist in Surrey today? Send them for info@artscouncilofsurrey.ca /SUBJECT: NOW-Leader Editorials. Please note that due to space constraints, the ACS reserves the right to determine content use and to edit.
PERFORMANCE ART: Published September 29th [Read It Here]
This page is Tabloid format at 11x17in
PUBLICATION DATE:
Literary: October 20th | INFO DUE @ ACS: OCTOBER 2
Visual: December 1st | INFO DUE @ACS: NOV 13
The Surrey NOW-Leader and the ACS have partnered to create this unique community outreach program to encourage new artists to participate in any of the three art disciplines. With your help, we can reach new artists, entice them into our Art communities and increase awareness for the arts in Surrey.
JOIN US: Become A Member Today!
There is a place for every artist and every business or person who supports the arts.
Memberships available for: Individual, Associate, Group (both grant & non-grant) & Business
SPOTLIGHT
on the arts
The most comprehensive newsmag featuring 28 pages of current news and views on Surrey's vibrant and thriving
art scene.
Includes the latest info on the
Visual, Performance and Literary arts
in metro Surrey.
The SPOTLIGHT on the arts is published monthly 11 times a year.
---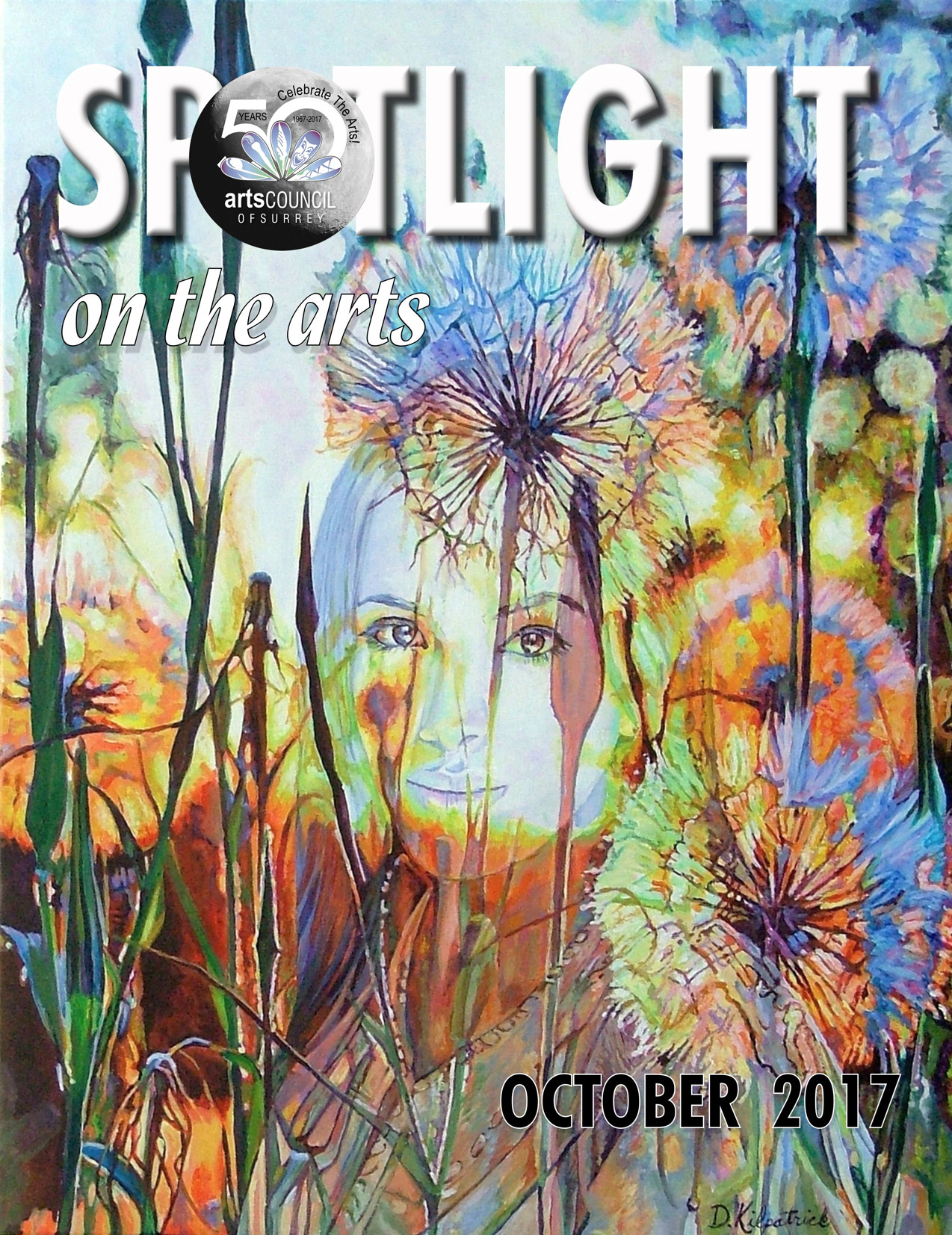 ---
Missed a past issue? Now you can access all SPOTLIGHT on the Arts publications dating back to 2011.
Access SPOTLIGHT Archive
READ NOW:
September 2017 Issue
TO SUBMIT

TO ADVERTISE

TO SUBSCRIBE