The next virtual
[VGM] VIRTUAL GENENERAL MEETING
General Meeting [Zoom] will be Tuesday, February 8th @ 7pm.
Please contact info@artscouncilofsurrey.ca by Noon, Friday, February 4th to receive invitation information
Stay safe…Stay Creative…Stay apART!
PORTALS TO THE ARTS
Supporting The Arts In Surrey For 55 Years
Find events, workshops, classes and meetings dedicated to the Visual, Performing and Literary Arts.
CLICK ON PORTALS BELOW TO ACCESS LISTINGS.
[Listing are updated monthly]
ACS – A Reason to Celebrate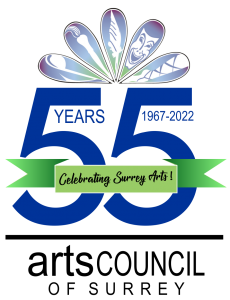 2022 – The ACS Turns 55 years young!

It is hard to believe, but the ACS has been serving the Arts & Cultural communities of Surrey since 1967! This makes 2022 our 55th year in operation. Just to put this into perspective of just how old we are …the ACS is 26 years older than the City of Surrey! That's right, the city was incorporated in 1993. It is not too often that a non-profit organization can say it is older then the city and artistic citizens it serves. It is also a testament to our all-volunteer operation – which has seen the ACS not only survive but thrive, and it is all due to the generosity and hard work and dedication of our volunteers. To all the volunteers over the past five decades, the current ACS Team would like to extend our greatest thanks for getting our organization this far. Just think how many artists we have helped and nurtured along this 55 year journey…and continue to do so.
Thanks to our past – we are currently in a strong position to continue our growth forward. As we end 2021, the ACS is proud of the hundreds of Individual, Group, Associate and Business members we have obtained and retained. Don't forget to renew your membership as a great start to your 2022 year.
Our social media continues to grow and expand, giving the ACS a potential reach of over 100,000 patrons and influencers of the Literary, Visual or Performing arts. We are proud to go into a new year with nearly 3000 collective followers on our Instagram, Twitter, Facebook and web platforms. If you want to get your message out to the arts community – let the ACS Team help you out!
Yet, during these challenging times, the question to our many members comes down to this; "How should we celebrate this landmark year?" With restrictions changing on a near daily basis, we are asking you for creative ways to celebrate this year. Put your creativity to work and help us come up with a memorable way to express our gratitude to our many members and volunteers and also to commemorate this historic year.
Send your suggestions to info@artscouncilofsurrey.ca | SUBJECT: 55 Years !
For more information please contact the ACS Team at info@artscouncilofsurrey.ca or call 604.594.2700.
---
---
DEADLINE EXTENDED: January 15th
Entry Forms & Exhibition Details now online
CLICK HERE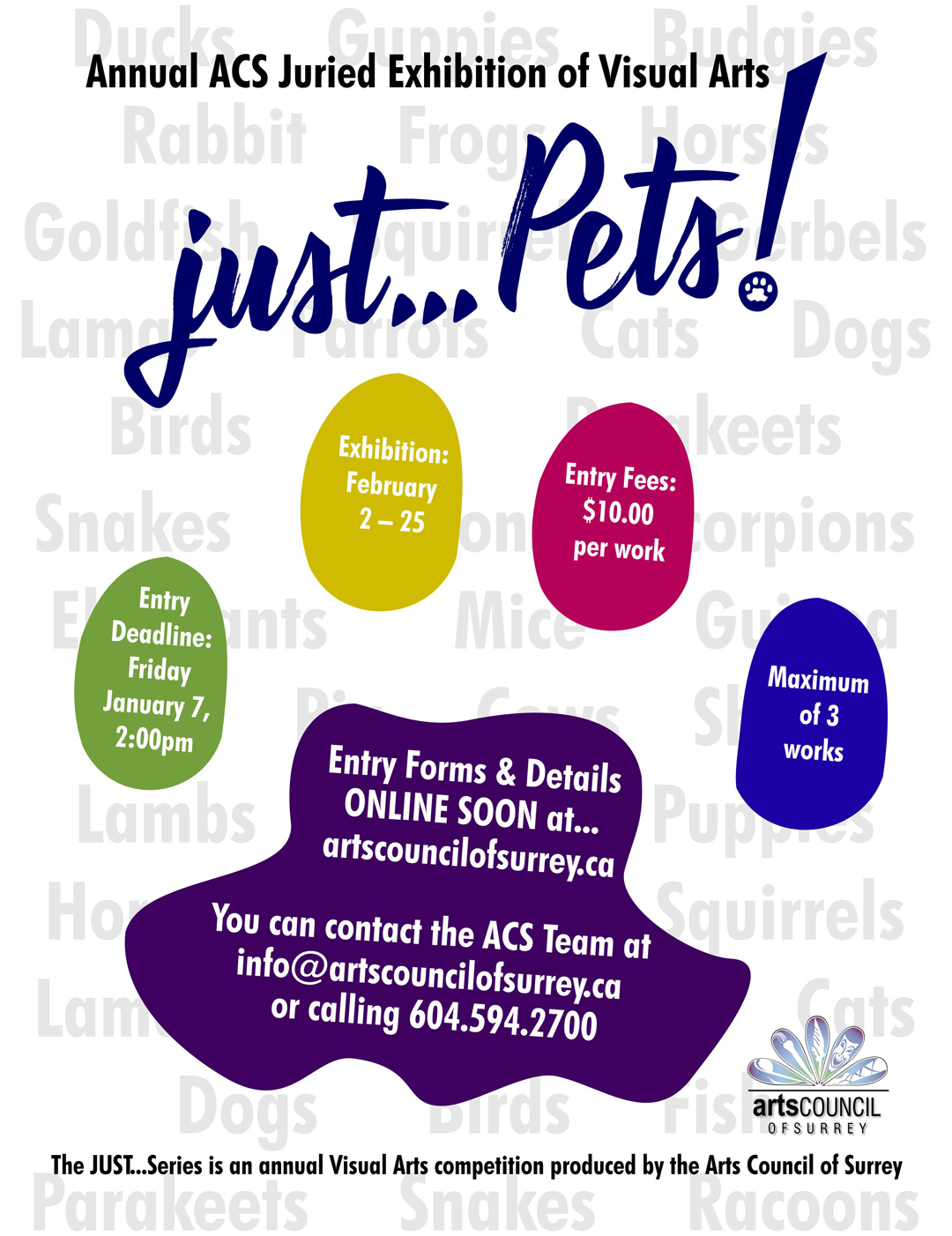 YACOS | Garage Sale Fundraiser
Postponed
The ACS, in partnership with the Youth Arts Council of Surrey [YACOS] – provides you with yet another opportunity to give generously and to help emerging artists !
---

Additional GRANT Access
Produced October 2019 by the
City of Surrey Cultural Development Department
JOIN US: Become A Member Today!
There is a place for every artist and every business or person who supports the arts.
Memberships available for: Individual, Associate, Group (both grant & non-grant) & Business
SPOTLIGHT
on the arts
The most comprehensive newsmag featuring 28 pages of current news and views on Surrey's vibrant and thriving
art scene.
Includes the latest info on the
Visual, Performance and Literary arts
in metro Surrey.
The SPOTLIGHT on the arts is published monthly 11 times a year.
---
Missed a past issue? Now you can access all SPOTLIGHT on the Arts publications dating back to 2011.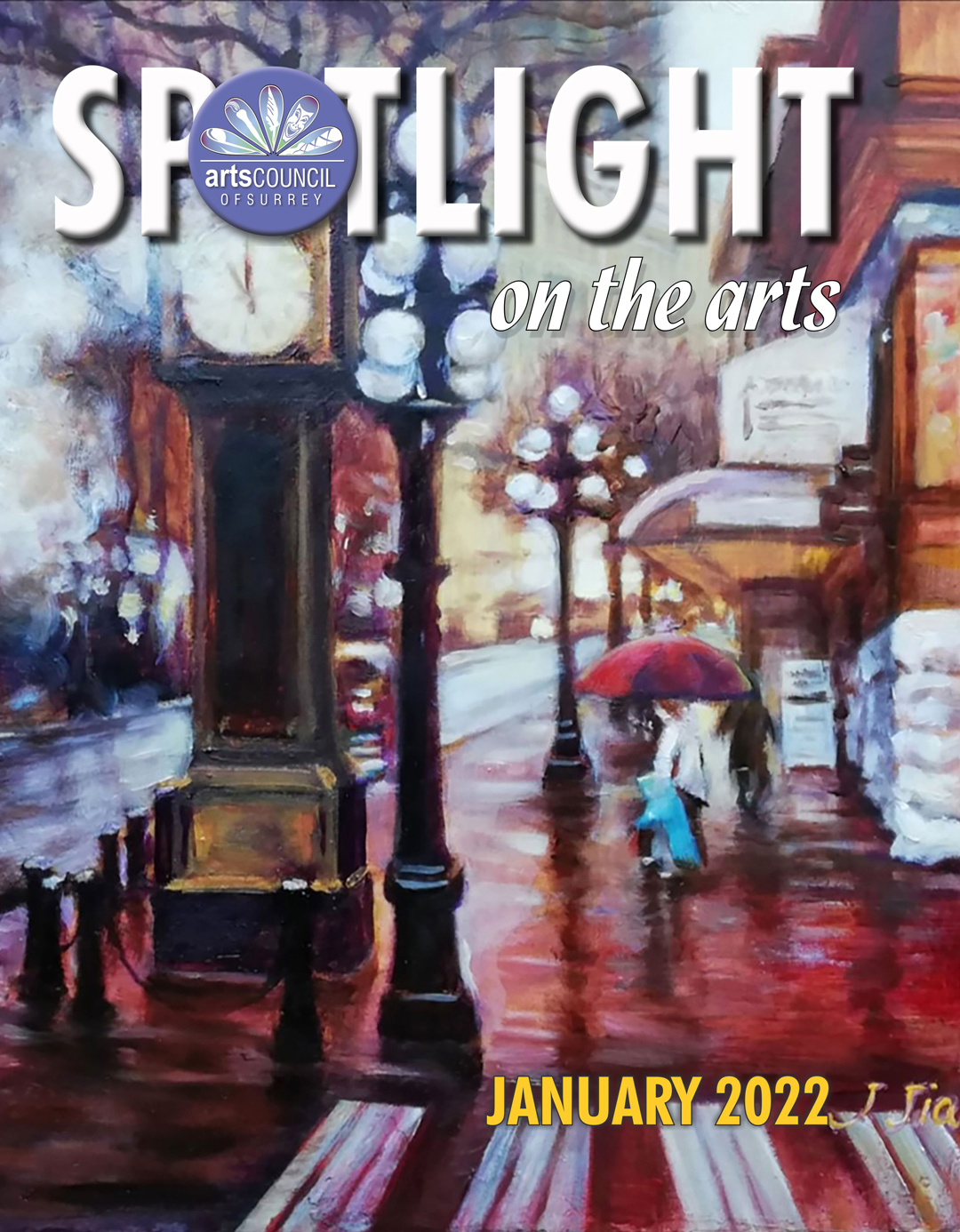 Access SPOTLIGHT Archive
READ NOW:
January 2022 Issue
TO SUBMIT

TO ADVERTISE

TO SUBSCRIBE