GENERAL MEETING
Tuesday | JANUARY 9th, 2018 | 7:15pm | Newton Cultural Centre


@13530 – 72 Avenue, Surrey, BC V3W 2P1 | 604.594.2700


All Members Welcome
Please note there are no General Meetings scheduled for the months of June, July, August and December. The ACS AGM takes place in March.
PORTALS TO THE ARTS
Supporting The Arts In Surrey For 51 Years
Find events, workshops, classes and meetings dedicated to the Visual, Performing and Literary Arts.
CLICK ON PORTALS BELOW TO ACCESS LISTINGS.
[Listing are updated monthly]
Feature
ACS Highlighted At Surrey Board of Trade
'B2B' Event
On Thursday Nov 22, ACS President Carol Girardi, ACS Director & Fundraising James Crosty and ACS Marketing consultant Paul R Thompson participated in the Surrey Board of Trade 'B2B' hosted at Elements Casino, Cloverdale from 5:30 – 7:30pm. ACS reps enjoyed a wealth of interesting connections with the more than fifty local Surrey business community members in attendance. Guest speaker Karen Gray: Director, Corporate Marketing & Engagement | Social Responsibility & Communications with BCLC [British Columbia Lottery Corporation] made specific reference to the great work the ACS has done, and continues to do with the funding bclc has provided over the years. Elements Casino hosted the event in their Dragon Lounge overlooking the race track [available for rent] and served an incredible array of tasty appetizers.
PHOTO INDEX:
A: LtoR | Paul R. Thompson [ACS Marketing}, Karen Gray [bclc], Carol Girardi [ACS Presdient] & James Crosty [ACS Director & Fundraising]
B: Paul R Thompson [ACS Marketing] & Michael Worth [GM Elements Casino]
C: Meghan Cairns [Marketing Manager; Elements Casino & Nazreen Mohammed [BDC]
D: Over 50 local business owners gathered in the Dragon Lounge overlooking the race track at Elements Casino for the SBoT 'B2B' event.
SBoT 'B2B': Event Memories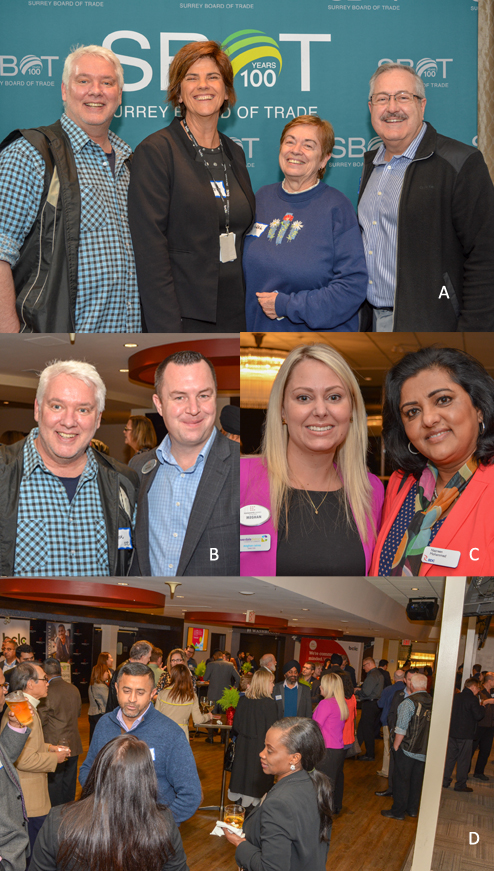 JOIN US: Become A Member Today!
There is a place for every artist and every business or person who supports the arts.
Memberships available for: Individual, Associate, Group (both grant & non-grant) & Business
SPOTLIGHT
on the arts
The most comprehensive newsmag featuring 28 pages of current news and views on Surrey's vibrant and thriving
art scene.
Includes the latest info on the
Visual, Performance and Literary arts
in metro Surrey.
The SPOTLIGHT on the arts is published monthly 11 times a year.
---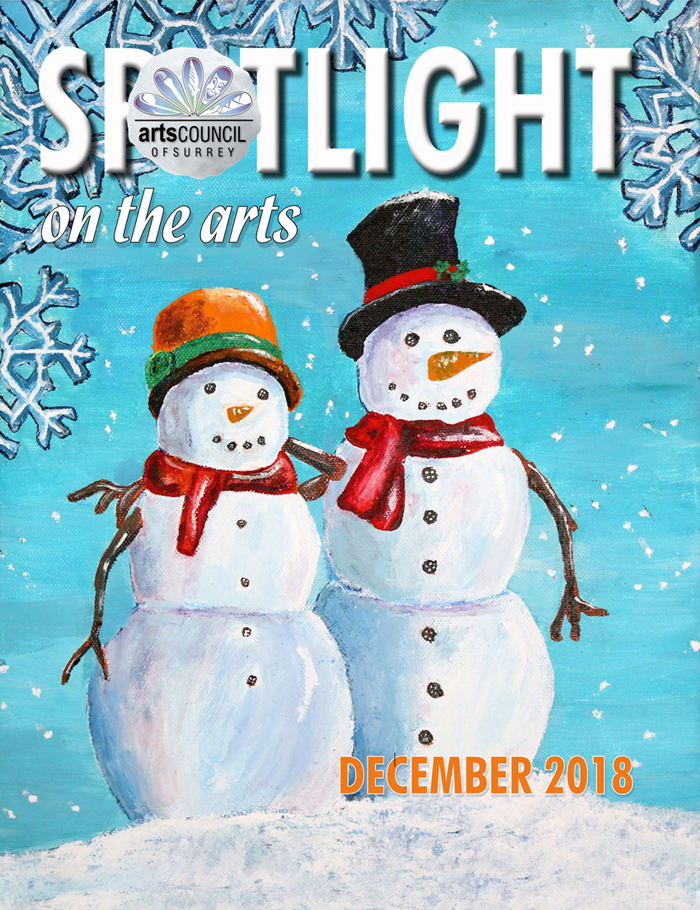 ---
Missed a past issue? Now you can access all SPOTLIGHT on the Arts publications dating back to 2011.
Access SPOTLIGHT Archive
READ NOW:
Sep 2018 Issue
TO SUBMIT

TO ADVERTISE

TO SUBSCRIBE