GENERAL MEETING
Tuesday | November 20th, 2018 | 7:15pm | Newton Cultural Centre


@13530 – 72 Avenue, Surrey, BC V3W 2P1 | 604.594.2700


All Members Welcome
Please note there are no General Meetings scheduled for the months of June, July, August and December. The ACS AGM takes place in March.
PORTALS TO THE ARTS
Supporting The Arts In Surrey For 51 Years
Find events, workshops, classes and meetings dedicated to the Visual, Performing and Literary Arts.
CLICK ON PORTALS BELOW TO ACCESS LISTINGS.
[Listing are updated monthly]
Feature
Rave Reviews For WOA Conference
Oct 14th | Newton Cultural Centre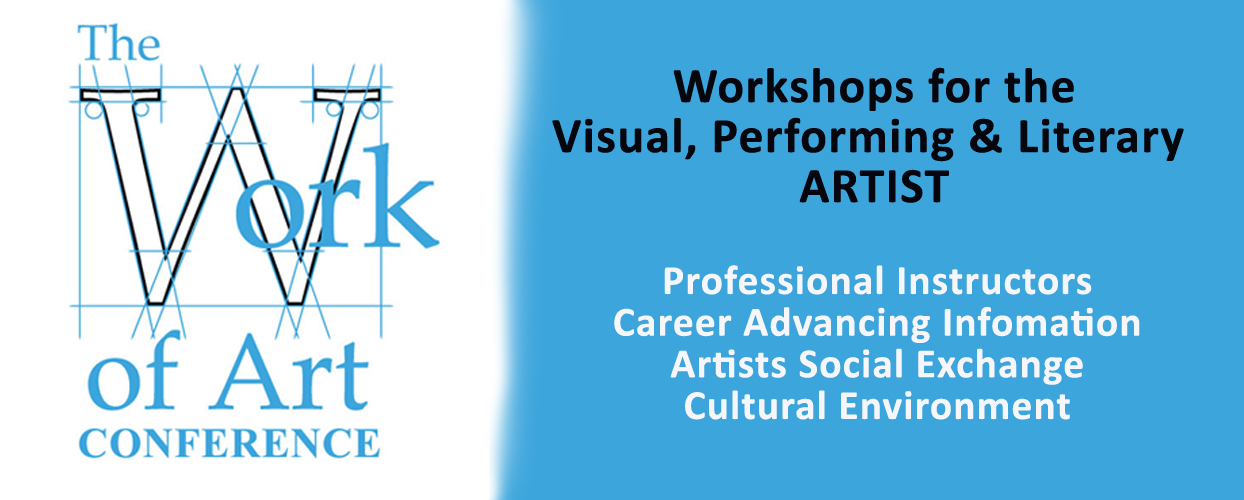 [by Sarah Power] The Work of Art conference was held on October 14th at the Newton Cultural Centre and was a huge success. Many thanks to our distinguished and insightful speakers; Kathy Ramsay, president of ArtsBC, Leah Murray, Leslie Kuny and Jill Nadon from Shift Handmade Market, Cristy Watson, Patricia Dahlquist, and Ben Nuttal-Smith.
The conference started all together in the black box theatre with our Key note address from Kathy Ramsay and from there attendees could choose the talks they wanted to sit in on based on their interest and arts disciple.
The choices of workshops were as diverse as our participating artists and the industry as a whole.
Arts BC's Kathy Ramsay opened the day with the 'Top Arts BC Hotline questions – and answers!' and was followed by a compelling presentation by Leah Murray on STEAM [Science, Technology, Engineering, ARTS and Math] Hot on the list of topics was the use of social media. Leslie Kuny and Jill Nadon of Shift Handmade presented their insights on 'Navigated your On-line Presence', as well as hosted a discussion geared to the Visual artist on how to 'Master your Merchandising'- offering a more pragmatic view on selling art.
For the Literary participants, a workshop specifically dedicated to their craft was offered. Cristy Watson, an award-winning author, shared her knowledge on the 'Business Side of Being an Author'. Specific to the Performing arts, accomplished artist Patricia Dahlquist shared her career notes on how to take the step to 'Becoming A Professional Performer'. Finally the day finished with an important self-improvement exercise directed by Author Ben Nuttal-Smith. Ben presented a two part series entitled 'The Dynamic Presenter' designed to make the artist a better speaker and communicator – a critical aspect of taking your artistry to the next level.
We had a lot of positive feedback, it seems no one left the conference without new ideas to inspire them to grow in the business of being an artists.
WOA: Images of the event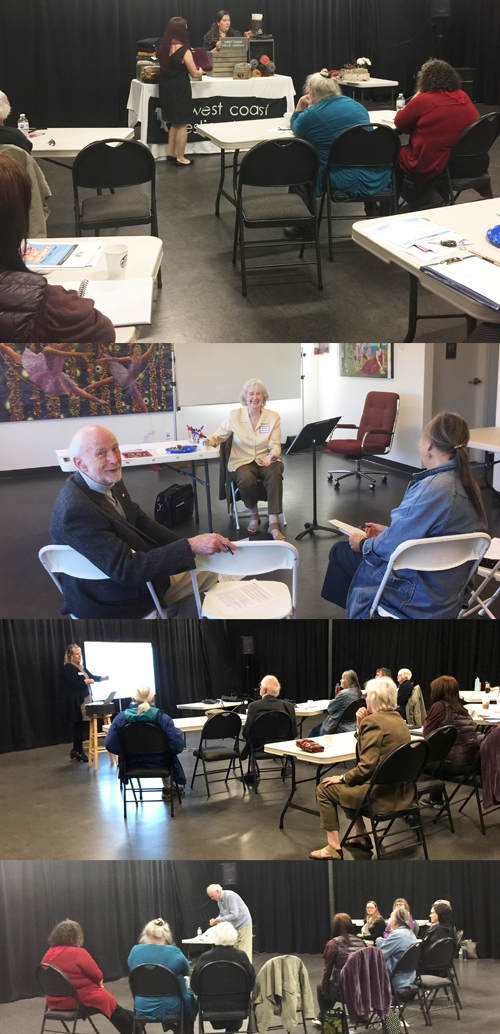 1: ShiftHandmade_JillNadonAndLeslieKuny_MasterYourMerchandising
2: Patricia Dhalquist_TakingTheStepToProfessionalism
3: KathyRamsey_TopArtsBCHotlineQuestionsAndAnswers
4: BenNuttleSmith_TheDynamicPresenter
JOIN US: Become A Member Today!
There is a place for every artist and every business or person who supports the arts.
Memberships available for: Individual, Associate, Group (both grant & non-grant) & Business
SPOTLIGHT
on the arts
The most comprehensive newsmag featuring 28 pages of current news and views on Surrey's vibrant and thriving
art scene.
Includes the latest info on the
Visual, Performance and Literary arts
in metro Surrey.
The SPOTLIGHT on the arts is published monthly 11 times a year.
---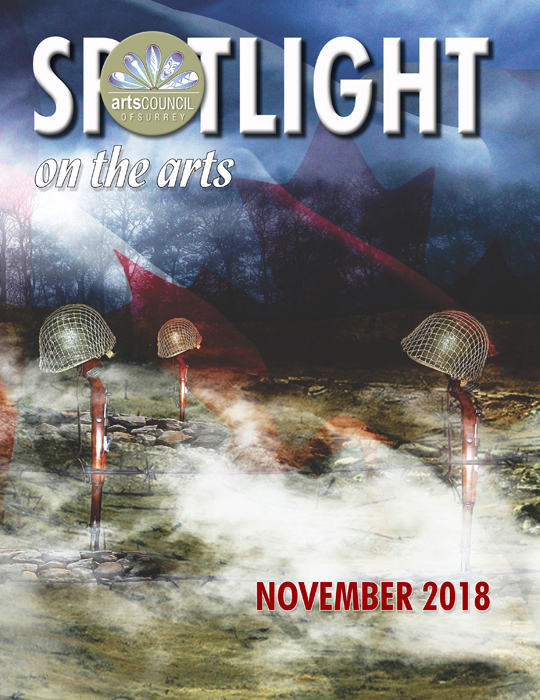 ---
Missed a past issue? Now you can access all SPOTLIGHT on the Arts publications dating back to 2011.
Access SPOTLIGHT Archive
READ NOW:
Sep 2018 Issue
TO SUBMIT

TO ADVERTISE

TO SUBSCRIBE