VIRTUAL GENERAL MEETING
will be Tuesday, February 7th @ 7pm.
Please contact info@artscouncilofsurrey.ca by Noon, Friday February 3rd to receive invitation information
Stay safe…Stay Creative…Stay apART!
PORTALS TO THE ARTS
Supporting The Arts In Surrey For 56 Years
Find events, workshops, classes and meetings dedicated to the Visual, Performing and Literary Arts.
CLICK ON PORTALS BELOW TO ACCESS LISTINGS.
[Listing are updated monthly]
---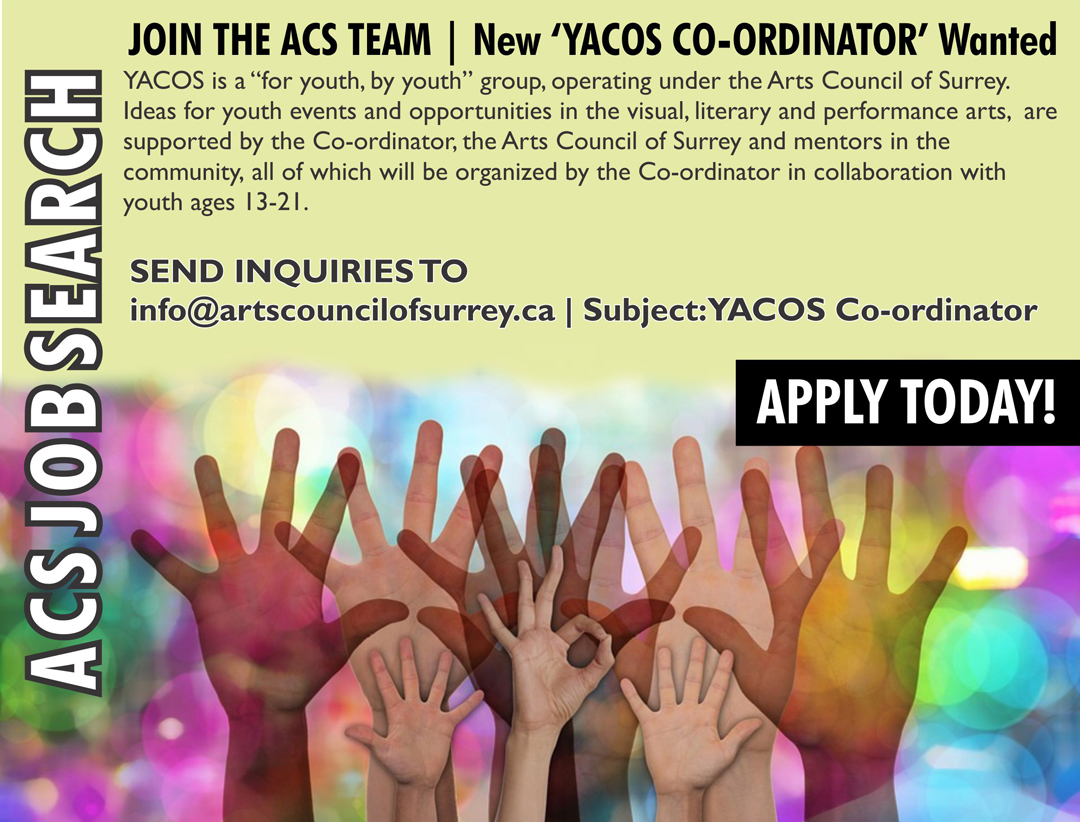 Make This Your New Year Resolution To Attend…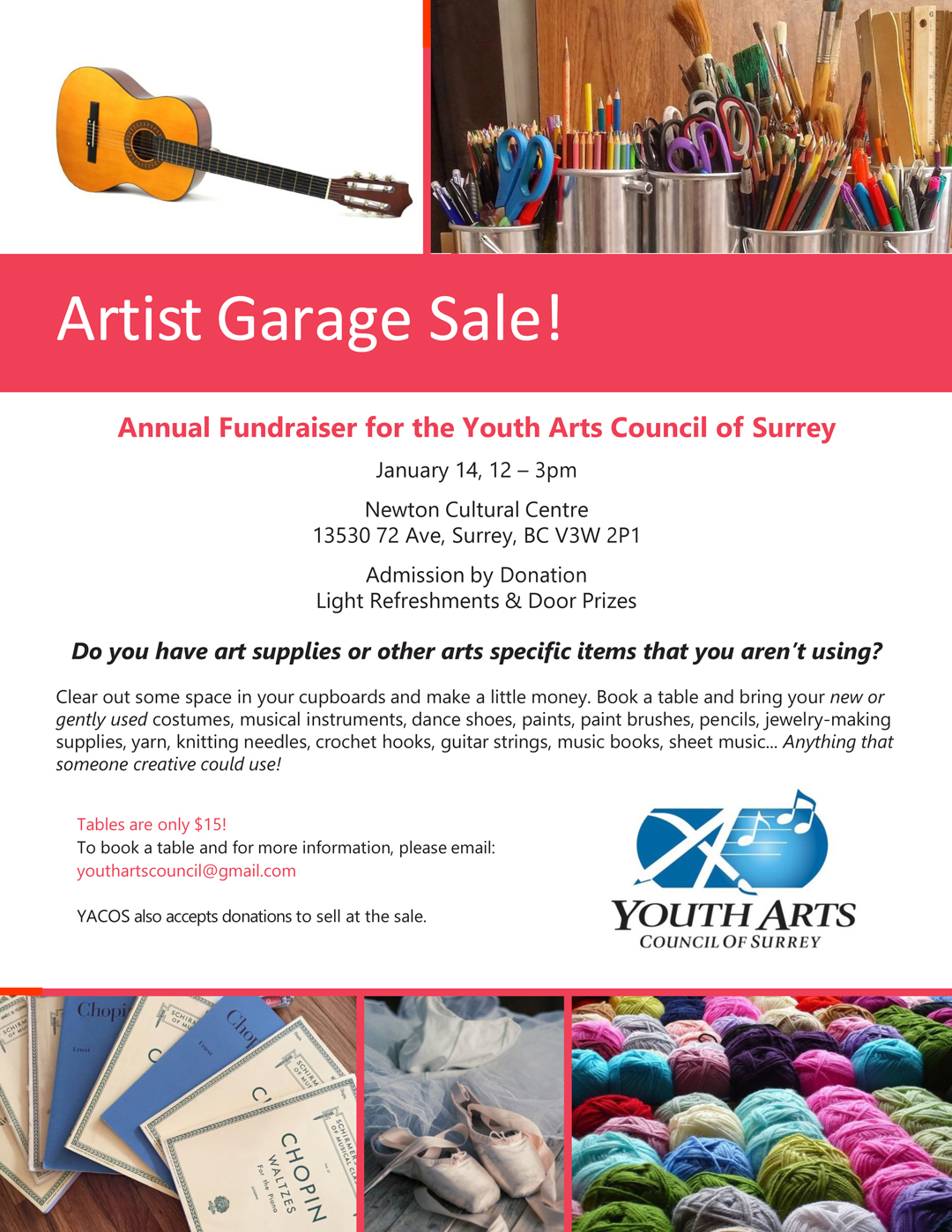 ACS ONLINE MARKETING | TIPS to SUCCESS

#Hashtags – Should I Use Them or Not?
Part 5 | As Featured in our month newsmag
SPOTLIGHT on the ARTS
by Wendy Mould | SotA Regular Contributor
Yes!! You need too!!
When you use hashtags in your Social Media marketing you reach people who are not only interested in your work but are new to your Network.
What are they? Hashtags added to your post means your post will be added to a page for that hashtag. Think of it as a way for your post to be categorized under different headings. ie. #wildlifeartofbc
Which ones should you use? You want to use hashtags that are particular to you and your genre. I feel that a niche hashtag is better than a general one. First of all, the niche hashtag has fewer posts meaning your post will be seen and not buried. Also, your audience is more specific and probably more interested in the content. ie. General – #birdsinart Specific – #birdsofbc
Do some Research: What hashtags do others in your genre use? Engage with the hashtags you use and see who is there.
How many should you use? Well, there is a maximum of 30 allowed but really, if you have effective hashtags that is not really necessary and probably not that effective. Use a selection of hashtags and check your analytics to see which combination seems to work better.
But don't use the same Hashtags every time!! Then you look like a bot. And no platform wants bots posting, they want people. If your account looks like a bot is doing the posting, it will be Shadowbanned – hidden or restricted for 14 days!! Definitely, not a good thing.
Quick way to post hashtags: use the Keyboard>Text Replacement found in your Settings. This shortcut allows you to create your own quick keystroke for a group of #hashtags. This means when you post you only need to enter your shortcut keystroke and the list appears in its place.
Keep posting and remember to Like and Share others, they will return the favour.
Share with me the journey to connect and sell your Artwork by signing up to my blog & newsletter. www.artbywendysblog.blogspot.com
Wendy Mould, AFCA, CDM is a wildlife artist, teacher, presenter, video producer and writer on Painting, Drawing and Marketing for Artists. www.artbywendy.com
---

Additional GRANT Access
Produced October 2019 by the
City of Surrey Cultural Development Department
JOIN US: Become A Member Today!
There is a place for every artist and every business or person who supports the arts.
Memberships available for: Individual, Associate, Group (both grant & non-grant) & Business
SPOTLIGHT
on the arts
The most comprehensive newsmag featuring 28 pages of current news and views on Surrey's vibrant and thriving
art scene.
Includes the latest info on the
Visual, Performance and Literary arts
in metro Surrey.
The SPOTLIGHT on the arts is published monthly 11 times a year.
---
Missed a past issue? Now you can access all SPOTLIGHT on the Arts publications dating back to 2011.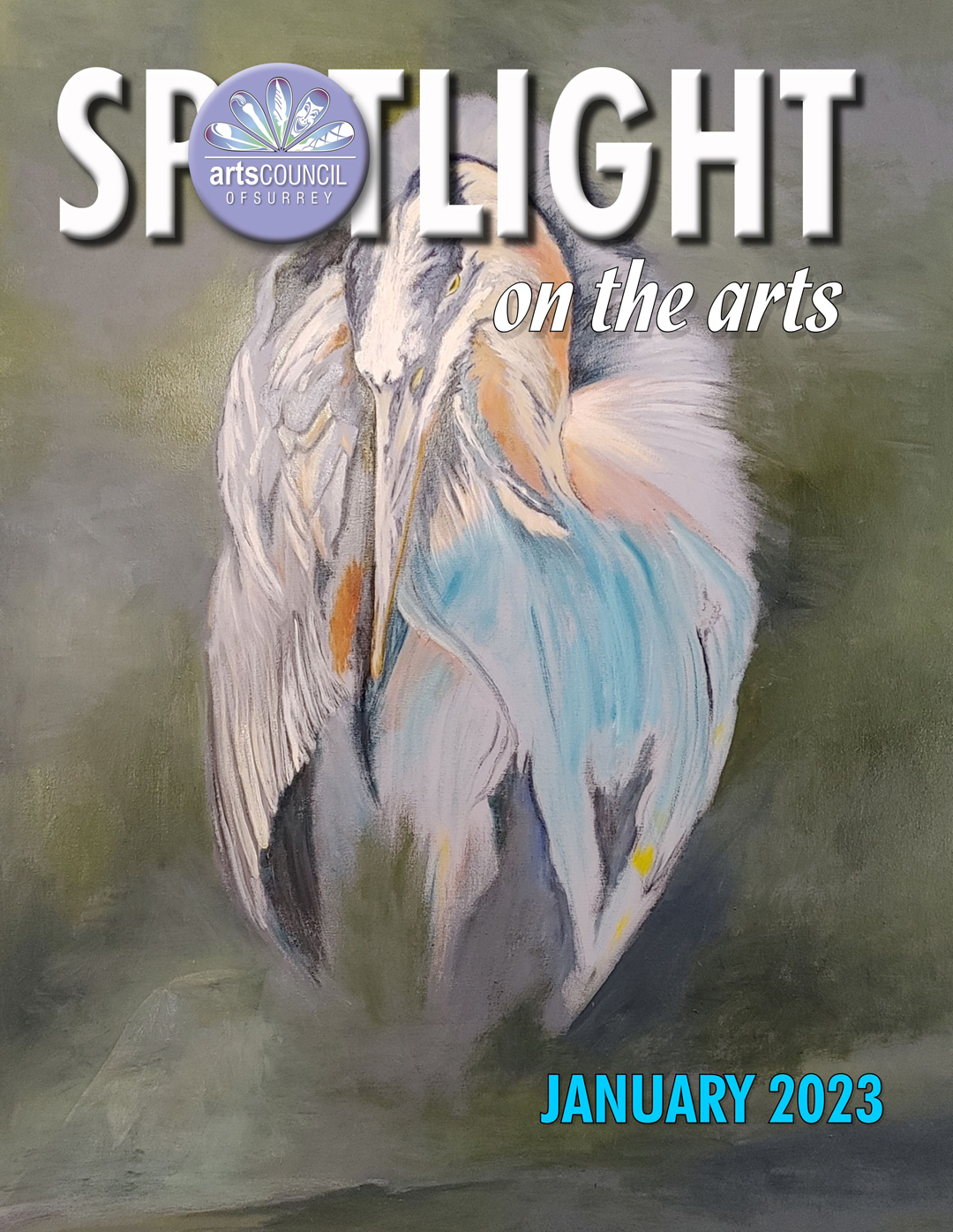 Access SPOTLIGHT Archive
READ NOW:
January 2023 Issue
TO SUBMIT

TO ADVERTISE

TO SUBSCRIBE