AGM: ANNUAL GENERAL MEETING
Tuesday | September 11th, 2018 | 7:15pm | Newton Cultural Centre


@13530 – 72 Avenue, Surrey, BC V3W 2P1 | 604.594.2700


All Members Welcome
Please note there are no General Meetings scheduled for the months of June, July, August and December. The ACS AGM takes place in March.
PORTALS TO THE ARTS
Supporting The Arts In Surrey For 51 Years
Find events, workshops, classes and meetings dedicated to the Visual, Performing and Literary Arts.
CLICK ON PORTALS BELOW TO ACCESS LISTINGS.
[Listing are updated monthly]
Feature
CITY OF SURREY | Cultural Grants 2019

Key Dates To Remember For Application Process
PHOTO: Ray Hudson
The Cultural Grants Program supports a wide range of arts and cultural activity in Surrey, including artistic practices (music, dance, theatre, literary, visual, media, inter-disciplinary, community-based and Indigenous arts) and cultural celebrations and events that reflect Surrey's diverse heritage and community.
The vision of the Cultural Grants Program is to support and enhance arts and culture in Surrey by:
• Building organizational capability and sustainability in new and existing local cultural organizations
• Investing in community-based cultural activities that promote awareness, access, participation and appreciation of arts and heritage
• Encouraging collaborative opportunities and partnerships
Not-for-profit organizations can apply for Capacity, Building, Project, or Operating Grants to support Surrey-based arts and cultural programming
Key Dates
Sept 19 Cultural Grants Information Session
Sep 26 Expression of Interest forms due
Oct 10 Grant Application Toolkit Workshop
Oct 17 & 20 One-on-One application mentorship sessions
Nov 5 Cultural Grant application due
Find out more at surrey.ca/cultural grants
culturalgrants@surrey.ca
PHOTO: City of Surrey

Feature
VINOSCENTI VINEYARD
Juried Competition & Exhibition of Visual Arts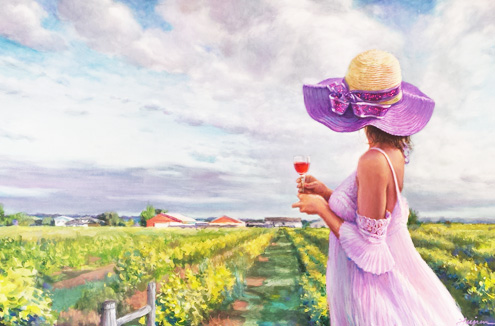 CAESAR HU takes home First place at Awards Reception held August 25th
Photo & Article: STCcreatives.com
Over 60 business owners, artists, dignitaries, city politicians, ACS members and the public gathered for the Awards presentation at Vinoscenti Vineyards on Saturday August 25.
Caesar Hu walked away with the top honours at the inaugural Visual Arts competition. In addition to the $1000 in cash and $1800 in sponsorship gifts, Caesars art will be featured on a label at the winery. Second place went to Pepe Hidalgo and Third to Doris Biddle. Honourable Mentions were awarded to Carla Maskall and Wendy Mould. In total, these three artists will share in a combined winnings valued at $6000 in cash and prizes!
The criterion for judging was established by Canadian Federation of artists Signature Member Perry Haddock. Among those judging was Surrey Councilor and Mayoral candidate Tom Gill who announced to the audience his support for a new Performing Arts Centre.
(Special thanks to Helmut Gruntorad from the Surrey Photography club for his photo talents)
CLICK for story details and Surrey NOW Leader on-line article
---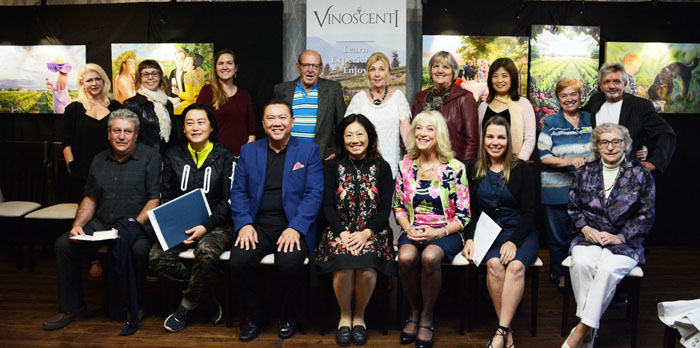 JOIN US: Become A Member Today!
There is a place for every artist and every business or person who supports the arts.
Memberships available for: Individual, Associate, Group (both grant & non-grant) & Business
SPOTLIGHT
on the arts
The most comprehensive newsmag featuring 28 pages of current news and views on Surrey's vibrant and thriving
art scene.
Includes the latest info on the
Visual, Performance and Literary arts
in metro Surrey.
The SPOTLIGHT on the arts is published monthly 11 times a year.
---
---
Missed a past issue? Now you can access all SPOTLIGHT on the Arts publications dating back to 2011.
Access SPOTLIGHT Archive
READ NOW:
Sep 2018 Issue
TO SUBMIT

TO ADVERTISE

TO SUBSCRIBE