AGM: ANNUAL GENERAL MEETING
Tuesday | September 11th, 2018 | 7:15pm | Newton Cultural Centre


@13530 – 72 Avenue, Surrey, BC V3W 2P1


All Members Welcome
Please note there are no General Meetings scheduled for the months of June, July, August and December. The ACS AGM takes place in March.
PORTALS TO THE ARTS
Supporting The Arts In Surrey For 51 Years
Find events, workshops, classes and meetings dedicated to the Visual, Performing and Literary Arts.
CLICK ON PORTALS BELOW TO ACCESS LISTINGS.
[Listing are updated monthly]
Feature
ART SPOT FINAL PIECES IN PLACE
ACS 50th Legacy Project Fulfilled
If you were driving along KGB on one of those balmy evening at the end of April you may have noticed city crews hard at work installing 'cultural markers' at the intersections of 72nd Ave & 88th Ave. These 'cultural markers' are a part of the ACS Legacy Program formed in 2017 to celebrate the ACS 50th year of promoting the Arts in Surrey.
"The ART SPOTS have been a labour of love and a long-lasting legacy for such a milestone anniversary of the ACS", state James Crosty, chair of the C50C [Celebrating 50 Committee]. "The city has been extraordinary and I would like to offer a special thanks to the incredible staff who physically made these cultural markers a reality and especially to Councillors Mike Starchuk and Judy Villeneuve for their unwavering support of the project and for the Arts in Surrey Arts", concludes Crosty.
A ribbon-cutting ceremony with members of Media, City and ACS is scheduled to take place at the intersection of 72nd Ave., on Wednesday May9th at 1pm. This event will unveil signs that have been installed to inform pedestrians using the colourful sidewalks about this new initiative for the Arts. It will also serve to be the official launch of the Surrey ART SPOTS, thought to be the only ones of their kind in North America. This outdoor portion of the launch will be followed by an private gathering at the Newton Cultural Centre for media, cultural influencers and city and ACS representatives. Local vineyard Vinoscenti, will be providing samples of their selections for those in attendance.
According to city road crews, these decals can last for 5 years. It is the hope of the ACS, that more ART SPOTS will pop up all over Surrey indicating the vast cultural diversity that exists throughout the city. So when you visit these two great ART SPOTS, be sure to follow the green sidewalks to a cultural experience only the city of Surrey can offer.
For a little more on this story please see the article by Tom Zillich reporter for the Surrrey NOW-Leader published on March 14th, 2018 – ACCESS ARTICLE HERE
Feature
ART SPOT LAUNCH: A Welcomed Success
#artspot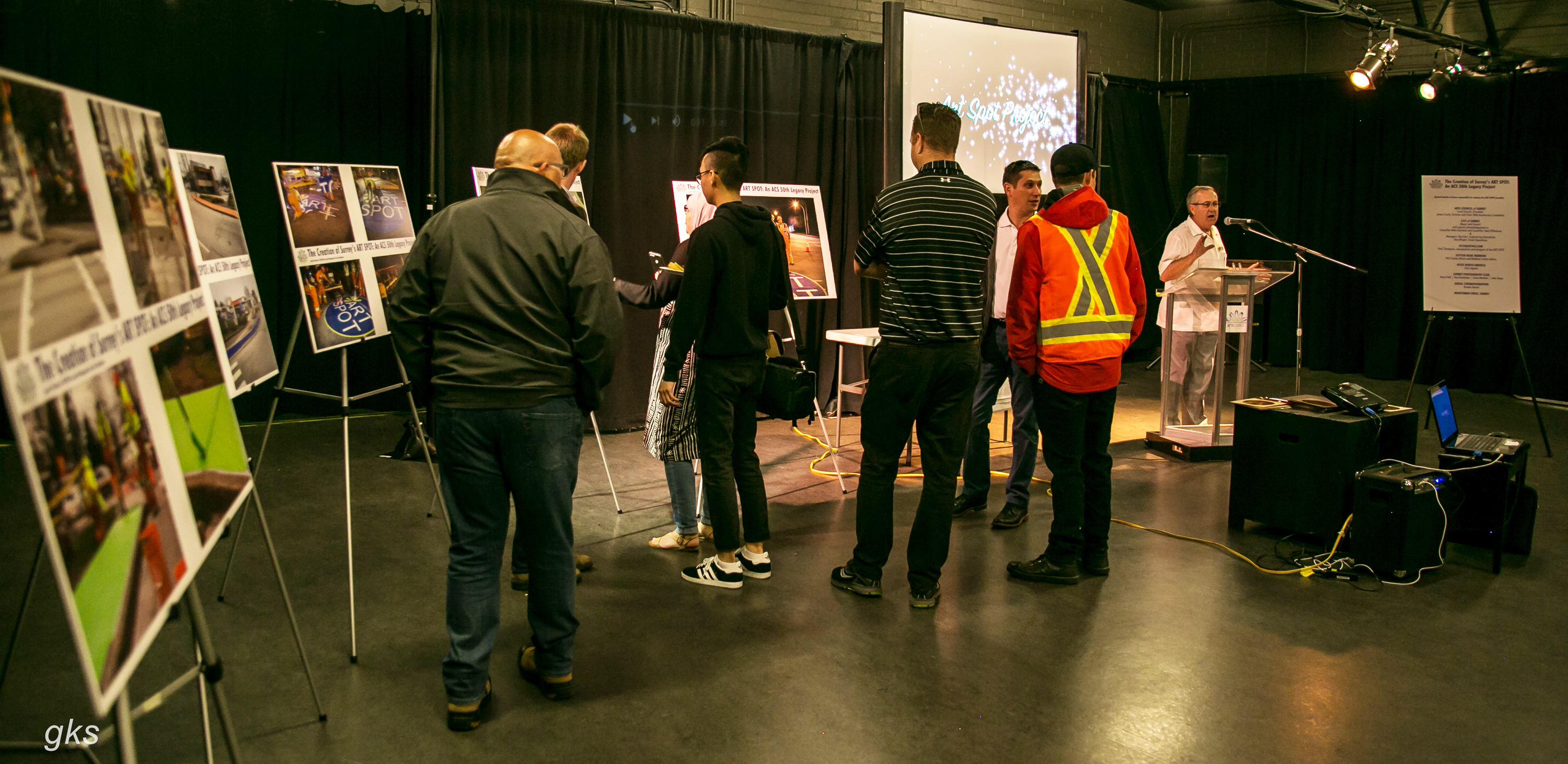 Nearly 50 art patrons and media joined Surrey Councillor Mike Starchuk, ACS President Carol Girardi and C50C (Celebrate 50 Committee) Chair James Crosty, City staff, Businesses and Cultural Influencers Wednesday, May 9th at 1pm to officially launch what is believed to be North America's first ART SPOT! The ART SPOT at 72nd and 88th are geographic markers identifying cultural experiences nearby in the City.
The launch of the ART SPOT is a milestone in the cultural history of Surrey arts community. The 72nd ART SPOT leads to the Newton Cultural Centre [HQ for the ACS] while the one located at 88th & KGB leads to the Surrey Arts Centre, which celebrates their 50th anniversary this year [2018].
Each ART SPOT is identified by four brightly coloured sidewalks, signage explaining the ART SPOT and an colour decal in the middle of the intersection communicating: ACS 50th LEGACY ART SPOT. "The ART SPOT is designed to accomplish multiple tasks." notes C50C Chair and ACS Director James Crosty. "We hope to see more in Surrey!" concludes Crosty.
So what is an ART SPOT? "An ART SPOT identifies a Surrey cultural facility is close by and encourages you to visit. Second, they are a legacy marker recognizing ACS's 50th years promoting the Arts in Surrey. Third, the colourful sidewalks and intersections make both driver and pedestrian more attentive of their environment. Lastly, the bright colours and message make all who experience them think about the Arts in Surrey." concludes Crosty.
After the official Launch ACS hosted a Wine [Vinoscenti] and Cheese accented by comments from Clr. Starchuk and Crosty, a 'special recognition' Membership presentation by ACS President Carol Girardi to Hitex's Chris Agnew, story boards [STCcreatives.com & Minuteman Press: Surrey] documenting the process and an astounding drone aerial video from creation to completion of the ART SPOT by videographer Roman Ansari.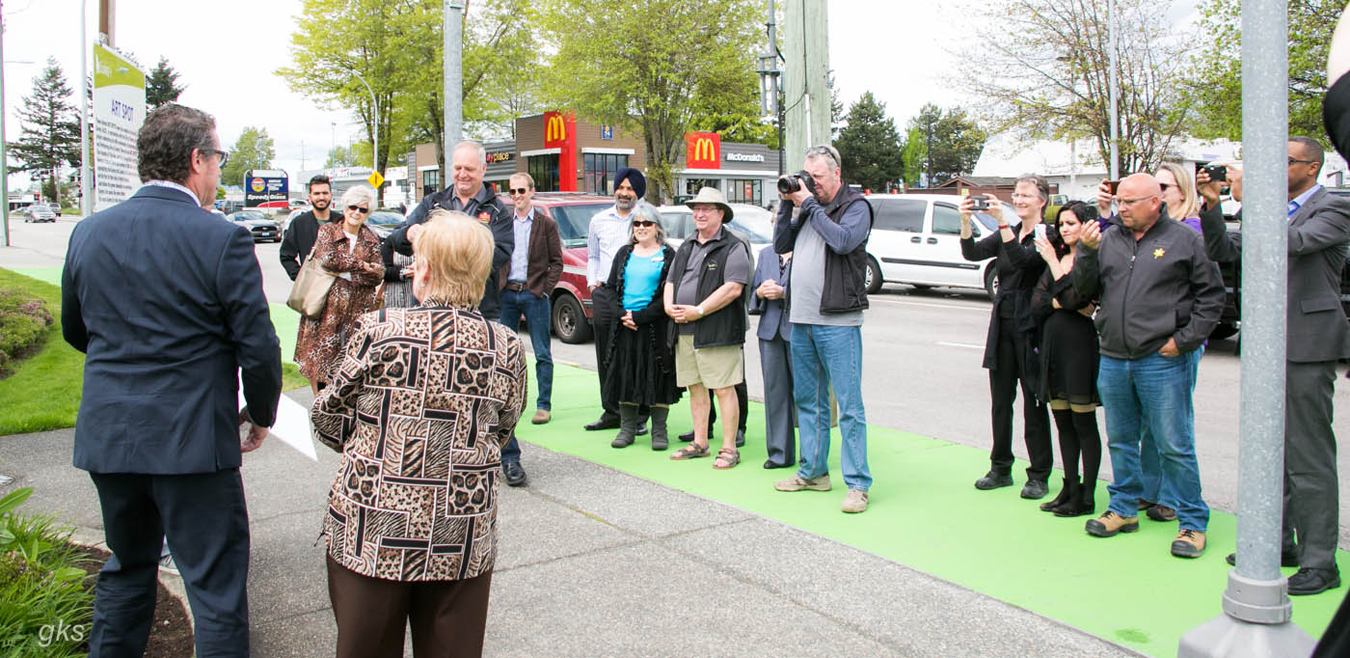 JOIN US: Become A Member Today!
There is a place for every artist and every business or person who supports the arts.
Memberships available for: Individual, Associate, Group (both grant & non-grant) & Business
SPOTLIGHT
on the arts
The most comprehensive newsmag featuring 28 pages of current news and views on Surrey's vibrant and thriving
art scene.
Includes the latest info on the
Visual, Performance and Literary arts
in metro Surrey.
The SPOTLIGHT on the arts is published monthly 11 times a year.
---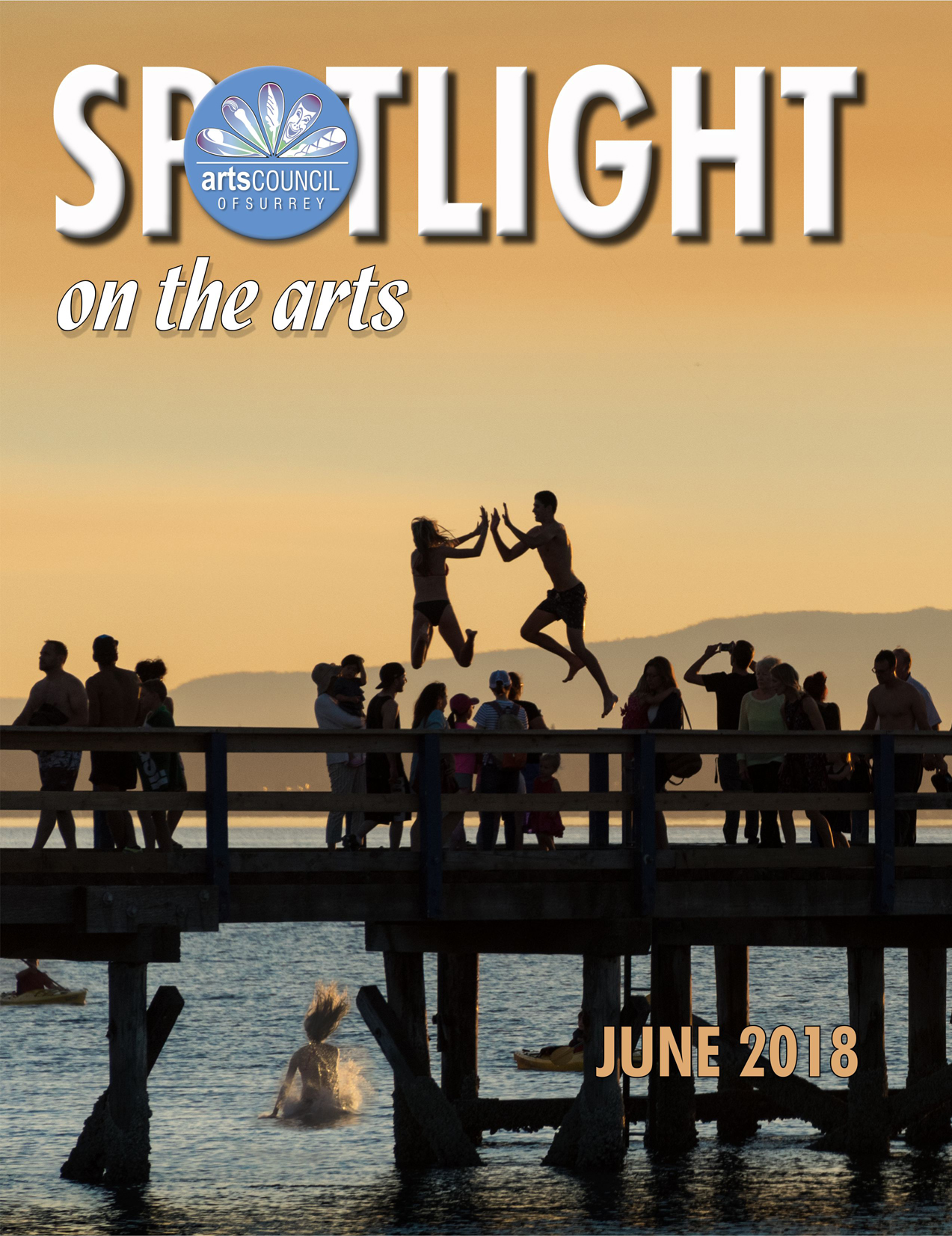 ---
Missed a past issue? Now you can access all SPOTLIGHT on the Arts publications dating back to 2011.
Access SPOTLIGHT Archive
READ NOW:
June 2018 Issue
TO SUBMIT

TO ADVERTISE

TO SUBSCRIBE