GENERAL MEETING
Tuesday | February 11th, 2020
AGM [Annual General Meeting] scheduled for Tuesday, March 10th, 2020


Newton Cultural Centre | @13530 – 72 Avenue, Surrey, BC V3W 2P1 | 604.594.2700


All Members Welcome
Please note there are no General Meetings scheduled for the months of June, July, August and December. The ACS AGM takes place in March.
PORTALS TO THE ARTS
Supporting The Arts In Surrey For 53 Years
Find events, workshops, classes and meetings dedicated to the Visual, Performing and Literary Arts.
CLICK ON PORTALS BELOW TO ACCESS LISTINGS.
[Listing are updated monthly]
Helping To Make Your Creative Lifestyle – possible!

In Partnership with the
CITY of SURREY
SAT. MARCH 14th, 2020
Free Event | Limited Seating
Lunch Included
5 Do's & 5 Don'ts
BRANDING | EFFECTIVE WEBSITES | DATA BASE COLLECTION | COMMUNICATIONS | SOCIAL MEDIA
Many artists miss out on career-altering exposure because they submitted their content in the wrong way or format…this conference will provide guidelines to change this unfortunate reality.
The Arts Council of Surrey is proud to partner with the City of Surrey Cultural Team to present best practice and practical creative ways to effectively promote yourself, your art and/or your arts organization.
This conference will introduce the 5'P's [Product, Price, Promotion, Place and People] with a focus on: PROMOTION. Our communication experts will provide you with 5 Promotional Do's and Don'ts, as well as, ample information to help increase your creative exposure.
Be seen. Be heard. Attend this conference and enhance your artistic career for the better. Register today at 604.594.2700, email us at info@artscouncilofsurrey.ca, drop into the NCC [13530 72 Ave, Surrey] or visit us at our website at artscouncilofsurrey.ca
Please note that the complete program of speakers and a more details description will be made avail in the coming weeks. This conference is another way the ACS is helping members make a creative lifestyle – possible!
***GET A HEAD START: Scroll down to our POST SECTION and read visual artist KATINA GIESBRECHT'S 6 Easy Steps To Branding as presented at the ACS WOA 2019 conference….***
PROMOTION 101: Promotional Sheet [For Printable PDF CLICK HERE]
---

Helping To Make Your Creative Lifestyle – possible!
ACS Grant Advance Workshop
A Solid Success!

On Friday evening, January 23rd ACS Member Groups gathered at the Newton Cultural Centre to participate in a workshop conducted by Samuel Lane, Manager Support Services for Grant Advance Solutions [GAS]. Nineteen representatives took advantage of the partnership between GAS and ACS by registering for a very limited number of mini-licenses permitting access to primarily 'family run' foundations with a history of supporting art projects.
Some $85 Billion (yes-billion) is available in Canada alone through Foundations. Approximately 10% or $850 Million is given annually to applicants requesting funding. Each Foundation is required by the CRA (Canada Revenue Agency) to divest the minimum of 3.5% of their assets annually. These figures prove there is indeed money to be had in Canada, particularly in BC and Ontario, for the arts.
For more information on this ACS funding program contact info@artscouncilofsurrey.ca. For a 3 minute video on the GAS program, a testimonial video from Sudnya Mulya of Sudnya Dance and a brief introductory video from GAS's Samuel Lane, please see below.
This is yet another way the ACS is helping members make a creative lifestyle – possible!.

---
Additional GRANT Access
Produced October 2019 by the
City of Surrey Cultural Development Department
JOIN US: Become A Member Today!
There is a place for every artist and every business or person who supports the arts.
Memberships available for: Individual, Associate, Group (both grant & non-grant) & Business
SPOTLIGHT
on the arts
The most comprehensive newsmag featuring 28 pages of current news and views on Surrey's vibrant and thriving
art scene.
Includes the latest info on the
Visual, Performance and Literary arts
in metro Surrey.
The SPOTLIGHT on the arts is published monthly 11 times a year.
---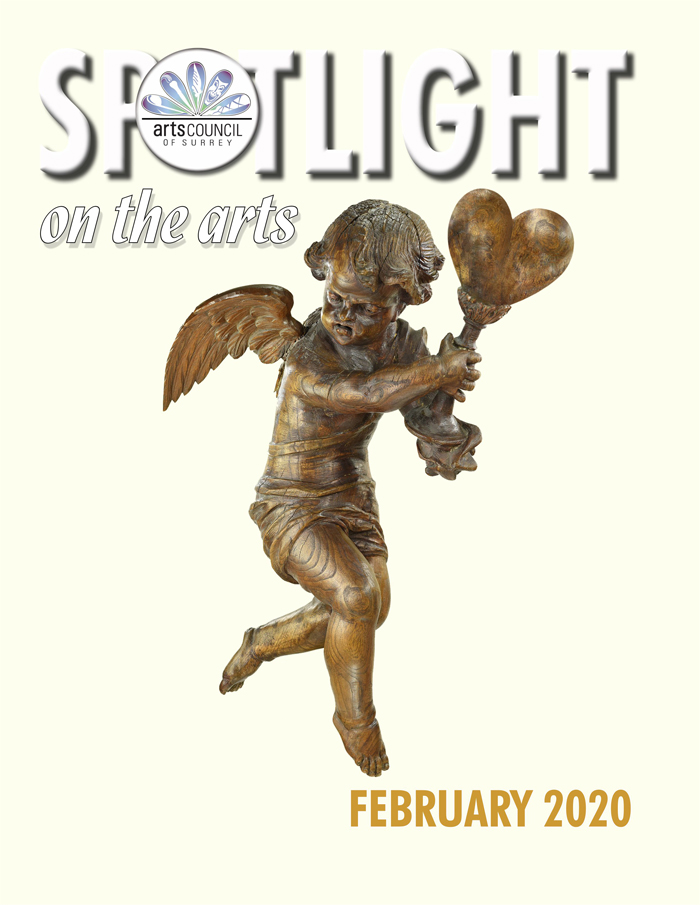 ---
Missed a past issue? Now you can access all SPOTLIGHT on the Arts publications dating back to 2011.
Access SPOTLIGHT Archive
READ NOW:
February 2020 Issue
TO SUBMIT

TO ADVERTISE

TO SUBSCRIBE