AGM: ANNUAL GENERAL MEETING
Tuesday | September 11th, 2018 | 7:15pm | Newton Cultural Centre


@13530 – 72 Avenue, Surrey, BC V3W 2P1


All Members Welcome
Please note there are no General Meetings scheduled for the months of June, July, August and December. The ACS AGM takes place in March.
PORTALS TO THE ARTS
Supporting The Arts In Surrey For 51 Years
Find events, workshops, classes and meetings dedicated to the Visual, Performing and Literary Arts.
CLICK ON PORTALS BELOW TO ACCESS LISTINGS.
[Listing are updated monthly]
Feature
ACS SATELLITE GALLERY
Sukh Dhaliwal, MP Surrey-Newton Exhibits Surrey Photography Club in Constituency Office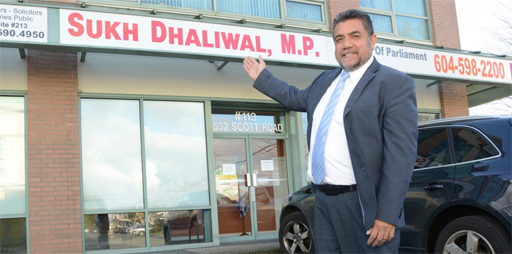 PHOTO: Ray Hudson
We are proud to say that Surrey Photography Club will be featured in Sukh Dhaliwal's office. This is a great opportunity for artist to gain exposure in a space they normally wouldn't have the chance to display in.
The Surrey Photography Club has a wide range of members with different skills and interests and enjoy many opportunities to participate in fun and friendly outings.
If you are a business or public space and would like to promote Surrey artists as a 'Satellite Gallery' the ACS would like to hear from you. If you are a ACS Member artist (it is easy to join – CLICK HERE) and would like to obtain more exposure for your work please contact your ACS.
To contact the ACS, please email your request to: info@artscouncilofsurrey.ca
PHOTO: Jenny Lewis

Feature
VINOSCENTI VINEYARD
Juried Competition & Exhibition of Visual Arts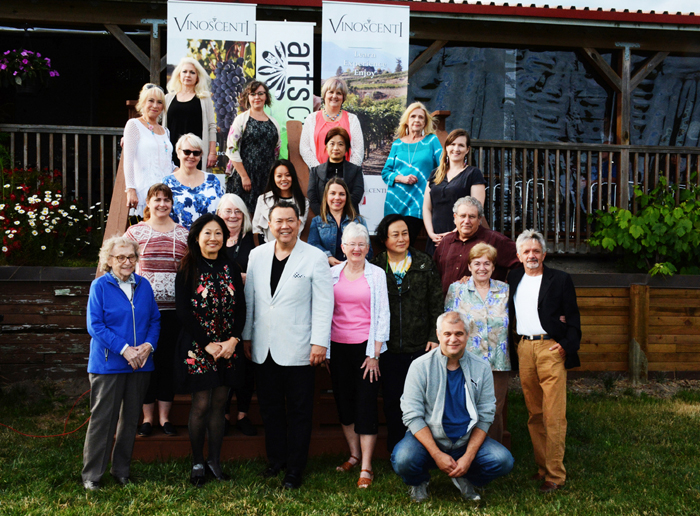 Selection Made of 15 Artists To Participate In Competition themed 'Joy of Life' [Joie de vivre]
PHOTO: Helmit Gruntorad | Article: Sarah Power
On Friday evening of June 15th Vinoscenti Vineyards and the ACS kicked off the Vinoscenti 'Three Seasons' Visual Art Competition. The artists chosen to compete, along with guests, came out to the vineyard (a little wine country oasis on Colebrook road just off 152 Street) for the first of three events. The 40+ audience gathered to hear from Dr. Lee, the owner of the vineyard and Title sponsor, from the Arts Council of Surrey [MC ACS Director James Crosty], and from the contest sponsors, all while being treated to a wine tasting, hors d'oeuvres, and draw prizes. Dr. Lee shared his vision and inspiration for the competition; noting the theme would be "Joie de vivre" (Joy of Life) and the artists now have two months to respond to that theme with their art piece.
The first place winner of the competition will receive a generous cash prize of $1000 and $1800 in sponsor gifts, plus their artwork will be featured on an exclusive wine label. In all over $6000 in cash and prizes will be awarded, making this the largest cash/prize package ever offered through the ACS organization. "Such a generous prize package will definitely make a positive impact on the careers of those Visual artists who place in the final selections." concluded Carol Girardi, ACS President.
PHOTO: Vinoscenti Vineyard owner DR. CLINTON LEE addresses Artists and guests and shares his vision for the competition.

Artist Names: Lora Armbruster | Doris Biddle | Gail Biddle | Melissa Burgher | Carmen Chan | Joanne Dennis | Helmut Gruntorad | Nela Hallwas | Melanie Hawes | Caesar Hu | Pepe Hidalgo | Yvette Lauer | Carla Maskall | Wendy Mould | Chiao Chiao Yang
JOIN US: Become A Member Today!
There is a place for every artist and every business or person who supports the arts.
Memberships available for: Individual, Associate, Group (both grant & non-grant) & Business
SPOTLIGHT
on the arts
The most comprehensive newsmag featuring 28 pages of current news and views on Surrey's vibrant and thriving
art scene.
Includes the latest info on the
Visual, Performance and Literary arts
in metro Surrey.
The SPOTLIGHT on the arts is published monthly 11 times a year.
---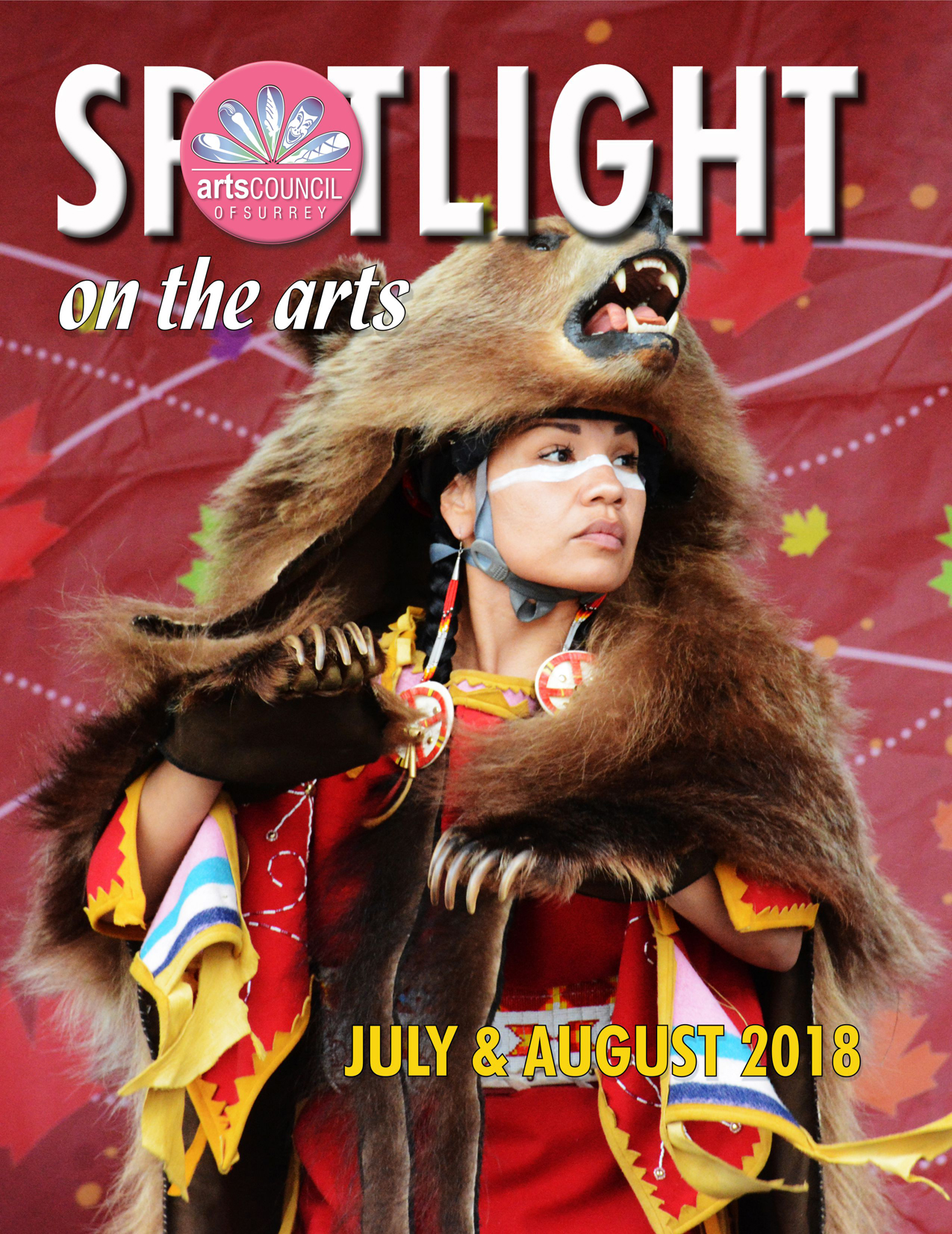 ---
Missed a past issue? Now you can access all SPOTLIGHT on the Arts publications dating back to 2011.
Access SPOTLIGHT Archive
READ NOW:
June 2018 Issue
TO SUBMIT

TO ADVERTISE

TO SUBSCRIBE