---
VISUAL
Click Here
To Go To Related Listing
LITERARY
Click Here
To Go To Related Listing
Visual
Fleetwood Public Library: Call for Artists – Free display space for BC artists on an ongoing basis. 604-598-7346 | Croberts@surrey.ca
Imprint is the Fort Gallery's 2019 juried exhibition. In everything we do, we leave an imprint, a trace, a mark, a consequence. The fort Gallery invites submissions of artwork based on or originating from the imprinted mark and exploring its conceptual significance. Contemporary modes of artistic expression are encouraged. Artists may submit a maximum of 3 artworks electronically for adjudication to the fortgallery@hotmail.com | Submission Date: Mar 13 | Exhibition: Apr 3 – 28 | 9048 Glover Rd, Fort Langley | fortgallery.ca
New West Arts Council: New West Craft Now Accepting 2019 Applications – Now accepting applications for winter/spring 2019 New West Craft Market. Each application is juried based on a number of criteria including the craftsmanship of your handmade products, the creativity of your brand and your social media presence. Be sure to check out the application for further details. | artscouncilnewwest.org
Opus Daily Practice: Challenge yourself to one full month on creativity. Create something new each day or work one big project. Remember, "There is no "right" way to make art. The only wrong is in not trying, not doing. Don't put barriers up that aren't there – just get to work and make something." Lisa Golightly. Opus will feature daily prompts. Be sure to check out the "28 reasons & ways to create daily" handout featured on the opus website. Share your progress on Instagram or twitter with #opusdailypractice | Feb 1 – 28 | opusartsupplies.com
Port Moody Arts Centre (in partnership with Port Moody Heritage Society): Upcycling Port Moody's Heritage is a four-week exhibition of artistic upcycling imagination and creativity. We all know the importance of recycling but for those with creative minds; "upcycling" is much more interesting! The concept of upcycling is the process of transforming waste material and unwanted products into something useful and beautiful. Artists of all mediums are invited to employ the creativity of 'Upcycling' in sculpture, collage, assemblages, furniture and more to explore and showcase Port Moody's social, industrial, and cultural heritage. Deadline: May 1 | Exhibition: Aug 22 – Sept 19, Port Moody Arts Centre | pomoarts.ca
The Salt Spring National Art Prize (SSNAP) – The intent of SSNAP is to encourage artists whose practice demonstrates originality, quality, integrity and creativity—resulting in significant work with visual impact and depth of meaning. Canadian citizens and permanent residents of Canada who are eighteen years of age and older as of Jan 1, 2018 are invited to submit their two-dimensional and three-dimensional work for consideration. Approximately 50 finalists will be selected by an independent jury from across Canada to participate in the Finalists' Exhibition on Salt Spring Island. Online entries close Friday May 31, 2019 | saltspringartprize.ca
Surrey Art Gallery: Welcomes proposals from artists and guest curators. Your package will be acknowledged when received. surrey.ca/artgallery
Surrey Art Gallery Association: Competitive Paint Off – Twelve artists will face off in four 25-minute rounds. Participate as one of the artists or watch art being created with oil sticks on canvas while meeting others. Mar 23, 6 – 9pm | For more details or to register as an artist, email vp@sagabc.com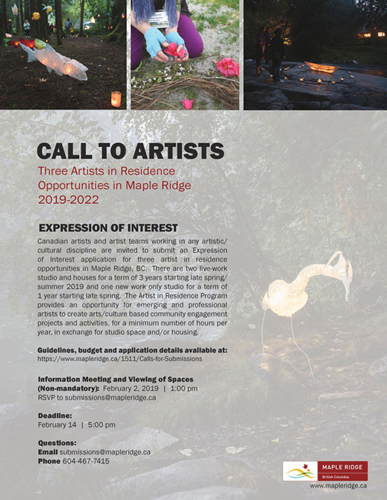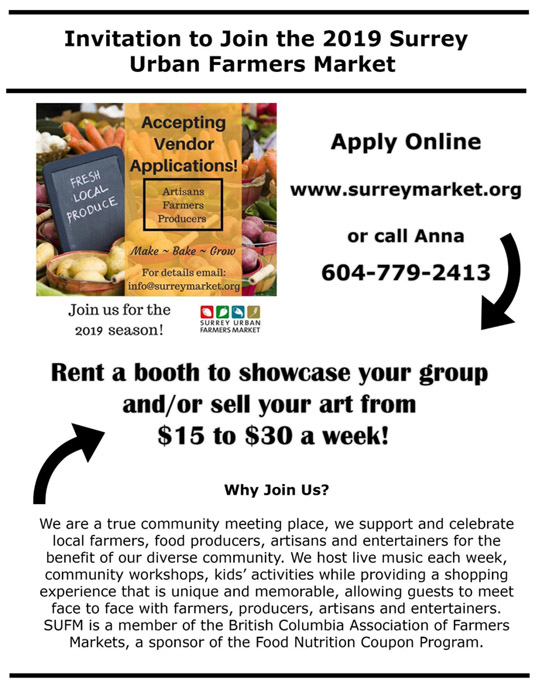 ---
Performance
BC Girls Choir: Zephyra Women's Choir – Accepting new members for a balanced 24 voice ensemble. Must be able to sight read and prepare independently for rehearsals. Rehearsals are on Mon evenings. rehearsalsfiona@fionablackburn.com | bcgirlschoir.org/why-join/zephyra-womens-choir
Come sing with us! Peace Arch Chorus is a women's a cappella Chorus which sings barbershop style harmony. We rehearse every Wed night at the Newton Cultural Centre, 7pm | Guests are welcome | peacearchsings.com
Dansing Tones Association: Dance classes designed for special needs kids of all abilities to develop current skills and learn new ones in a positive and fun environment. 778-877-4222 | facebook.com/dansingtones
Handel Society of Music: Producing fine choral performances while actively promoting the artistic development of young musicians. | handelsociety.ca
Lyric Singers of Surrey: Looking for experienced singers with an interest in performing serious classical and contemporary music. | lyricsingers.ca
The Maple Leaf Singers invite you to join our dynamic show chorus. With 50 years of performance behind us, 2019 launches our next 50 years, and you can be part of it! We perform a varied repertoire, including Broadway and movie musical numbers; gospel, folk, classical, and inspirational pieces; and swing, rock, and pop hits. As a registered charity, we perform over 15 times a year. Practices are Mon evenings at Burnaby Lake Pavilion. All are welcome to audition. 778-245-4445 or joinus@mapleleafsingers.com. | mapleleafsingers.com
Surrey Arts Centre, 13750-88 Avenue. Get creative! Surrey Civic Theatres offers classes and day camps for children, youth, and adults. What can you register for? surrey.ca/theatre (Performing Arts Classes) or 604-501-5100
Surrey International Folk Dancing Society: Learn folk dances set to ethnic music from around the world in a relaxed and friendly atmosphere. Beginners welcome. Every Thursday, 7 – 9pm | surreyfolkdance.org
Westcoast Harmony Chorus: Welcoming new members at all experience levels. Rehearsals Wed 7:15 – 10:15pm | Parkland Community Church, 96 Ave & 160 St | westcoastsings.com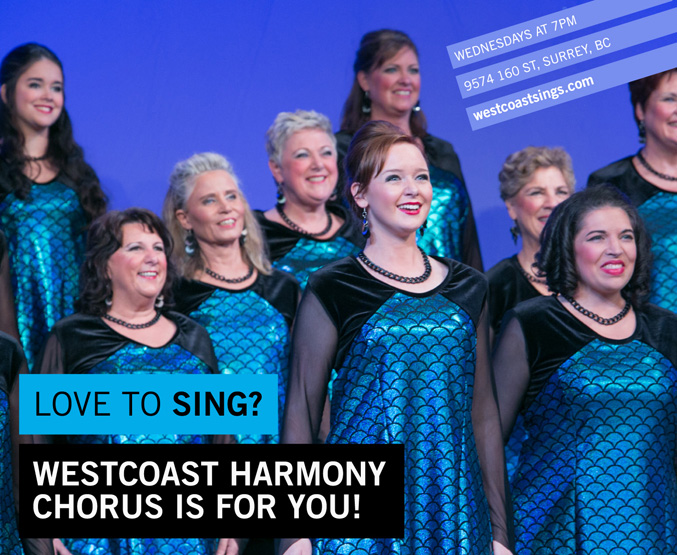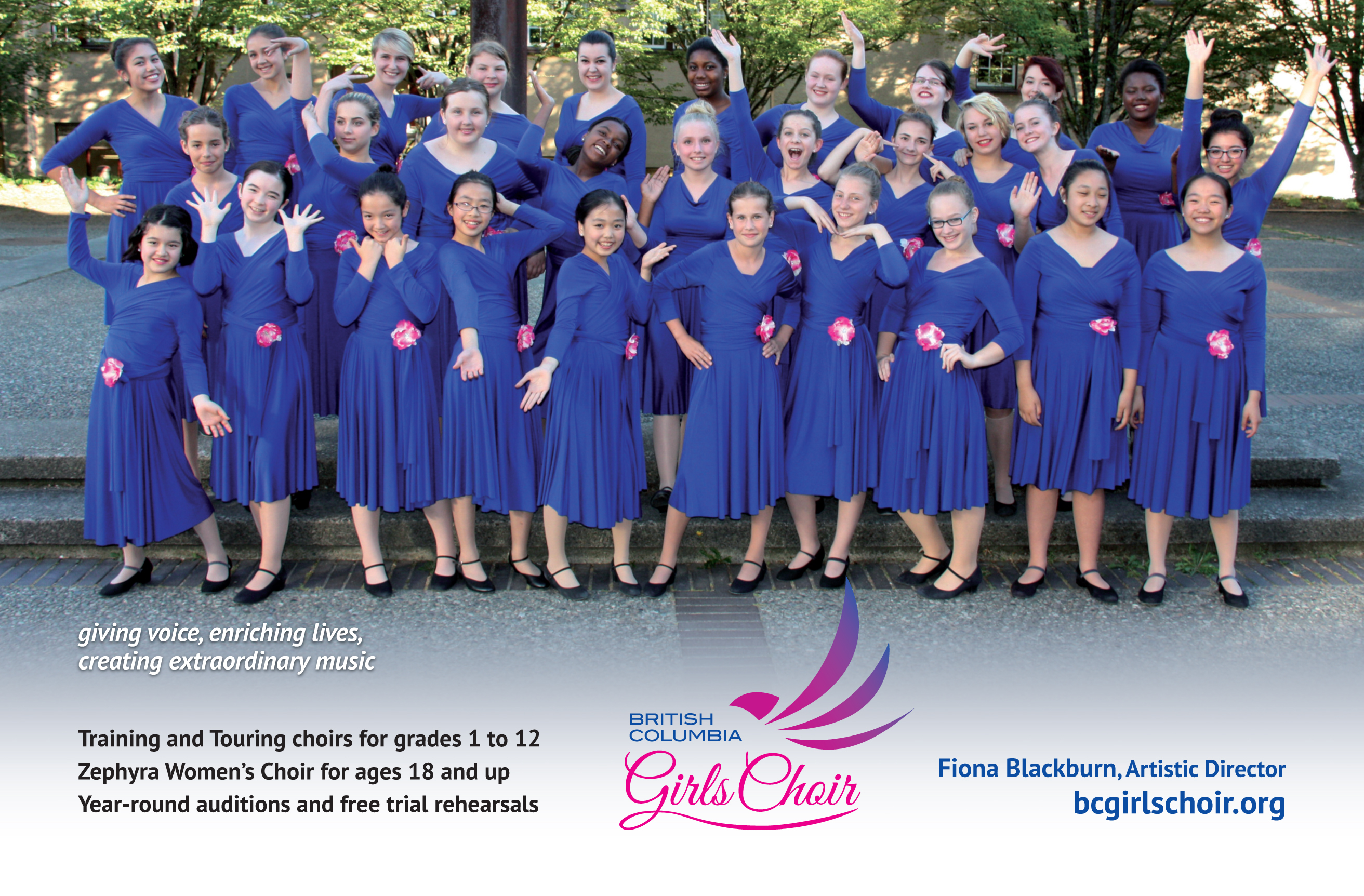 ---
Literary
Alexandra Neighbourhood House: Lit Café – Bimonthly event, except summer, showcasing 4-5 local authors. Open mic follows for brief readings only. Admission by donation. 2916 McBride Avenue, Surrey | alexhouse.net
Cedar Bark Poets: Community-led poetry group affiliated with Friends of The Grove meets on 2nd Sat of each month. cedarbark@friendsofthegrove.ca
Poetic Justice Reading Series: Every Sunday (except holiday weekends and the month of December). Come early & sign up Open Mic. 3 – 5pm. The Heritage Grill, Back Room, 447 Columbia St. New Westminster | poeticjusticepnw@gmail.com
Sea to Sky Review: Online literary journal devoted to showcasing the best writing in British Columbia – specifically, in the Sea to Sky Corridor, now open for submission. Seatoskyreview.ca
Surrey Muse Gatherings: Each gathering features an author, poet, and a performer/artist at varying levels, followed by an open mic session. City Centre Library, Room 418, by donation | 4th Fri of every month except Dec, 5:30 – 8:30pm | surreymuse.wordpress.com
White Rock & Surrey Writers' Club Meets on the third Wednesday of most months at the White Rock Library. Each reader has five minutes to present their work and may ask for gentle critiquing. Bring ten copies of your work to share and a beverage. Next Meeting: Feb 20, 7-9 pm | 15342 Buena Vista Ave | wrandswc@gmail.com
Word Whips by the Water: Writing to prompts and optional sharing. 1st Wed of each month, 6:30 – 8pm, year round. No cost | Next Meeting: Feb 6, 6:30pm | Second floor meeting room, White Rock Library, 15342 Buena Vista Ave
Writing workshops with Leah Murray at Crescent Beach Pop-Up Gallery, 12160 Beecher Avenue, Crescent Beach/Surrey. Writing Memory: How to tell the world the things we (don't?) remember. $35 per person. Thurs Mar 21, 6:30 – 8:30pm | Intersections: Using Semiotics and Ekphrasis in Prose & Poetry – a guided exploration of the connections between words, sounds, and visual art. $45 per person. Thurs Mar 28, 6:30 – 9:00pm | Contact Leah Murray at 778-833-4136 or leahmurray.001@gmail.com to register.
---
BC ALLIANCE FOR ARTS & CULTURE: Calls
To ensure Surrey artists are aware of the many Provincial 'Calls for Entry' happening throughout the year, we will provide a link here to the BC Alliance for Arts & Culture 'Calls for Artist' page.
BC Calls For Artists