Events | Readings | Workshops | Classes
---
CALLS FOR ENTRY: Click Here
---
Scroll Down For Current Information
---

You Could Be Published Next Month!
SPOTLIGHT on the ARTS – is a 28 page publication issued monthly to a broad market. We are always looking for unique ideas and persepctives on the arts for publication. So if you have a story or idea, pen it to paper (ok – make that a digital .doc file) and send it to the ACS Team for consideration at info@artscounilofsurrey.ca…and la voila – you will be published!
PS: Check out Leah Murray's article on What's Up In Lit? She took advantage of writing for SPOTLIGHT on the ARTS and ended up as the main feature on the Lit Page ….
---
Cecilia Lamont Literary Contest
White Rock and South Surrey Writers' Club: Cecilia Lamont Literary Contest – Prose: Max 1200 words, any genre, unpublished. All entries must be double space, in Times Roman 12 font, with no identifying info. | Poetry: 3 poems max 30 lines each, or one poem maximum 75 lines, unpublished. | Be sure to add a separate cover page with name, title of work, address and phone number, email and a brief bio | 1st Prize: $100 2nd Prize: $75 3rd Prize: $25 | Deadline: Aug 31 | Entry Fee: $10 | For further details: whiterockandsouthsurreywriters.weebly.com/literary-contests.html
Creating A Home For White Rock & Surrey Writers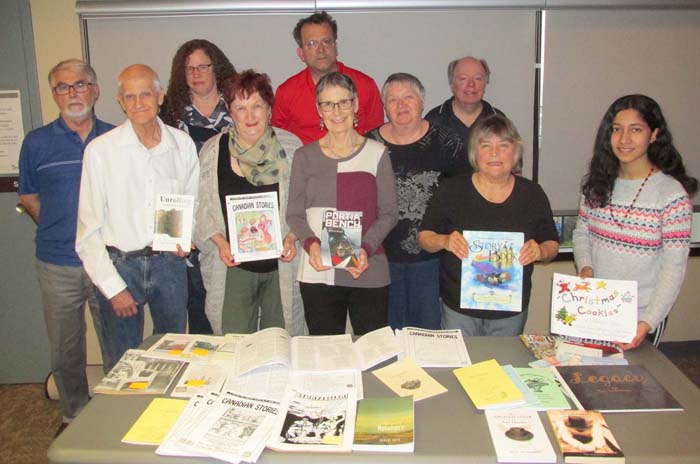 by Ken Westdrop
Forty seven years ago, the White Rock and Surrey Writers' Club began nurturing writers and poets in a community of shared ideas and support that still flourishes today. Since 1972 the group witnessed many members come and go as some pursued writing careers, while others were forced to relocate because of financial obligations. However, the group remains successful in attracting new members encouraged to share their stories and poetry with the emphasis on improvement.
Originally established by Cecilia Lamont and Tom Leach as strictly the White Rock Writers' Club gathering in a member's living room to engage at length over shared literature, the club went through many changes. Although the monthly meetings remained consistent, both the venue and name have changed dramatically to embrace a wider scope of community. With moves to Semiahmoo Secondary School, later the Centennial Arena then finally the White Rock Library, in the early 1990's, the club adopted its present title to include White Rock and Surrey. In recognition of its founding member Cecilia Lamont the group established a literary competition for new and upcoming writers to gain further recognition as well as financial compensation by way of support from the Arts' Council of Surrey.
Throughout the years, many members have gone on to publishing in both magazines and books distributed in Canada as well as United States. Whether it has been the traditional publishing route or self-publishing past, as well as present members such as Lorna Suzuki, Rob Boyd, Neil Simmers (d.n. simmers), Don Cameron and I have gained recognition. While the art of writing might be one of isolation, the ability to share and learn from one's peers is an advantage one should never underestimate.
---
None of the three most famous tales of the 'Arabian Nights' actually comes from the Arabian Nights. The stories of Aladdin, Ali Baba and the Forty Thieves, and the Seven Voyages of Sinbad the Sailor were all later additions to the original corpus of bona fide Arabic '1001 Nights.'
---