Events | Performances | Workshops | Classes
---
---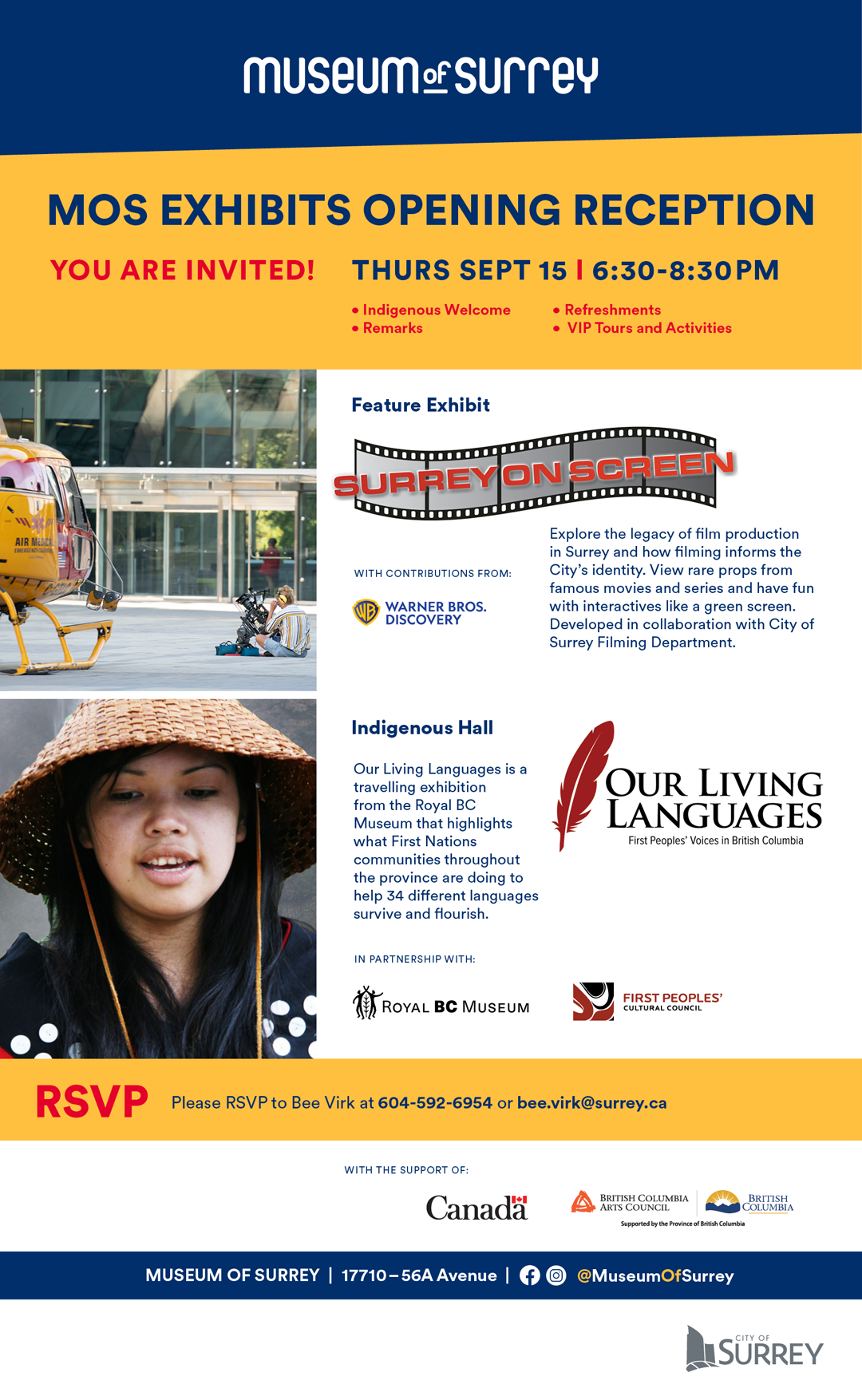 MOS | Surrey On Screen | September 15th
You are cordially invited to the Fall Exhibits opening at Museum of Surrey! The exhibit Surrey on Screen looks at film production in Surrey from the key perspectives of people, profit, and place. It was made in collaboration with City of Surrey Film Office and Warner Bros Discovery. In addition is Our Living Languages, a travelling exhibit from the Royal BC Museum highlighting what First Nations communities throughout the province are doing to help 34 different languages survive and flourish. Date: Thursday, September 15, 2022 Time: 6:30pm-8:30pm Location: Museum of Surrey (17710 – 56a Avenue, Surrey, BC, V3S 5H8) This event includes welcoming remarks, tours of the exhibition and refreshments. Please RSVP by emailing Bee Virk at bee.virk@surrey.ca or phoning her at 604-592-6954.
---
CITY | Coffee Concert Series
Various dates and times | Studio Theatre at Surrey Arts Centre | Zone A $112 Zone B $108 Enjoy all four Coffee Concerts this season by treating yourself to series tickets. Save up to 20% off the regular ticket price. All four concerts include the popular pre-show social hour with yummy treats! Your hosts, The Bergmann Duo, will welcome guest artists like the Duo Turgeon and the Borealis String Quartet. We hope you can join us!
Click Here for more details!
---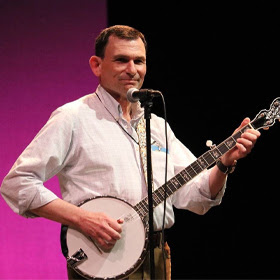 CITY | Adventures in Theatre Series
Various dates, times, and theatres | Zone A $72 Zone B $60. This trio of sensational shows needs to be seen! Enjoy three incredible shows for a great price. Featuring To Perfection, Tomatoes Tried to Kill Me, but Banjos Saved My Life and Juliet: A Revenge Comedy. Three outstanding shows that are sure to hit the theatre spot!
Click Here for event details
---
CITY | Chubby Cree
September 29 | 7:30pm | Centre Stage at Surrey City Hall | $24 . Steeped in traditional music and culture, Chubby Cree is an Indigenous hand drum group. Featuring twelve-year-old Noah Green, a prodigy with a larger-than-life voice, and his grandmother, Carol Powder. This duo are becoming one of Canada's fastest growing sensations on platforms such as TikTok. Drummers and dancers will be joining the duo for this powerful and authentic Cree performance that will wow the audience. Tickets are also available as part of the Centre Stage Music Sampler.
Click Here for event details
---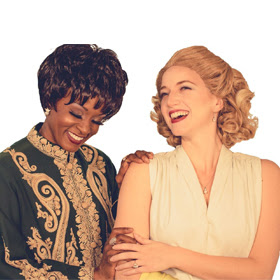 CITY | Josephine Double Feature
October 5–8 | Main Stage at Surrey Arts Centre | Zone A $62 Zone B $58 Zone C $52
The Josephine Double Feature includes award-winning shows Josephine, a burlesque cabaret dream play and Josie & Grace, a mostly true cabaret dream play. This double bill of theatre about Josephine Baker and Grace Kelly is a peek behind the curtain of the stars of yesteryear. It's guaranteed to knock your socks off!
Click Here…for event details
---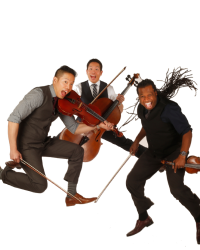 CITY | Infinitus
December 3 | 7pm | Centre Stage at Surrey City Hall | $21
Infinitus is three guys with three instruments who create a symphony of sound like no other! This genre-bending string trio expertly fuses classical music with beatboxing and body percussion to create their own unique sound that is fascinating to listen to and remarkable to watch. Part of Surrey SPARK Stages series of performances for kids and families.
Click Here…for event detail
---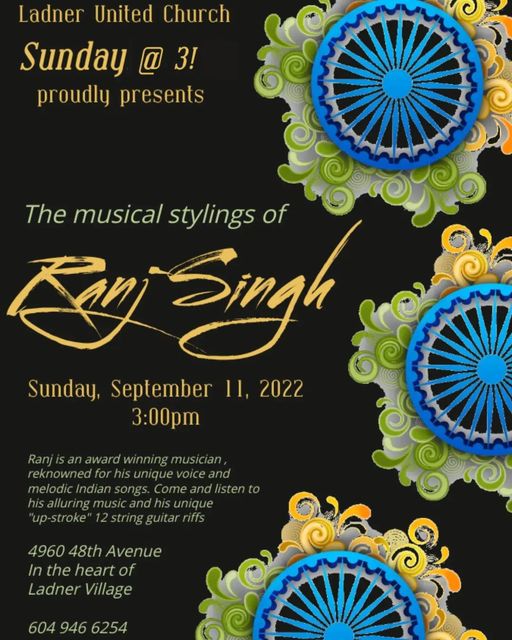 Our next Sunday@3 is September 11 featuring the musical stylings of Ranj Sing. Ranj is an award winning musician, renowned for his unique voice and melodic songs where subtle Indian melodies meet classic covers and originals. Come and listen to his alluring music and his unique "up-stroke" 12 string guitar riffs.
****masks mandatory****
---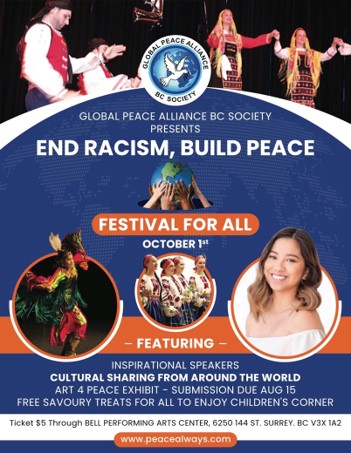 ---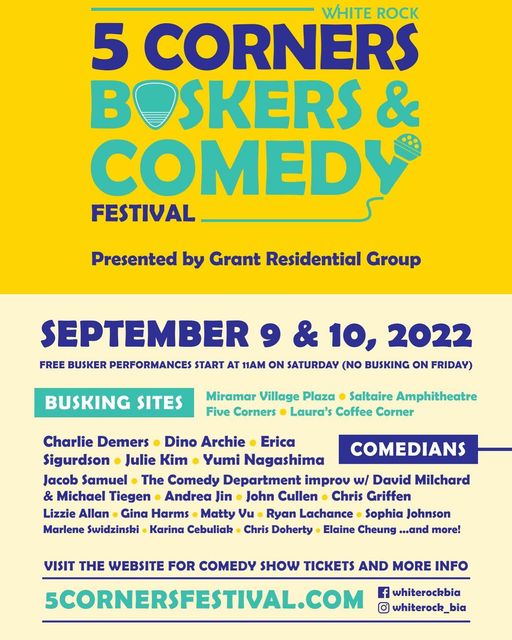 Don't Miss This!
-Mark your calendars and join the fun with White Rock/South Surrey's very own 5 Corners Buskers & Comedy Festival on September 9 & 10.
-Nighttime comedy shows will offer patrons a venue-hopping experience and a chance to see up to 4 different shows with some of Canada's best comics.
-The main event takes place at Blue Frog Studios on Saturday night with Charlie Demers (The Debaters), Dino Archie (Jimmy Kimmel Live) and Julie Kim (Just For Laughs) while others shows are running around town at Hillcrest Bakery, Laura's Coffee Corner, Islands Cafe, White Rock Beach Beer & the Landmark Uptown Pop-Up Gallery.
-Set performances also include Erica Sigurdson (The Debaters), John Cullen (Winnipeg Comedy Fest), Jacob Samuel (JFL, Juno Award Winner), Yumi Nagashima (JFL New Faces Canada), Andrea Jin (Juno Award Winner), Lizzie Allan (Hilarapy), Chris Griffin (San Francisco International Comedy Competition), a bespoke improv show with David Milchard (Netflix, Second City) & Denise Jones (Vancouver TheatreSports) and much much more!
-Finally, there will be all sorts of free family-friendly daytime outdoor busker events on September 10th including circus acts and music! Don't miss the laughs!
-Check out 5cornersfestival.com for more info or buy directly from these ticket links
---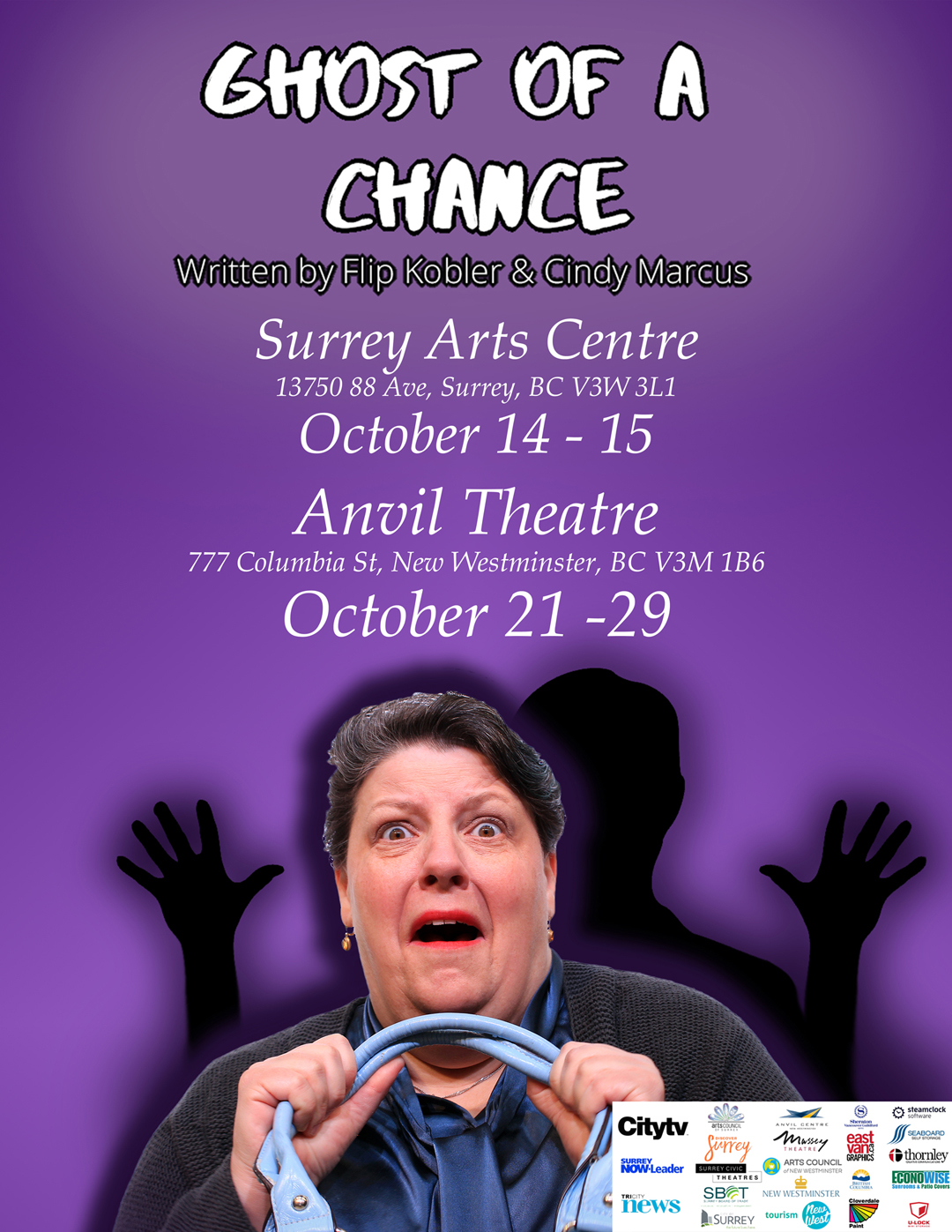 ---
WR Players Season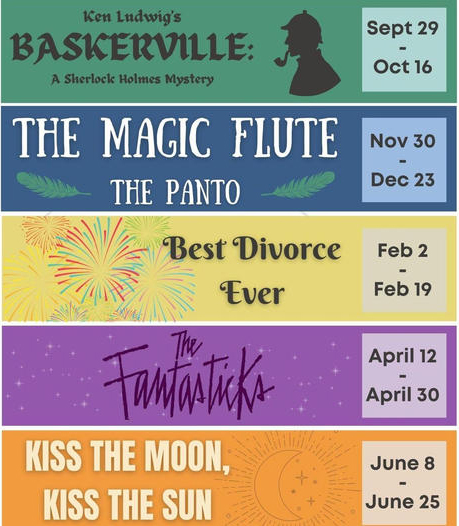 White Rock Players' Club produces 5 in-house shows a year, including the beloved Christmas Pantomime. Other theatre and performing arts groups rent our space in-between WRPC productions, adding access variety to the community.
White Rock Players' productions run Thursday – Sunday for 2022/2023 Season 77. Thursday – Saturday, performances begin at 8 PM (PANTO 7:30PM). Sundays are matinees at 2:30 PM.
Please confirm on your ticket or email confirmation!
Doors open 1 hour before performances; Box Office closes 5 minutes after curtain. Late arrivals will be asked to wait until intermission, or exchange tickets for another show.
Rental group production times vary, please verify before purchasing.
Current Box Office in-person hours are Wednesday & Thursday 12noon – 4pm; subject to change without notice during summer hiatus – July/August.
---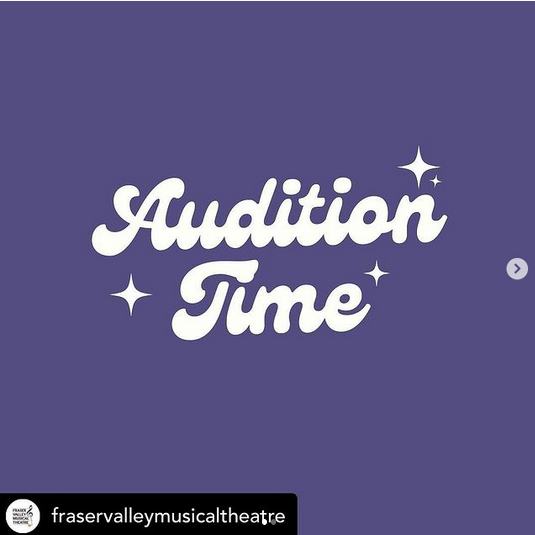 @fraservalleymusicaltheatre Auditions for our upcoming "Sleeping Beauty a Motown Panto" are now posted and we can't wait to see you! For more info check out the link in our bio or email fvgssproducer@gmail.com
---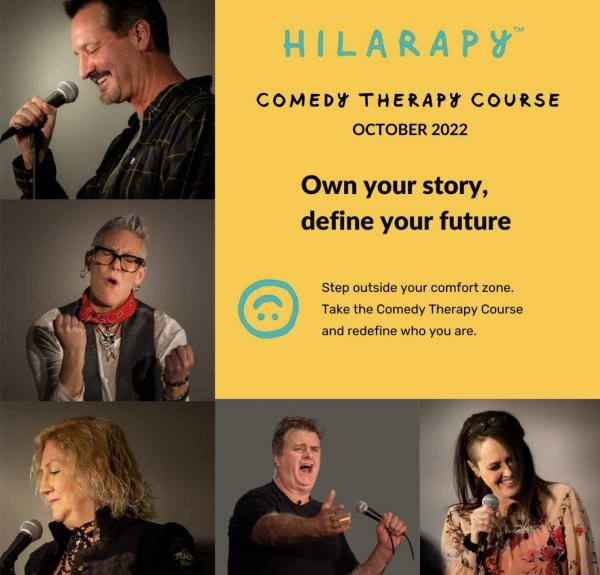 Hilarapy Comedy Therapy Course
October – December 2022 in New West
Thursday Nights 6PM-9PM and ends with a show
Please visit https://hilarapy.com/courses-3/ to register
---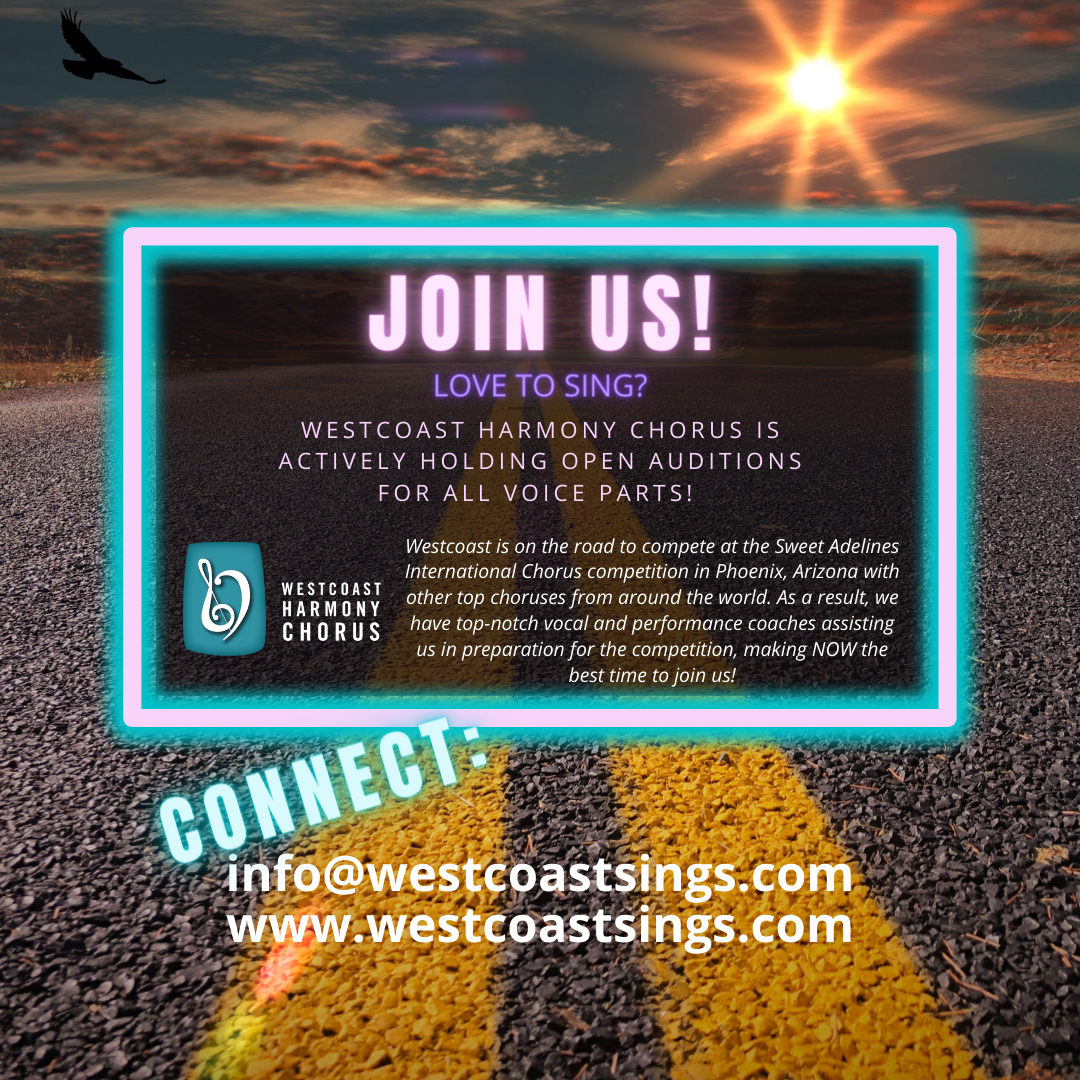 Westcoast Harmony Chorus: Welcoming new members at all experience levels. We are BACK to IN PERSON rehearsals, guests are welcome and encouraged to participate! Contact membership@westcoastsings.com and or visit www.westcoastsings.com to learn more!
Westcoast just recently launch a new public website (www.westcoastsings.com) and now as we move forward through the pandemic, we are focused on, and extremely excited to be preparing for our International Competition, this September, in Phoenix Arizona!
---
With permission from West Coast Harmony – you are invited to watch this uplifting and inspiring video of amazing vocals. This video was done during COVID entirely by Video Conferencing.
Congratulations to everyone who made this production possible.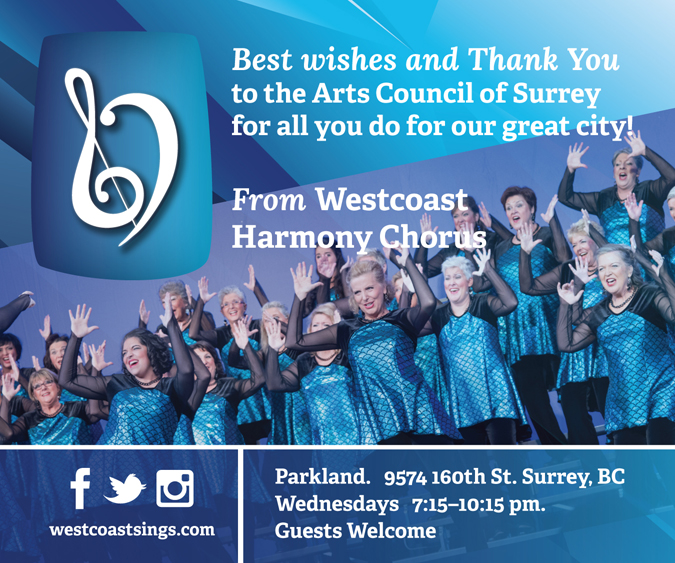 Want to know what you are getting into before you contact this great group? Take a look at the performance in the video below and check out all the smiling faces – these people are having fun and creating art …why not join them?!
---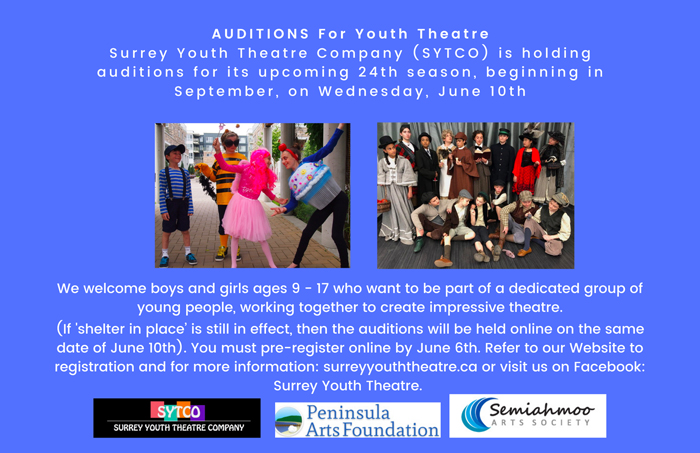 ---
Dean Paul Gibson shares his thoughts on how to make a living as a performer
---