Events | Performances | Workshops | Classes
---
---
FUSION FEST IS BACK….
and so is the ACS in the ever-popular Canada Pavillion!
Visit us and win a prize!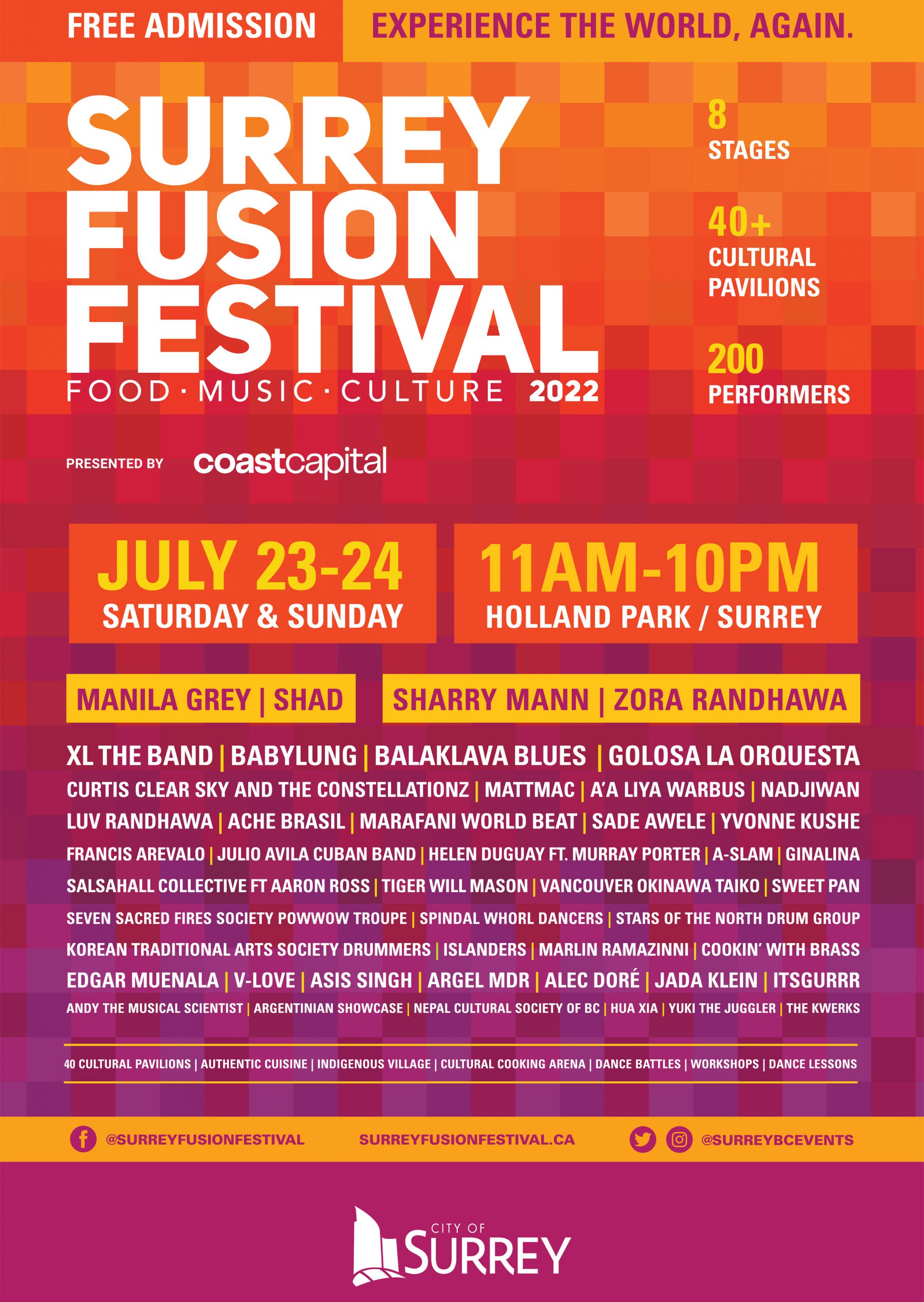 Click Here for more Event Details
---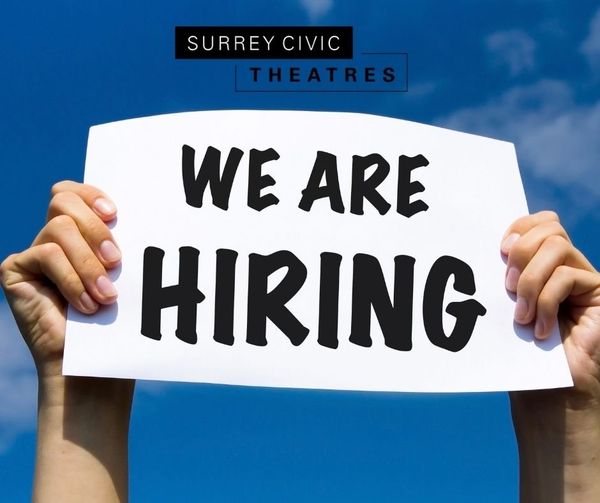 SURREY CIVIC THEATRES | We Are Hiring!
That's right, we're hiring! Surrey Civic Theatres is seeking a dynamic Operations Coordinator for the diverse operation and administration of Centre Stage (Surrey City Hall's Council Chambers performance venue), City Room (atrium) and additional support spaces. This position is a great opportunity for a creative professional with demonstrated experience in cultural/event coordination and production. To view the full details and job posting for this position, go to the link below and search Centre Stage Operations Coordinator
Click here for application details
---
POMO ARTS SUMMER CAMP ADULT
PoMoArts Glee Club with Jennifer Hayes

Adults 16+, come sing some classics and fun songs while getting faboulous instruction from local Jazz singer Jennifer Hayes!
Click Here for Details
---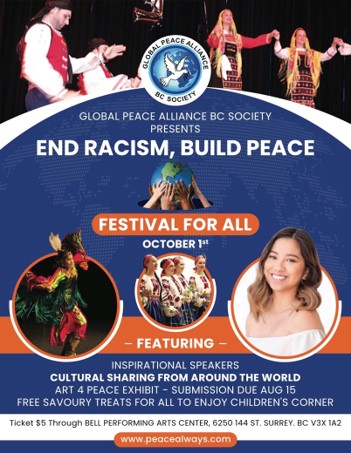 ---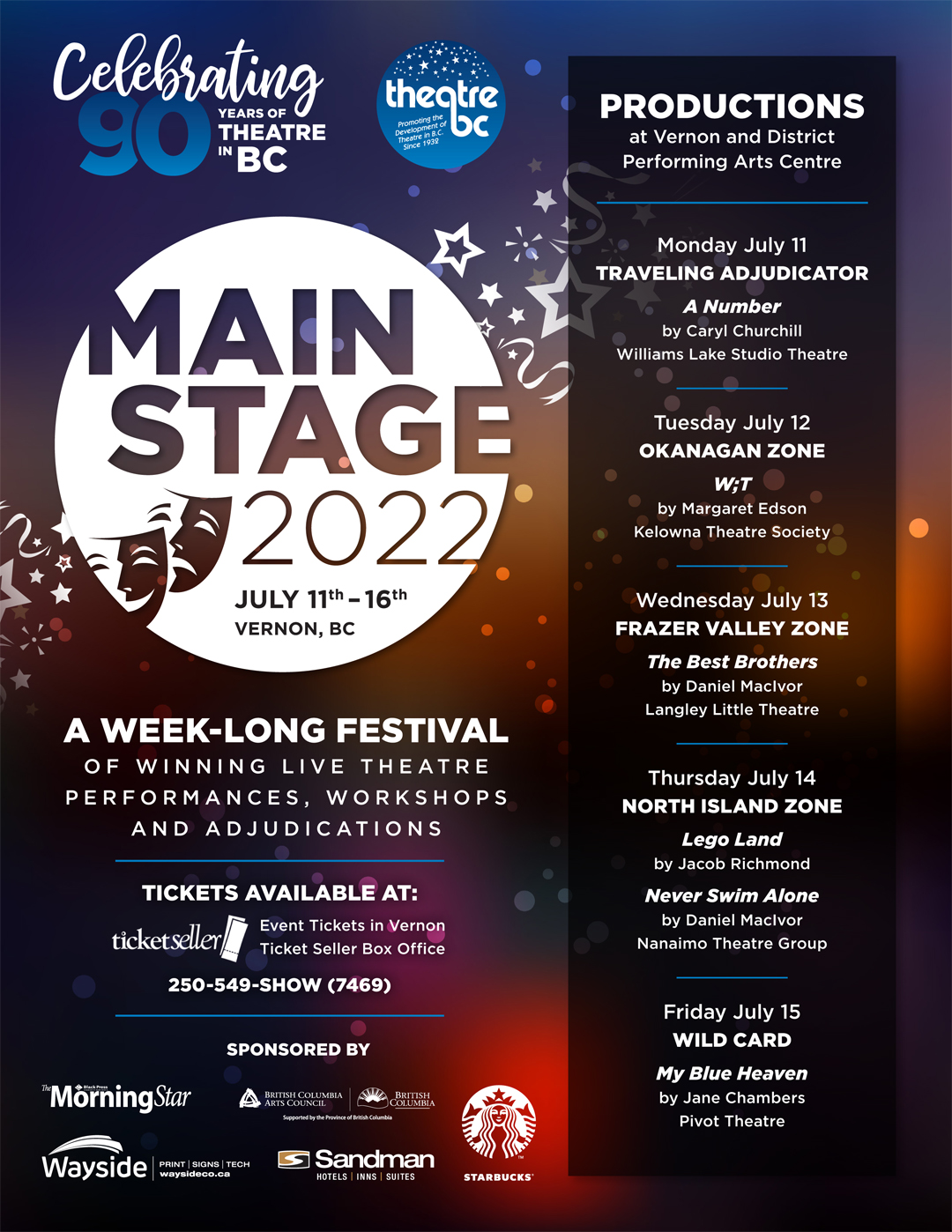 ---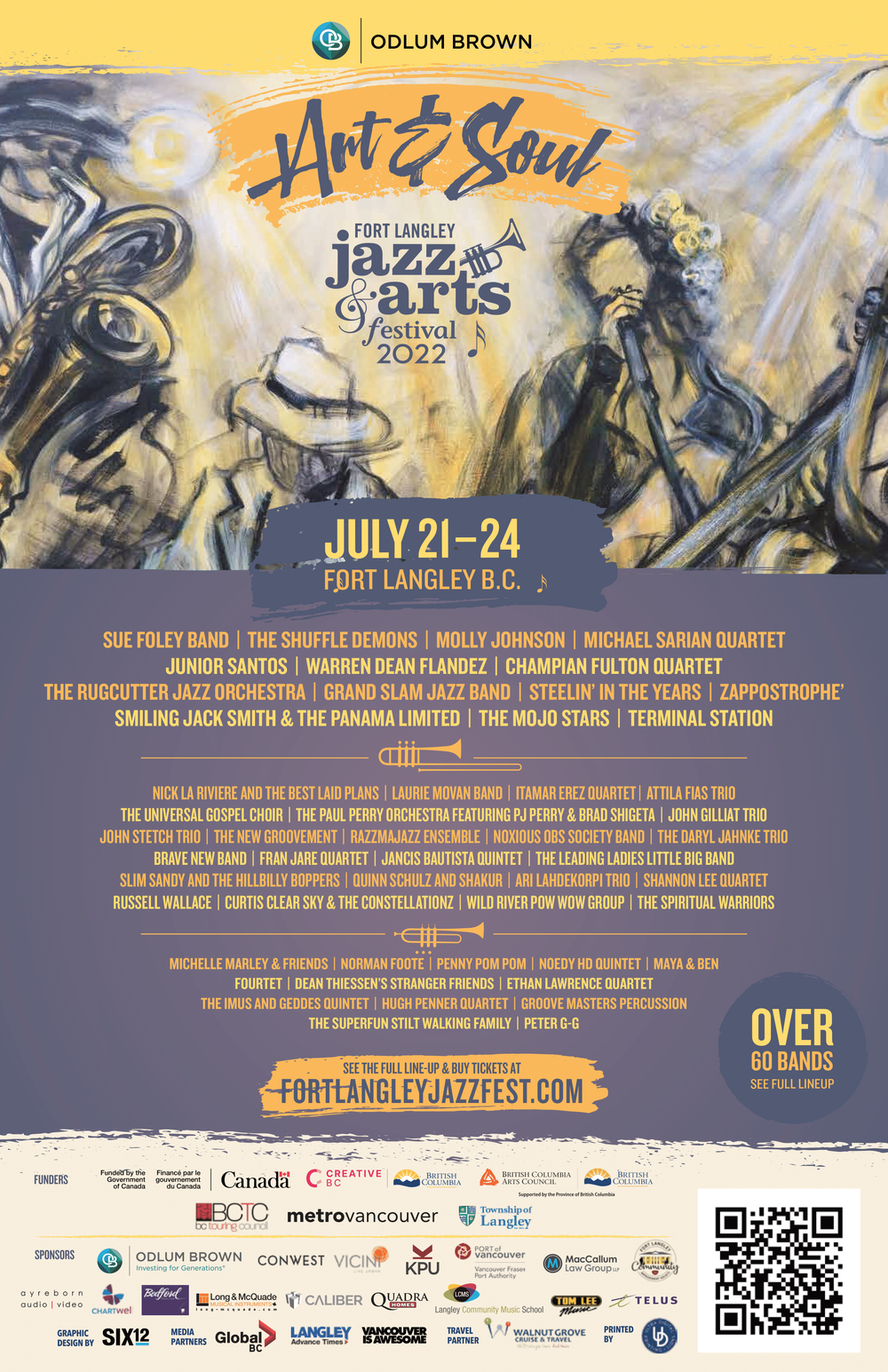 ---
WR Players Season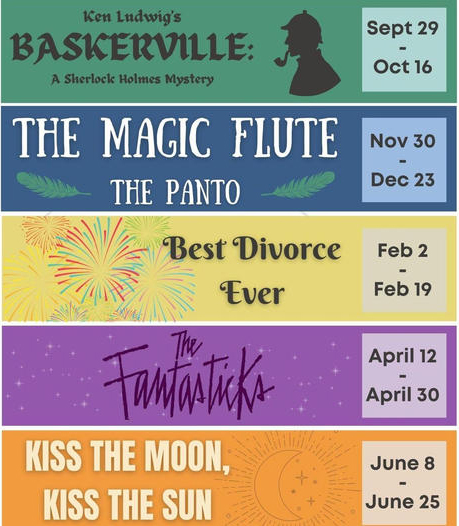 White Rock Players' Club produces 5 in-house shows a year, including the beloved Christmas Pantomime. Other theatre and performing arts groups rent our space in-between WRPC productions, adding access variety to the community.
White Rock Players' productions run Thursday – Sunday for 2022/2023 Season 77. Thursday – Saturday, performances begin at 8 PM (PANTO 7:30PM). Sundays are matinees at 2:30 PM.
Please confirm on your ticket or email confirmation!
Doors open 1 hour before performances; Box Office closes 5 minutes after curtain. Late arrivals will be asked to wait until intermission, or exchange tickets for another show.
Rental group production times vary, please verify before purchasing.
Current Box Office in-person hours are Wednesday & Thursday 12noon – 4pm; subject to change without notice during summer hiatus – July/August.
---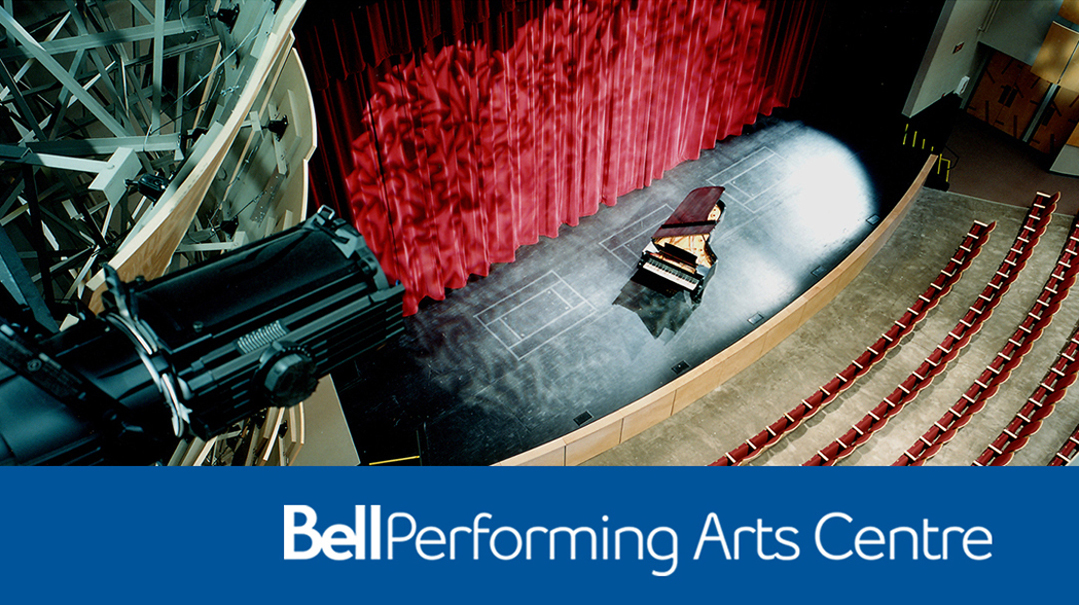 Who Were Awarded Bell Performing Arts Space for FREE!?
Read article from Peace Arch News here.
Click Here to Access Peace Arch News Article
---
SUMMER POP
Sensational Summer Shows for You to Enjoy!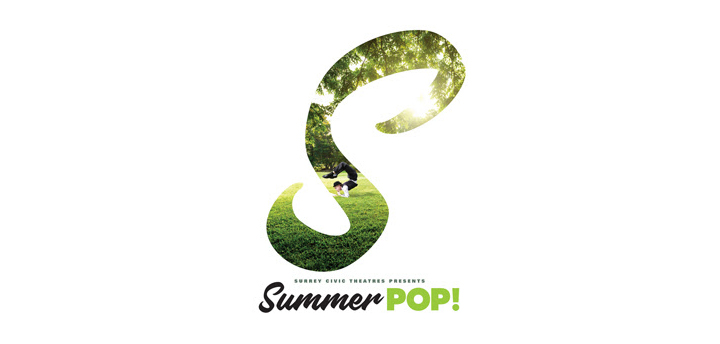 Now that the warmer weather is here it is time to start making plans to create those fabulous summer memories. Here at Surrey Civic Theatres, the staff have been working hard to bring you a smorgasbord of world-class acts for the POP! Summer Strolls. We don't want to toot our own horn, but the line-ups for both experiences are incredible.
If you haven't enjoyed a Civic Theatres POP! Summer Stroll before, then you are in for a treat. Stroll through the picturesque settings, and in different locations you will be treated to a variety of performances. There will be three micro-performances on each stroll that last approximately 15 minutes before you make your way to a grand finale performance. A POP! Summer Stroll is the perfect way to while away a summer's eve—or afternoon!
This year, the strolls take place in two locations: The Glades Woodland Garden from July 7–17 and Darts Hill Garden Park from August 18–28. For both Strolls, you can tour the gardens 30 minutes before the performance starts…gardens AND a show, could it get any better?
Summer POP! tickets range in price from $5–$35, to ensure the strolls are accessible to everyone in the community. That means we are giving you the option to choose the ticket price that works for your budget. A POP! Summer Stroll really is the best bang for your buck the Lower Mainland has to offer this summer! Be sure to check out the full line up for the Strolls below!
Finally, keep a look out for an announcement coming soon with all the details of Surrey Civic Theatres Presentation Series…we can't wait to share our news! You can also follow us on Facebook, Instagram or Twitter for up-to-the-minute news and announcements, as well as find information on other great performing arts events and news we think you will enjoy. See you at the theatre!
Click Here for Event Details
---
Enjoy a Surrey Re-enactors Performance!
Various Venues | All Summer Long | Free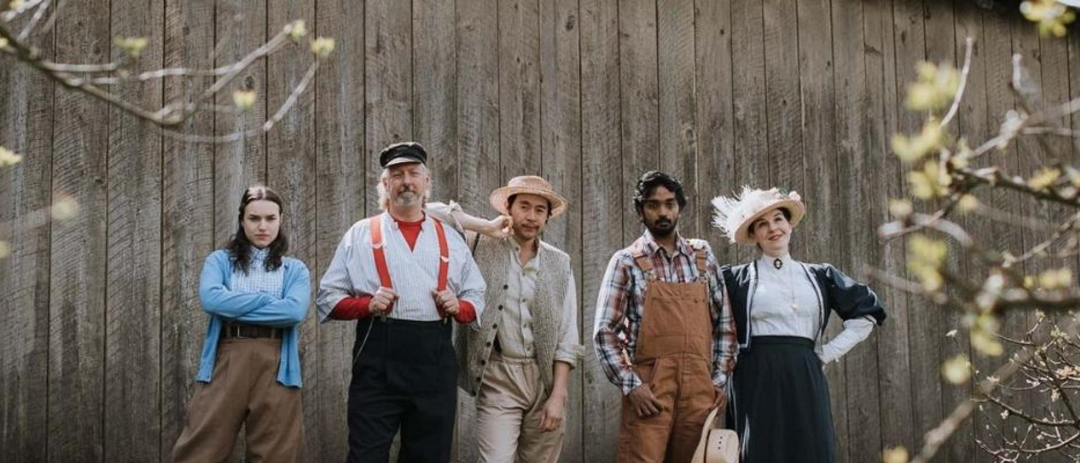 The Re-enactors are a professional, award-winning heritage re-enactment troupe that delights crowds all summer long. A Surrey favourite, you will find the Re-enactors performing at local events throughout the city. The performances offer authentic and intriguing stories from Surrey's past. Catch them all summer long at Historic Stewart Farm, Darts Hill Garden Park, as well as at the Fusion Festival in Holland Park July 23 & 24! To see the full performance schedule, check out the website.
Click Here for Event Details
---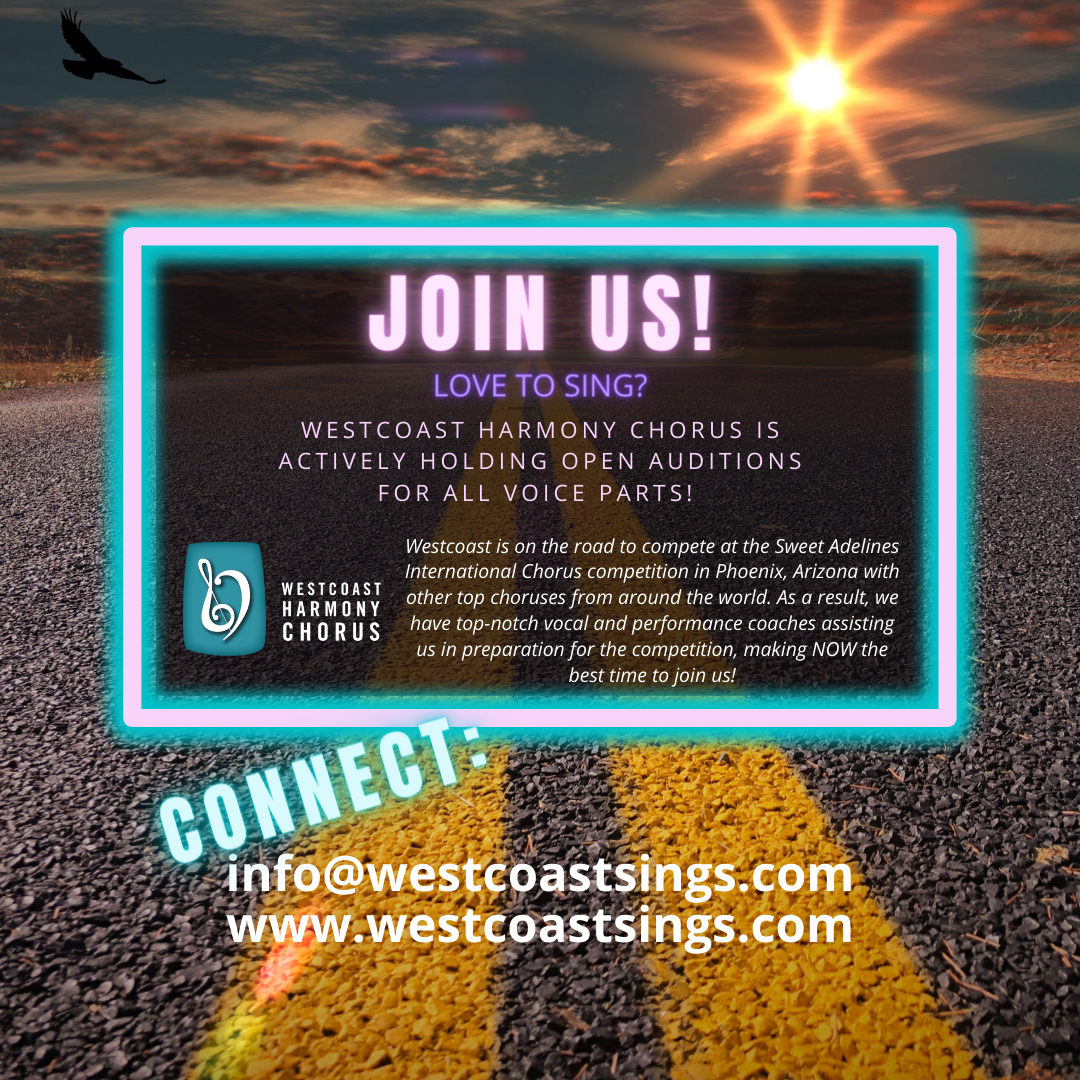 Westcoast Harmony Chorus: Welcoming new members at all experience levels. We are BACK to IN PERSON rehearsals, guests are welcome and encouraged to participate! Contact membership@westcoastsings.com and or visit www.westcoastsings.com to learn more!
Westcoast just recently launch a new public website (www.westcoastsings.com) and now as we move forward through the pandemic, we are focused on, and extremely excited to be preparing for our International Competition, this September, in Phoenix Arizona!
---

VSO SCOLARSHIPS AWARDED
VSO Gives Scholarships to Surrey Students
Each year the VSO gives out 20,000 dollars in scholarships to Surrey Students through the generosity of The Höing Awards program. These students have been nominated by their teachers for exceptional contributions to a school music program through a combination of performance achievement,dedication,leadership,team spirit,collegiality, and commitment to musical excellence. Many of these students are involved in the larger community outside the school as well such as service organizations,pursuits of interests and goals and being a model citizen.
This year the awards were presented April 9th at the Orpheum theatre at the Jane Koop concert.
The recipients are:
Elgin Park – Ella Jeon
Enver Creek – Riley Del Rosario
Fleetwood park – Joel Kim
Frank Hurt – Bridget Robinson
Grandview Heights – Junn Choi
Guildford Park – Xavier Zbetnoff
Johnston Heights – Sarah Wang
L A Matheson – Arin Hash
Lord Tweedsmuir – Brody Tyerman
North Surrey – Michelle Truong
Princess Margaret – Simar Sandhu
Salish – Lucy Moon
Semiahmoo -Riley Haertl
Tamanawis – Rajit Bains
The Arts Council of Surrey would like to congratulate these students and commend them for their hardwork and dedication.
---
With permission from West Coast Harmony – you are invited to watch this uplifting and inspiring video of amazing vocals. This video was done during COVID entirely by Video Conferencing.
Congratulations to everyone who made this production possible.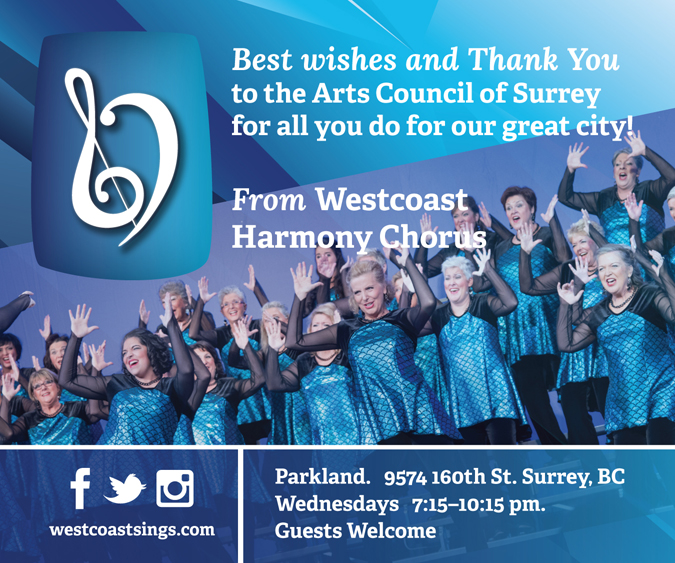 Want to know what you are getting into before you contact this great group? Take a look at the performance in the video below and check out all the smiling faces – these people are having fun and creating art …why not join them?!
---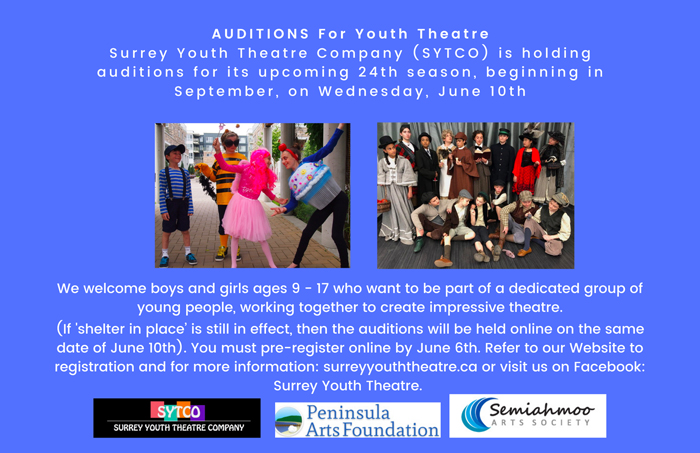 ---
Dean Paul Gibson shares his thoughts on how to make a living as a performer
---