Events | Performances | Workshops | Classes
---
---
---
NAKED STAGE RETURNS ....
Naked Stage artists have to make do without even a stage – or a live audience. Undaunted by this prospect, Naked Stage President and Artistic Director Colleen McGoff-Dean found the perfect script and a way to present it. The online format, with tickets purchased in advance which gave the audience a link and date for computer viewing. It was a successful early August 'experiment.The selected play for this innovative solution was Freud's Last Session by Mark. St. Germain. "Once I read the script, I was excited to direct this show in our Readers Theater format," says Dean.The premise of this play is a meeting between Dr. Sigmund Freud and Oxford Don and Literary Historian C .S. Lewis. George Stone is Freud and Simon Challenger is Lewis. Their conversation is eerily cogent to the world today – we are not living in a 'normal' world and face many of the same daily life challenges that people faced during WWII.The discussion occurs on September 3, 1939, the day England officially enters WWII, and during the conversation, they stay informed by periodically tuning in to the BBC, with the BBC Announcer voiced by Godfrey Levy. This pre-recorded production for the currently stageless Naked Stage may become our new normal. Brilliant plays are timeless, and congrats to Naked Stage for meeting the challenge. Keep Acting, and Carry On! See new site at nspsociety.com
WRITTEN BY Melanie Minty is a feature writer of the 'ArtsScene' Surrey NOW-Leader and a regular contributor to SPOTLIGHT on the ARTS.
---
Xba School of Dance
South Surrey / White Rock's XBa School of Dance is leaping into their 20th anniversary for the 2020/21 dance season! A celebratory logo has been designed for this milestone and students who complete their fall registrations by August 1 will receive a commemorative toque free!Affected by the pandemic like all other businesses, XBa rose to the challenge and was proactive in helping establish reopening protocols with WorkSafeBC and health authorities. Though no performances could be had, XBa successfully and safely completed a one-off 6-week period of in-studio and virtual dance classes, and brought back the gift of dance and movement to their students of all ages.Summer is about maintenance and further investment in studio infrastructure and XBa faculty and staff are excited to welcome back al their students when classes restart on September 12th. The massive XBa dance studio will offer up to 12 in-studio spaces at 100 square feet each for students, and a 400 square foot separated teaching area for maximum safety for everyone. All classes will also be available virtually for those who chose to remain for a while yet.XBa faculty and staff are looking forward to new horizons, and breaking new ground in dance education. The only school in the community to offer the International Certification in Dance Studies as accredited by UNESCO's Conseil International de la Dance, XBa is accepting registrations now and welcoming returning and new students. For all inquiries visit:www.xba.caemail info@xba.caor follow/like them on Instagram & FacebookTwitter at @xbadance (By Nela Hallwas)
---
CLICK LOGO to access current programming at Surrey Civic Theatres
---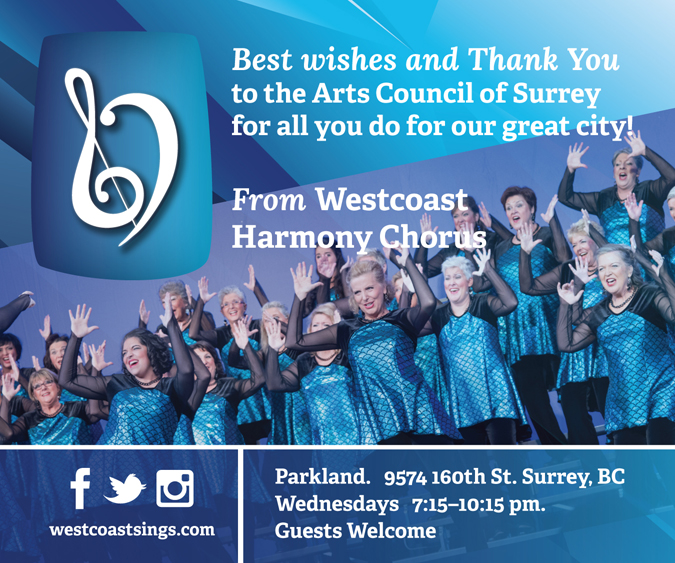 Want to know what you are getting into before you contact this great group? Take a look at the performance in the video below and check out all the smiling faces – these people are having fun and creating art …why not join them?!
---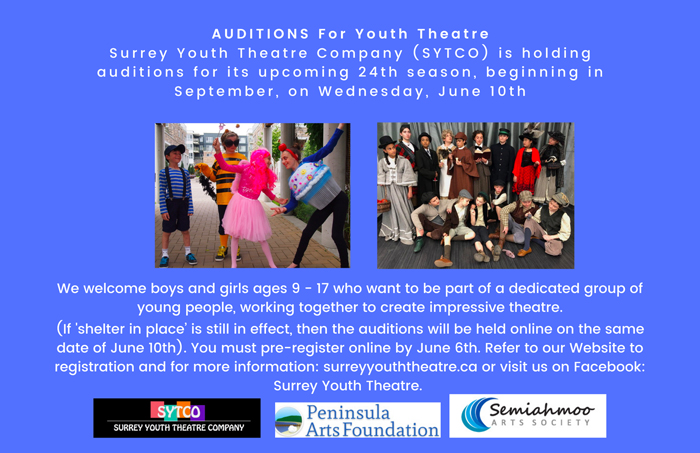 ---
Dean Paul Gibson shares his thoughts on how to make a living as a performer
---