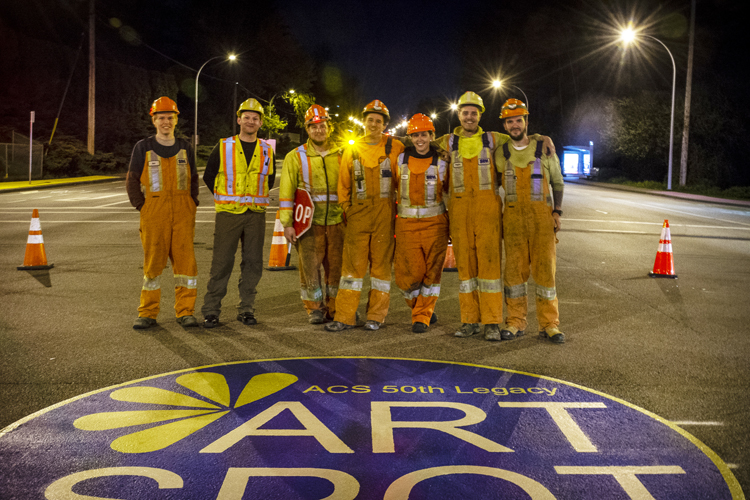 CHECK OUT AMAZING DRONE VIDEO by Cinematographer Roman Ansari Here
CLICK HERE: Surrey NOW Leader's TOM ZILLICH uncovers the complete ART SPOT story with video, in depth interviews and more…

If you were driving along KGB on one of those balmy evening at the end of April you may have noticed city crews hard at work installing 'cultural markers' at the intersections of 72nd Ave & 88th Ave. These 'cultural markers' are a part of the ACS Legacy Program formed in 2017 to celebrate the ACS 50th year of promoting the Arts in Surrey.
"The ART SPOTS have been a labour of love and a long-lasting legacy for such a milestone anniversary of the ACS", state James Crosty, chair of the C50C [Celebrating 50 Committee]. "The city has been extraordinary and I would like to offer a special thanks to the incredible staff who physically made these cultural markers a reality and especially to Councillors Mike Starchuk and Judy Villeneuve for their unwavering support of the project and for the Arts in Surrey Arts", concludes Crosty.
A ribbon-cutting ceremony with members of Media, City and ACS is scheduled to take place at the intersection of 72nd Ave., on Wednesday May9th at 1pm. This event will unveil signs that have been installed to inform pedestrians using the colourful sidewalks about this new initiative for the Arts. It will also serve to be the official launch of the Surrey ART SPOTS, thought to be the only ones of their kind in North America. This outdoor portion of the launch will be followed by an private gathering at the Newton Cultural Centre for media, cultural influencers and city and ACS representatives. Local vineyard Vinoscenti, will be providing samples of their selections for those in attendance.
According to city road crews, these decals can last for 5 years. It is the hope of the ACS, that more ART SPOTS will pop up all over Surrey indicating the vast cultural diversity that exists throughout the city. So when you visit these two great ART SPOTS, be sure to follow the green sidewalks to a cultural experience only the city of Surrey can offer.
For a little more on this story please see the article by Tom Zillich reporter for the Surrrey NOW-Leader published on March 14th, 2018 – ACCESS ARTICLE HERE