VIRTUAL GENERAL MEETING
will be Tuesday, January 10th @ 7pm.
Please contact info@artscouncilofsurrey.ca by Noon, Friday, January 6th to receive invitation information
[Please note our office will close for the holidays from December 18th-Jan 3]
Stay safe…Stay Creative…Stay apART!
PORTALS TO THE ARTS
Supporting The Arts In Surrey For 55 Years
Find events, workshops, classes and meetings dedicated to the Visual, Performing and Literary Arts.
CLICK ON PORTALS BELOW TO ACCESS LISTINGS.
[Listing are updated monthly]
As another New Year approaches, perhaps it is time to explore joining one of our many GROUPS

Article by ACS Team
Even more of our Member Groups are starting to meet in person again and are looking for new members to join them! Port Kells Art Club, White Rock & Surrey Writers Club, The Vaudevillians, and the Surrey Art Gallery Association (SAGA) have all let us know that they are actively looking for new folks of all ages to sign up as new members. SAGA is also looking to fill a number of volunteer positions! Contact info for all of our member groups can be found on page 25 of our monthly SPOTLIGHT on the ARTS and also by following this link | BE A MEMBER – TODAY.
Over 88+ Member Types to Choose From!
There Is A Reason We Have Been Around For More Than 55 Years!
WHY YOU SHOULD BECOME A …MEMBER OF A GROUP!
From our humble yet ambitious beginning in Canada's Centennial year of 1967, the ARTS COUNCIL of SURREY (ACS) has grown to become a leading force in the promotion and advancement of the Literary, Performing and Visually Arts in the greater Surrey region. As Surrey continues to forge itself to the largest city in all of BC, so to will the ACS continue on its' path to ensuring a positive environment and artistic opportunities for our many members.
Today, you can join over 1000 ACS members who, over the years, have appreciated the many benefits of belonging to this significant arts resource. Regardless of level, age or discipline, the ACS has a place for you.
Our combined Group, Individual, Associate and Business members give the ACS a potential reach of over 100,000 art-influencers and culture-shifters. If you want to be notice and get your message out to those who matter – it is time to join the ACS!
The ACS has a Membership Plan specifically tailor to your needs. We invite you to read this section and then call us at 604.594.2700 or email us at info@artscouncilofsurrey.ca to become a valued Member and let us join you in your artistic journey. You may also scroll down to our printable MEMBERSHIP FORM, fill it out and submit it at your convenience.
ACS ONLINE MARKETING | TIPS to SUCCESS

Part 3 | As Featured in our month newsmag
SPOTLIGHT on the ARTS
by Wendy Mould | SotA Regular Contributor
Selling on Social Media means posting content. Lots of Content. Here's 10 Ideas to get you on the Road to Success
1. Show your process: Every step of your creative process requires you to make decisions. Share those steps and decisions with your viewers. What inspired you? Why this idea now? Why this approach? Why this size?
2. Share your success: You made it into a show, a sale, an award, a performance. Promotion doesn't stop when the product is produced. Celebrate your success.
3. Post pictures and videos of your most popular items. What's hot for you right now? For example, Pet Portraits are popular presents, posting pictures of my recent Pet Commissions at gift giving times makes sense.
4. Special Tips, be helpful: Solve some of your target audience's problem. Videos and tips on ways to improve drawing and painting skills helps to promote my teaching.
5. Showcase your products: do a video or post a reel doing a walkthrough of your show or studio
6. Customer Testimonials: take screenshots of client's testimonials and use them as a post
7. Promote the Social Cause you support: Post support for your Cause on your feed.
8. Promote Yourself: Let the followers see the face behind the product. Share your story: your creative journey, your passions, how you work.
9. Promote your Helpers: I know you have a small one owner business, but you do have a support team – family, friends. Max, my dog, is part of my support team.
10. Posts FAQs: Your audience has questions around your product: purchasing, commission work, shipping, and care after purchase are the most common. Create posts to answer these issues.
---

Additional GRANT Access
Produced October 2019 by the
City of Surrey Cultural Development Department
JOIN US: Become A Member Today!
There is a place for every artist and every business or person who supports the arts.
Memberships available for: Individual, Associate, Group (both grant & non-grant) & Business
SPOTLIGHT
on the arts
The most comprehensive newsmag featuring 28 pages of current news and views on Surrey's vibrant and thriving
art scene.
Includes the latest info on the
Visual, Performance and Literary arts
in metro Surrey.
The SPOTLIGHT on the arts is published monthly 11 times a year.
---
Missed a past issue? Now you can access all SPOTLIGHT on the Arts publications dating back to 2011.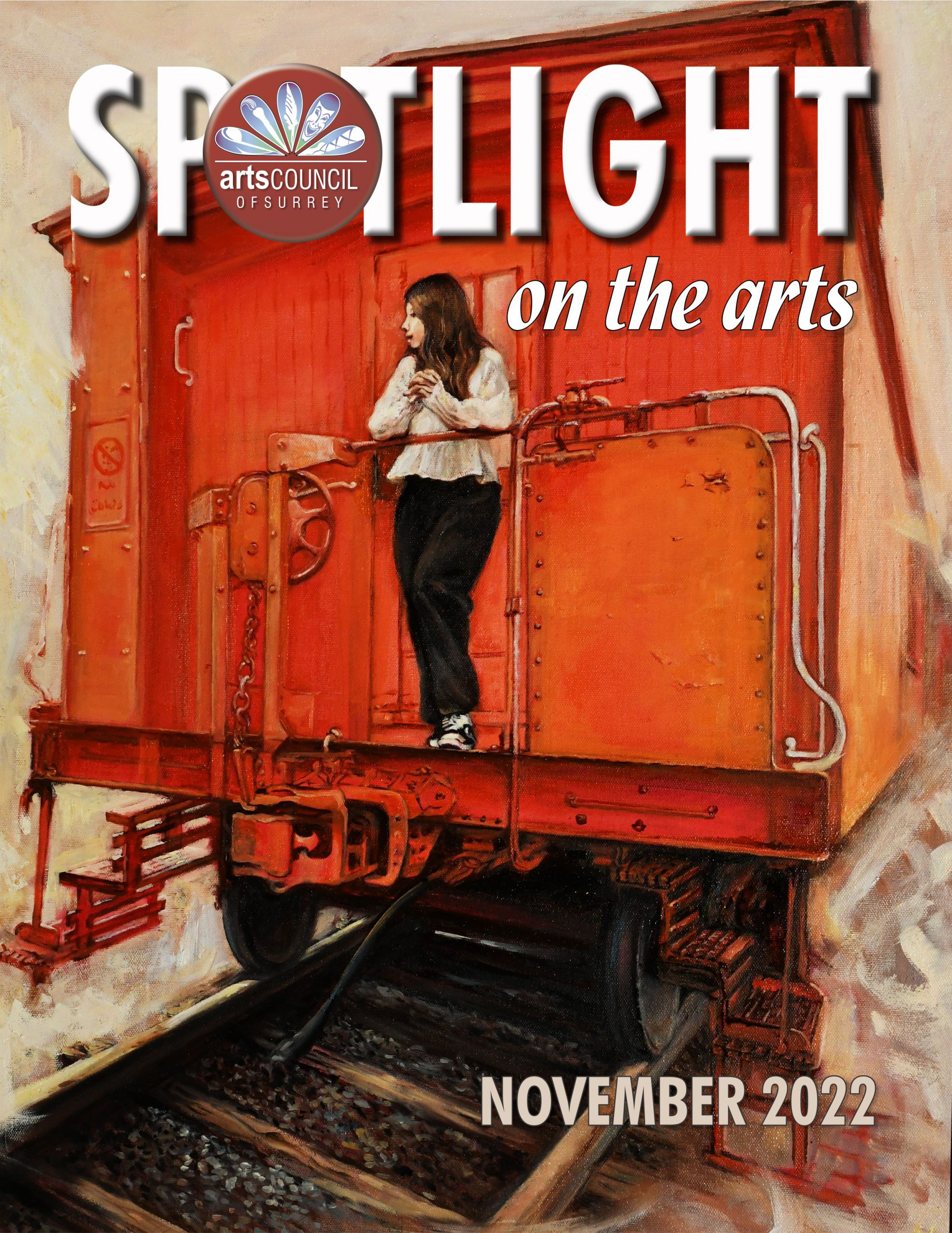 Access SPOTLIGHT Archive
READ NOW:
November 2022 Issue
TO SUBMIT

TO ADVERTISE

TO SUBSCRIBE