The next virtual
[VGM] VIRTUAL GENENERAL MEETING
General Meeting [Zoom] will be Tuesday, Sept 14th @ 7pm Please contact info@artscouncilofsurrey.ca by Noon, Friday, Sept 10th to receive invitation information
Stay safe…Stay Creative…Stay apART!
PORTALS TO THE ARTS
Supporting The Arts In Surrey For 54 Years
Find events, workshops, classes and meetings dedicated to the Visual, Performing and Literary Arts.
CLICK ON PORTALS BELOW TO ACCESS LISTINGS.
[Listing are updated monthly]
THIS DAY – WE WRITE…
But after this October conference you are bound to write …better!

Here's Why | THE EVENT
The 29th Annual Surrey International Writers' Conference is schedule for October 22-24, 2021. Entitled ' SiWC at Home', this annual meeting of the literary minds is always a complete sell out and an assured success. With world class writers, presenters and master classes, this conference is among the best the literay work has to offer. Registration started in June 2021, with limited availability in order to ensure participant have a chance to participate with wuestions. To register follow this link: https://registrations.helpforcharities.com/siwc/ .
Pre-conference events are also taking place this year in partnership with WXR PRESENTS. Join the Writing Excuses cast and guest instructors to connect, write, and learn during our SiWC pre-conference events on October 18 and 19. The 2021 Writing Excuses Virtual Retreat will be open from 7 AM – 10 PM Eastern for quiet writing dates, lively social hours, and collaborative learning sessions designed to boost creativity and move your writing projects forward. Then dive deeper on Wednesday, October 20th, as Writing Excuses instructors offer master classes in worldbuilding, character arcs, voice, and more. Details on the master class schedule page. WXR Presents pre-conference events on October 18 and 19 are open to all SiWC registrants.
---
WRITING CONTEST
Meanwhile – time to enter their writing contest for a chance to win $1000! The cost to enter is $15 and the deadline is September 17th, 2021 by midnight. Late enteries will not be accepted. Please visit https://www.siwc.ca/writing-contest/ for complete rules and regulation for this popular contest. Youth writers are welcome but will be judged blind among the adult offerings – so this is a great learning curve for emerging writers. Submit you entries to: contest@siwc.ca
---
PRESENTING LITERARY GUESTS
Presenting virtually this year will be: Carleigh Baker, Tanya Boteju, Elizabeth Boyle, Laura Bradford, Russ Busse, Eileen Cook, Sean Cranberry, Naomi Davis, Piper J. Crake, Robert Dugoni, Margaret Dunlap, ke dryer, Hallie Ephron, Diana Gabaldon, Liz Hara, Crystal (CJ) Hunt, Susanna Kearsley, Hena Khan, Mary Robinette Kowal, JJ Lee <i>(catch a sneak peek video of JJ from our 2019 WORK of ART conference at http://artscouncilofsurrey.ca/literary-arts/ scroll down)</i>, Karen Lord, Donald Maass, Courtney Milan, Mahtab Narsimhan, Chimedum Ohaegbu, Otoniya Okot Bitek, Liza Palmer, Anne Perry, Jael Richardson, Erin Roberts, Renee Saklikar, Miachael Slade, Robin Stevbenson, Howard Tayler, Sandre Tayler, Nephele Tempest, Meg TIlly and Dan Wells.
With an impressive and encompassing line-up like this of accomplished writers, agents and editors – you as a literary artist can not help but emerge from this conference; engaged, informed and inspired to elevate your writing career to new heights.
REGISTER TODAY | Click Here
---

Additional GRANT Access
Produced October 2019 by the
City of Surrey Cultural Development Department
JOIN US: Become A Member Today!
There is a place for every artist and every business or person who supports the arts.
Memberships available for: Individual, Associate, Group (both grant & non-grant) & Business
SPOTLIGHT
on the arts
The most comprehensive newsmag featuring 28 pages of current news and views on Surrey's vibrant and thriving
art scene.
Includes the latest info on the
Visual, Performance and Literary arts
in metro Surrey.
The SPOTLIGHT on the arts is published monthly 11 times a year.
---
Missed a past issue? Now you can access all SPOTLIGHT on the Arts publications dating back to 2011.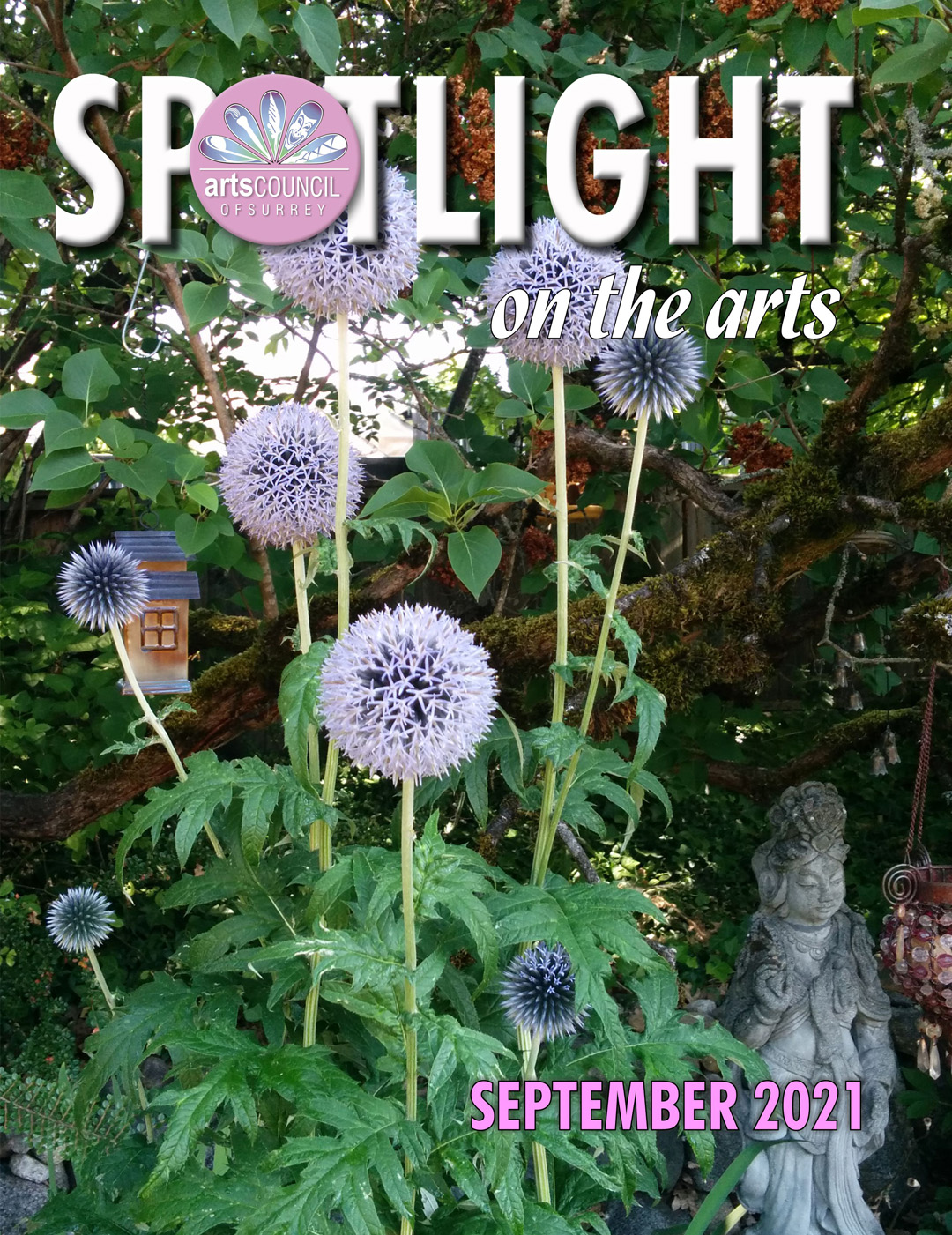 Access SPOTLIGHT Archive
READ NOW:
September 2021 Issue
TO SUBMIT

TO ADVERTISE

TO SUBSCRIBE